Do you feel like putting together professional artwork for your company, website, or social media page but feel put off? You might think you need to develop software and art creation skills for several months before you can finally pull off great digital art, but this is no longer the case.
Here are 12 of the best tools to create digital art for non-artists:
Graphics Creator
Visme
Design Wizard
Vista Create
Easil
Snappa
Stencil
PicMonkey
Canva
PlaceIt
Wepik
Desygner
In this article, I'll further explain what makes each of these digital art tools an excellent choice even for the non-artist. Therefore, if you're looking to create professional-looking artwork with little to no previous experience, make sure to keep reading.
1. Graphics Creator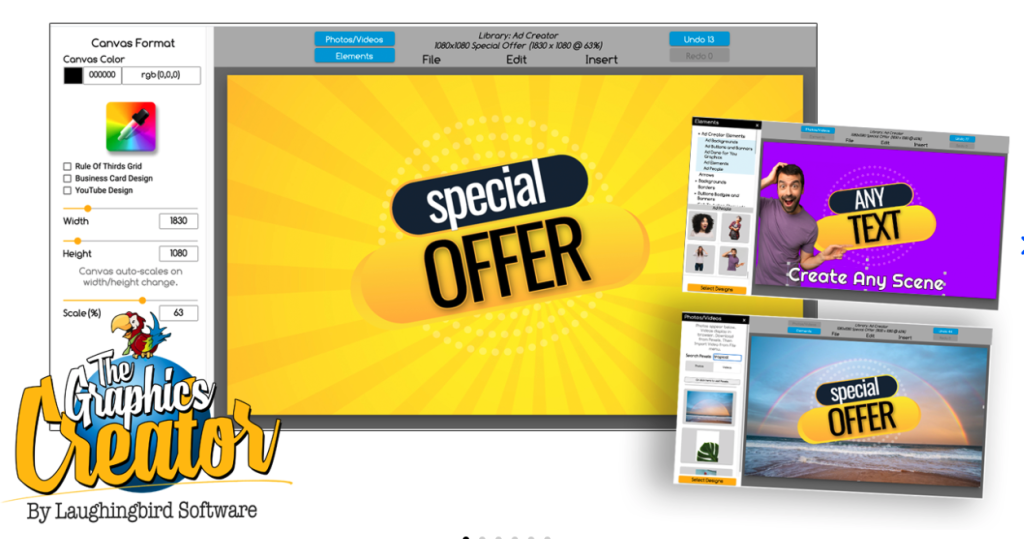 Laughingbird Software's Graphics Creator is a tool that lets non-artists create eye-catching visuals for any purpose. Whether this is for social media marketing or logos, you can help your small business grow with this fun, easy software tool that anyone can use.
The Graphics Creator has a massive selection of templates, images, and tools for marketing and design. All you need to do is open the Graphics Creator online and choose between the seemingly endless array of creative, tailored templates for various functions, with an editor that allows all of the template designs to be customized.
The templates are all custom-designed to grab viewers' attention. All you have to do is add your touch using the drag-and-drop design elements.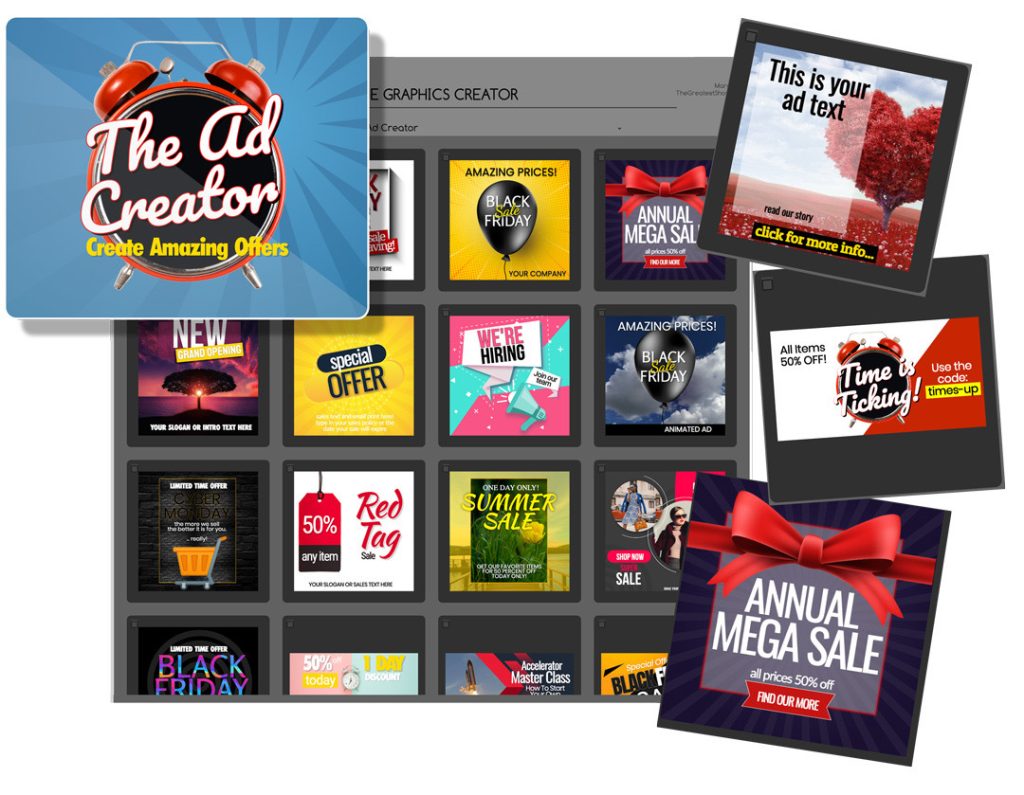 It's suitable for complete beginners, and if the intuitive software is still daunting, there is a whole range of tutorials and helpful videos on hand to guide you through the process of producing artwork that will bring you more customers.
There are two models to the software, online and downloadable, so you can choose to use it either on or offline. The online version provides a convenient way to immediately access all of the templates by subscription, starting at under $6 per month on the annual plan.
The design templates can also be purchased separately and come with the Graphics Creator free download. The downloadable software proves to be super helpful if you have a poor internet connection or want to always have access to the software on your computer or laptop even if no wifi is accessible.
2. Visme
Visme specializes in tools for creating infographics, presentations, and graphics. It's excellent for businesses as you can save company branding information for future use. It's straightforward for beginning designers with an intuitive drag-and-drop format, meaning you can simply insert and move elements around.
It's suited to a professional office environment where there is a need for unified branding, sharing with many other people, and collaborating, so this isn't a useful tool for individual, creative projects.
However, this tool is more expensive than many other platforms, with the business member service starting at $49 per month. Starting at $25 per month, the basic and personal memberships have fewer functions than the business level, so you should consider this when purchasing.
Overall, this software may be better value for larger organizations but not individual creators or small teams.
3. Design Wizard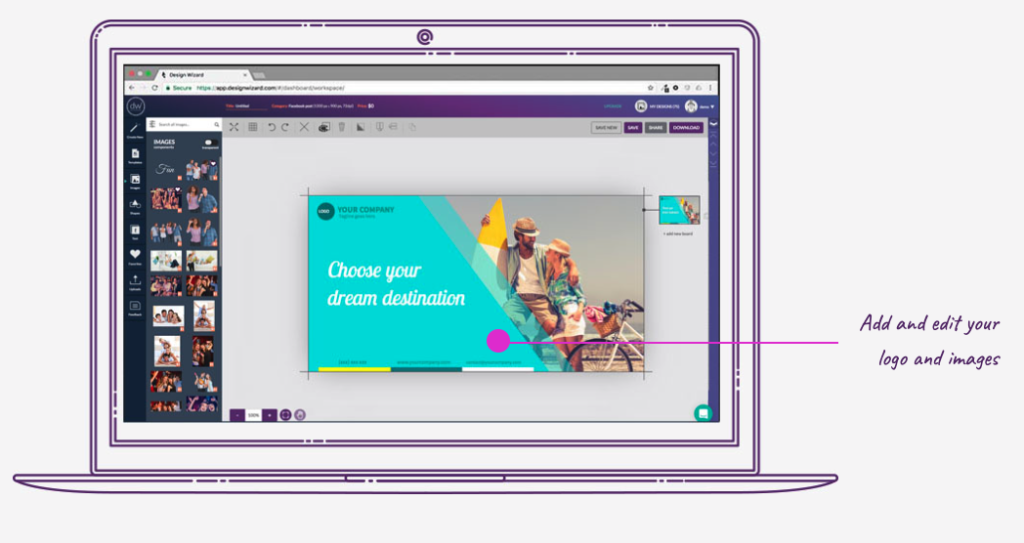 Design Wizard is great for non-designers who want to make short videos and simple graphics for blogs and posters. There's no need for design skills as it focuses on speed and ease of use with many templates for social media, graphics, and more.
There's a free version of the app, but this will place a watermark on any graphic produced, making it unsuitable for business use or those who want to create clean images. The Pro membership starts at $9.99 per month and allows access to 60 design templates per month.
Overall, it sacrifices the wide variety of functions found in other tools for speed and usability but is helpful for businesses who want to appear professional in their graphics for products like business cards or marketing campaigns.
4. Vista Create
Vista Create, formally known as Crello, is a robust tool that is used primarily to create graphics for branding and advertisements and works well with social media.
It has an extensive library of images and templates to choose from, just like the other types of software mentioned until now. It also provides many templates for animations, but there is limited potential to edit these.
Pricing starts at just over $10 per month for the Pro version of this software. Still, there is a free version that includes almost all of the features that the paid subscription provides, with the main difference being the amount of storage included and a few extra tools such as a sticker maker. Overall, this tool would suit advertisers and branders who need a professional graphics library.
5. Easil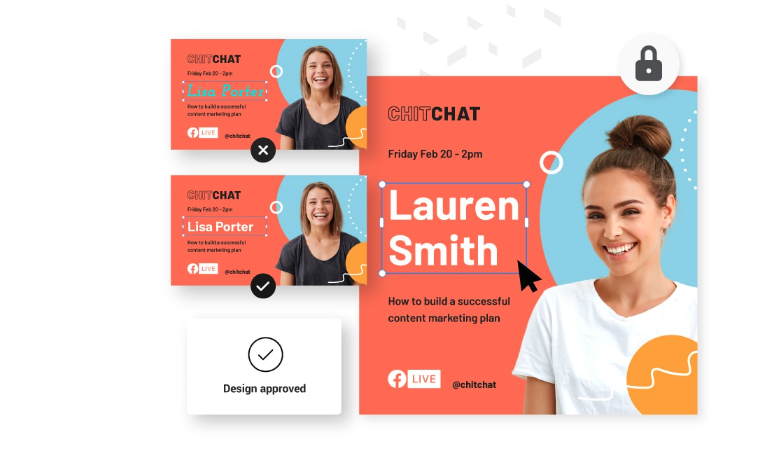 Easil is a software that provides several templates for different social media sites. It's a source of many creative and stylish outlines for Instagram and allows you to create graphics for Instagram stories. An exciting feature of this software is its hospitality tool focused on businesses such as tourism companies and restaurants that need to create branded menus or other displays.
It also provides many ways to edit and customize images, texts, and features, create GIFs, and more. It's a strong tool for people who want to quickly create graphics for certain functions and advertising on social media.
Despite the stylish appearance and focus on minimal-looking graphics, this software is easy to use with a drag-and-drop function for creating images. It's also very simple to pick a unified color scheme using the design tool.
Easil design costs start at $7.50 per month for the Plus membership. Still, a free version also allows access to the images and templates but not to the variety of design functions such as text editing that makes the graphics on Easil so stylish.
6. Snappa
Snappa is an image editing tool designed for beginners to create graphics and artwork. One of its key features is its picture editor, which allows users to add effects such as background graphics and speech bubbles, usually achieved using software such as Photoshop but at a fraction of the time and price.
Another impressive feature is that it gives you the ability to collaborate with others on projects and use many images and templates for different graphic types. It's most similar to Canva or Visme but with a more advanced photo manipulation software.
This tool is focused on social media campaigns, so if your goal is to create custom art for many sites, including Facebook and Instagram, this may be the software for you. The tool is entirely online, so there's no need to download extra files.
Pricing starts at $10 per month for the Pro version, and although there's a free version too, please note that this does not include the advanced picture editing functions which add value to Snappa.
7. Stencil
Stencil is a tool built with simplicity in mind. It's excellent for those who need to make a simple graphic composed of text over image very quickly; however, it is limited in other functions. This tool is most similar to Easil, but takes the concept further, with all procedures included on one page and a minimal range of design tools.
They have also included a social media scheduler so that artwork created in Stencil can be lined up to be sent out at a specific date and time, making life easier for content makers. This focus makes it less suitable for more complex tasks, such as branding or graphics for printed design.
Stencil is priced starting at $9 per month for the Pro membership. However, even the free Basic version is useful for basic functions (as the name suggests) but allows limited access to stock images and templates.
This tool is for those who want to create digital art as fast as possible and don't need to spend too long thinking about specific design styles. It would work well for people who have a simple, stylish idea in mind for an Instagram story campaign or something similar.
8. PicMonkey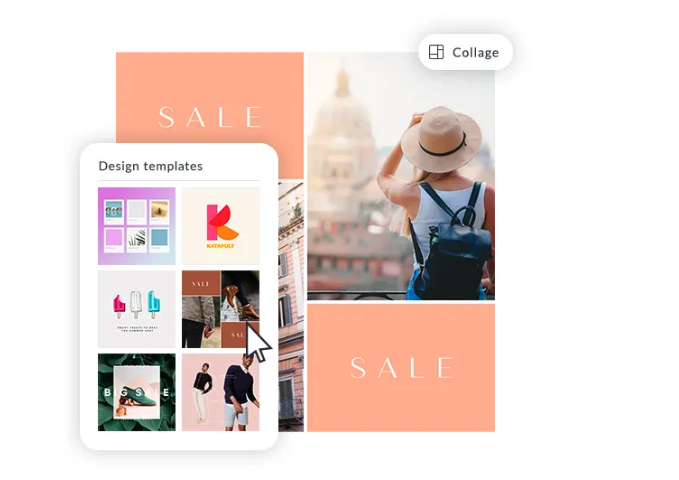 PicMonkey has a very broad set of functions, templates, and tools to make a virtually endless number of graphics, and it even has a photo retoucher, similar to the one found in Adobe Photoshop. As well as the common model of selecting and editing templates, this means that you can customize images artistically without having to invest in more expensive software.
This retoucher is one of PicMonkey's unique features and allows beginners to create beautiful images by adding filters and effects. Although editing images in this way may seem intimidating for non-artists, the walk-through guides and intuitive layout will take you through the process and let you get started quickly.
Pricing with PicMonkey starts at just over $11 per month and includes all of the aforementioned features. However, this tool has no free version, so be prepared to pay for the software after an initial seven-day free trial. Although it may seem complicated, this software has made the art of quality image editing feel very accessible.
9. Canva
Canva is a tool for non-artists to collaborate on a huge variety of online and printable graphics. You can work with teammates by creating joint projects and allowing them to make edits. You can also link to other apps such as Google Drive and Dropbox for seamless file sharing.
It's also a simple design format that makes it easy for non-creatives to use and allows you to work on many designs, from social media to presentations to videos. Like many other tools, it has a broad selection of templates and stock images and is helpful for business branding.
As well as online graphics, Canva can be used for printed material to match your online branding on t-shirts and mugs.
Canva is priced at $11.99 per month for the Pro membership; however, the software also comes in a free version that allows access to a considerable amount of templates and graphics and includes the collaborative tools featured above. If you're looking to work in a team and don't have a background in art and design but want to create great graphics, this is a very functional and wide-reaching tool.
10. PlaceIt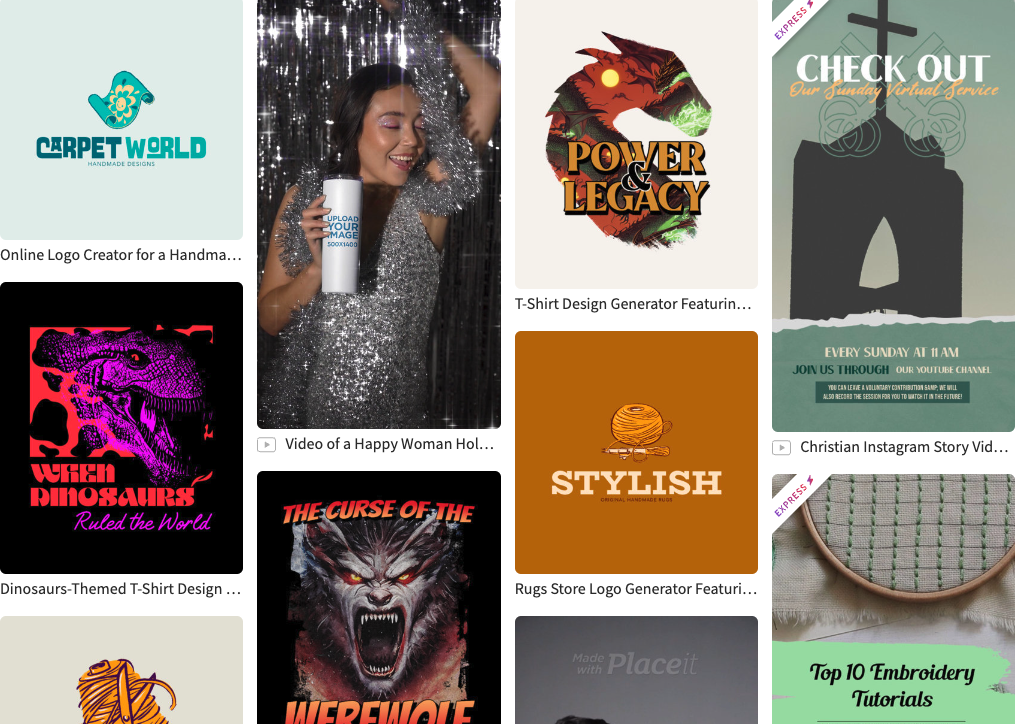 PlaceIt is a colorful tool for mock-ups, marketing, and logos. You can easily and quickly draw up graphics for use for your business purposes, and its strength is its usefulness for companies and merchants. However, there are limited options for editing and being more creative, but this makes it very user-friendly, with less to confuse or intimidate new users.
There are many options for displaying designs on printed materials such as prints and apparel. There are also options to produce graphics for sites such as YouTube and Twitch using templates for these formats.
PlaceIt subscription starts at $7.47 per month for unlimited access and is worth the investment if you are a creative entrepreneur who needs help with your product design. However, it may not be great for varied, creative kinds of work.
11. Wepik
Wepik is different from other tools as it's free to use. As you would expect, this means it's much more limited in terms of functions, consisting of a library of templates with basic editing tools, but this means that if you need to create something without having to invest in a subscription to a service, this is the software for you.
You can use the templates for social media graphics, printed materials, and even things like résumés. It is ideal for non-commercial uses. If you need to quickly create a good-looking image for a project or social media post, this might be your site.
12. Desygner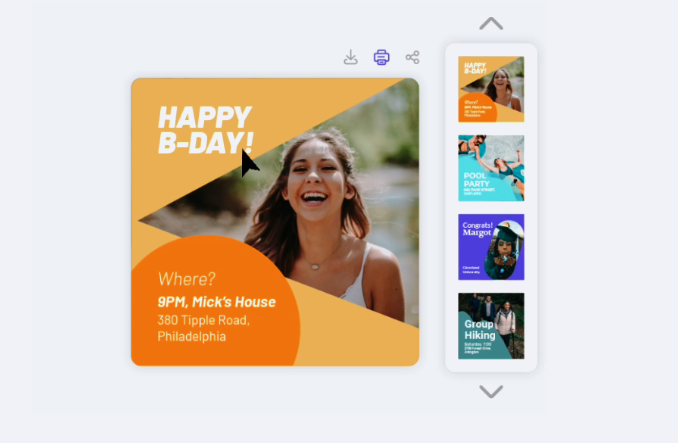 Desygner is another tool similar to Canva and Visme, with valuable features like a background remover for images and a PDF editor. It's easy to use and accessed directly through your browser, minimizing the need for separate downloads.
Those who would benefit most from this tool would be online marketers and social media managers, as the templates and artwork created here are ideal for use in ad campaigns such as those using Google ads. It's designed to be easy to start working on, allowing you to grab a template and start editing.
Pricing begins at $4.95 per month for the Pro version of this software. Still, there's a free version with many templates and some tools, making this alternative ideal for smaller businesses and beginners who want to start making graphics before committing to a subscription.