Building a website and maintaining it can cost a good amount of money. You can lower the amount you spend by getting your graphics from free websites, but you still need to make sure that you have high-quality designs. Therefore, most people choose to use a mix of free design resources and other graphic design elements that are paid for.
Here is a list of 12 featured websites where you can get the graphics you need:
unDraw
Freepik
Pixabay
Flaticon
Unsplash
Laughingbird Software
Creative Market
Upwork
Fiverr
99designs
Shutterstock
Kimp
As you can see, there are plenty of different options for getting the website graphics you need. In this list, you'll find free graphics and paid subscriptions, as well as graphics that have free and paid options. Each place to get website graphics has its own unique benefits, so you'll want to keep reading to learn more.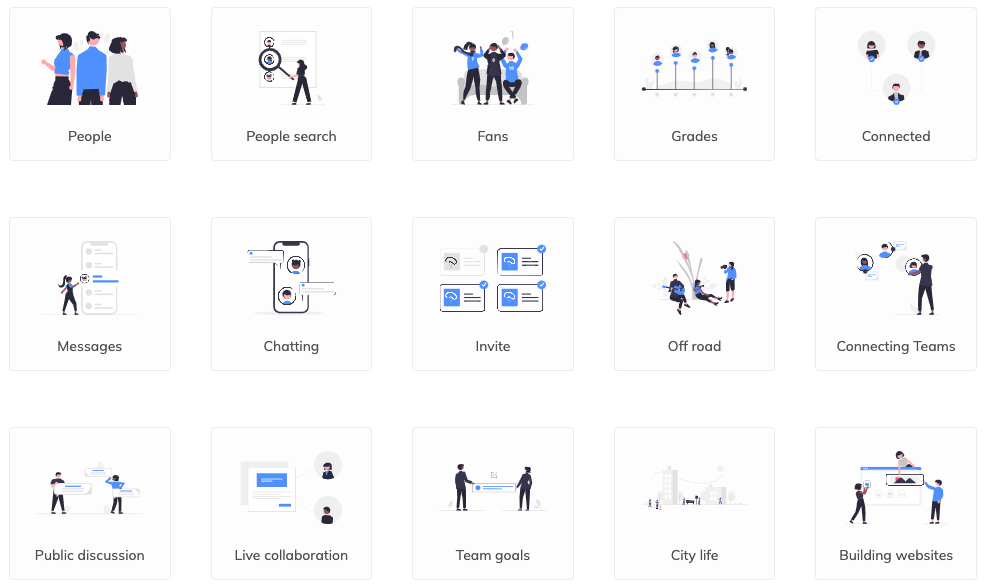 Katerina Limpitsouni, an illustration and internet professional, created an online library of free-to-use graphic images. You can use them directly on your website or take them and edit them first. There's also no need for you to list unDraw as a source.
The site is 100% free, and you can easily scale all of the images, making them much easier for you to fit them into your own designs. The vector images are beautiful and come in a variety of topics. For example, you can find images that show sports, learning, shopping, and even images that represent data protection.
Overall, unDraw is a great free-to-use website. There's a graphic design for almost any activity you can think of… just use the search box to find what you're looking for.
You can even take the images and easily change out their colors to match the main color themes of your brand and website exactly. There's a lot to love about Limpitsouni's art too.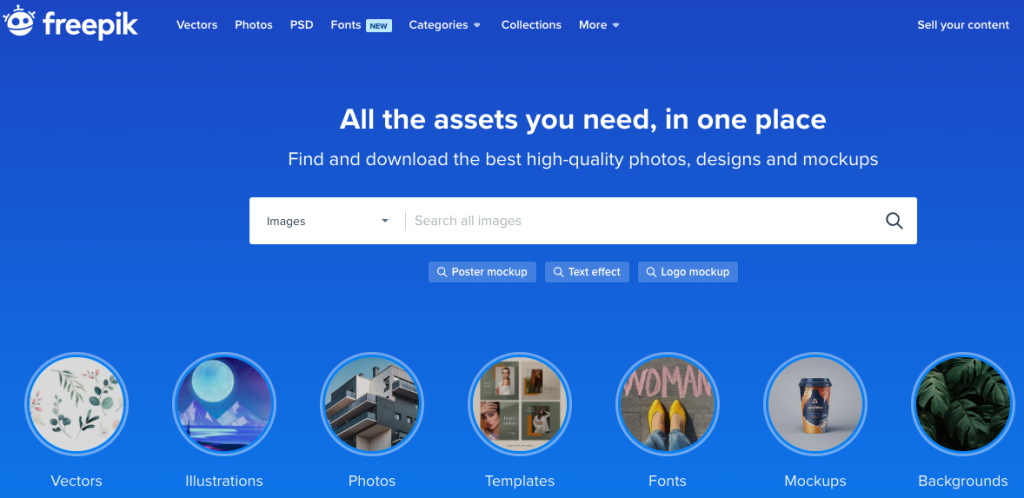 Next, Freepik is another great graphics source with plenty of content free stock photos, vector images, and even PSD files for Photoshop. If you have experience in graphic design, you can take those files and edit them quickly. Plus, you can get the AI and SVG files for the vector graphics.
The best part of Freepik is that you don't need to pay any royalties to keep using the designs. All you do is download them and put them on your site – you don't even need to offer credit if you don't want to.
Overall, Freepik's images are of great quality, considering that you don't need to pay for them.
However, there is a daily download limit of only 3 downloads per day if you don't register with them. If you register but continue on the free plan, you can download 10 images per day.
If this isn't enough for the amount of graphic design work you do, you can get a premium subscription plan with unlimited downloads for only $10/month, paid annually.
Check out their pricing and FAQ to learn more.
Another great free graphics option would have to be Pixabay. This website offers many different photos, vector designs, and PNG images that you can use for free. You can download the images, edit them, mix them with your graphics, and then put them on your landing page.
Any content you use from the site is free for both personal or commercial use, according to the Pixabay license. The site's collection is huge, so you'll find what you want with ease.
Since this site has a huge user database, more images are always coming in. You'll want to check back often since it updates frequently.

If you want simple and clean graphics to use on your website, Flaticon is a wonderful choice. There are nearly seven thousand icons and graphics on the site that you can use without paying a dime. They're even organized into different categories, making finding themes you want easier.
Additionally, Flaticon is one of the largest free databases that you can currently find for website graphics. However, Flaticon only offers these graphics for free in the PNG format. If you want them in other file formats, you'll need to first subscribe to their premium subscription which starts at around $8/month.
If you don't subscribe, you'll also need to make sure that you credit the artist when you use their icons, so keep that in mind! The Flaticon support page discusses their rules in detail if you want to learn more.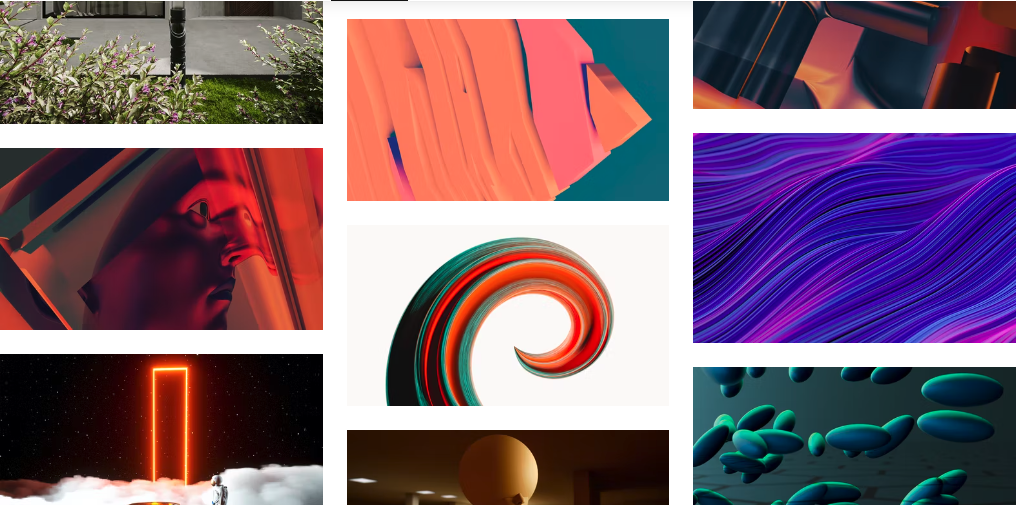 Unsplash is a good choice for a totally free source of high-resolution photos. This site has a higher focus on photography and many photographers who upload their work are paid professionals. However, they now have 3D rendered JPEG images, which suggests that they're moving towards providing more unique artistic images.
Whether you want these photos and images for commercial projects or non commercial purposes, you can get a free account. You can even edit them before uploading them to your site without worry.
Unsplash also doesn't require you to provide credit to the photographer, although you should. It helps the photographers continue to supply the site with their works. Further, you can follow your favorite creators and have consistent designs on your site.
In short, Unsplash is a great option for free stock photos. But bear in mind that you won't find vector graphics or free icons on the site.
All of their free JPEG files can be used, however, in The Graphics Creator.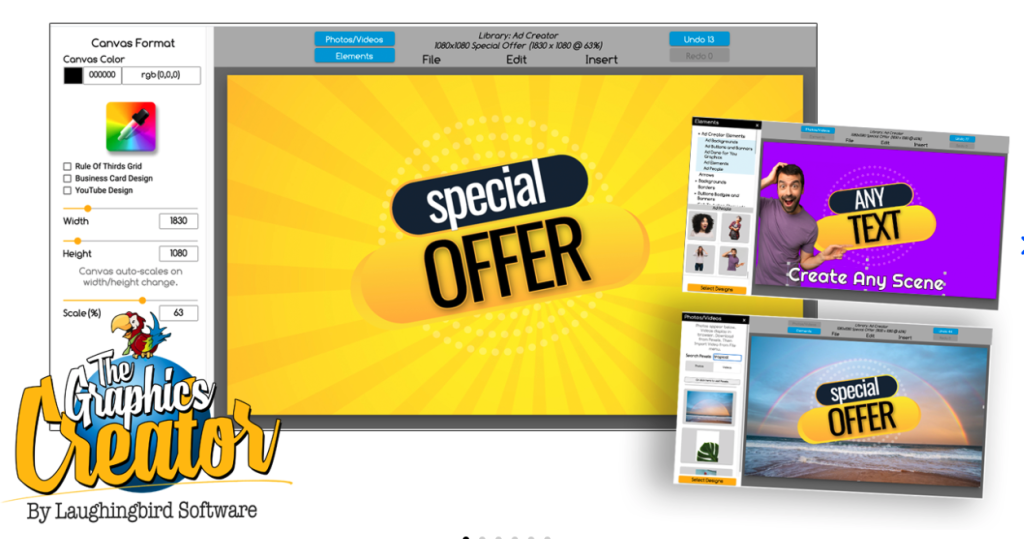 One of the best places to get website graphics, Laughingbird offers more than just creative graphics and uniquely designed elements- it also shares a free graphics maker. It's a great resource because it comes with everything you need to create and upload the best designs to your website, and it has a growing collection of designs and user-friendly features.
Just take any of the graphics and templates and easily modify them in the free design software to make unique designs.
Plus, it's very easy to use, and you can try the free version before committing to the service (which is only $67 per year)! This free version includes full functionality and free templates and graphic elements.
You don't need strong graphic or web design skills to create stunning images. A major benefit is that the site offers transparent PNG graphics, which are much easier to use and edit than those with non-transparent backgrounds.
There are plenty of professionally created design elements for work or play. Plus, there are lots of templates that you can use for your web design projects.
Overall, The Graphics Creator is the perfect place for affordable graphic design. You'll love all of the design resources and features, such as circle text, unlimited projects, and 5000+ graphics, that make it easy to quickly upload stunning creations to your website (it's a great place to create marketing and social media design as well).
Want to work offline? You can also get a free download of the software.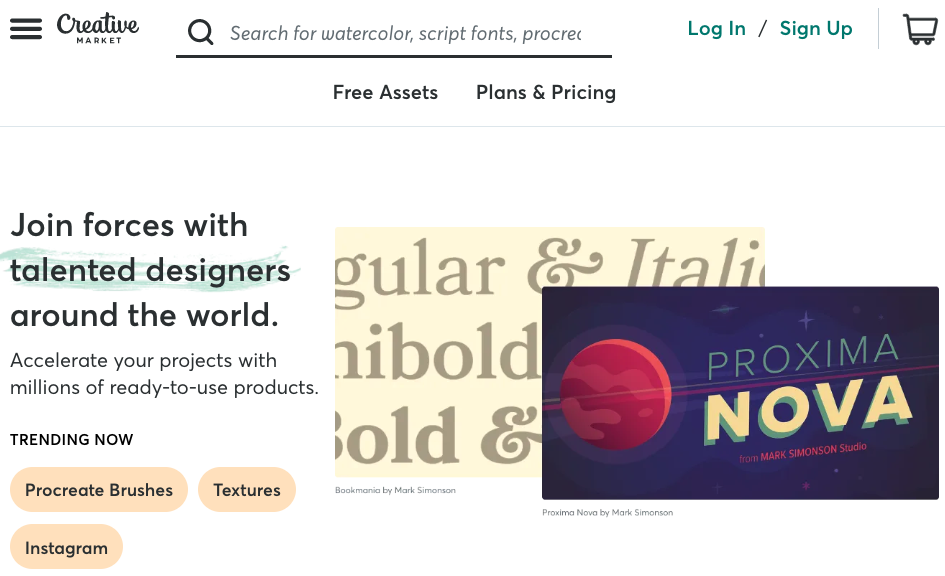 What I love about Creative Market is that you can round out your website graphics collection easily.
Individual designers offer graphics, photos, fonts, and more. Plus, you can find Photoshop graphics (PSD files), vector files, rasters, and PNG's that are easily used in The Graphics Creator.
You simply purchase the graphic design collections or individual graphics you need, as you need them. However, the most affordable way to add to your graphics is to buy credit packages (on a monthly plan). You'll save about $5 on a $19.95/mo plan by getting $25 worth of graphics and images.
Plus, as a member, you can choose from a selection of free design assets that change monthly. Just don't forget to browse these often, as you can save a lot of money on some really useful graphics!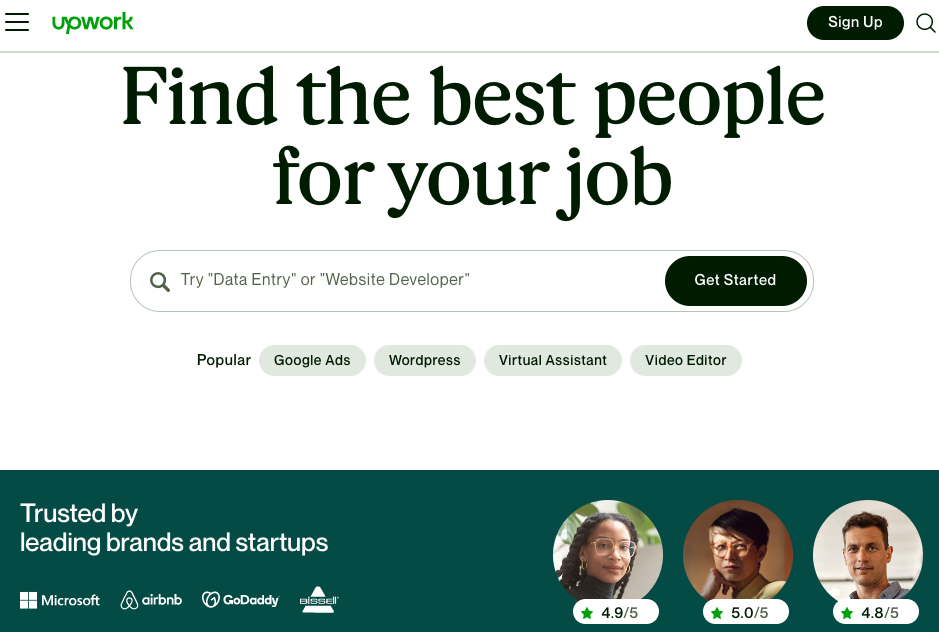 If you want custom graphics and are willing to pay a designer to make them for you, then Upwork should be one of your first choices. The site is one of the most popular freelancing platforms on the internet, so tons of graphic designers are available to make images for your website.
Upwork also uses many convenient search filters, allowing you to narrow down your search for the perfect designer. It makes it easy to determine how long the designer spends working on your project, so you know you're paying a fair price for each graphic.
However, this option is likely more expensive than many other options since you pay a professional to make the web graphics.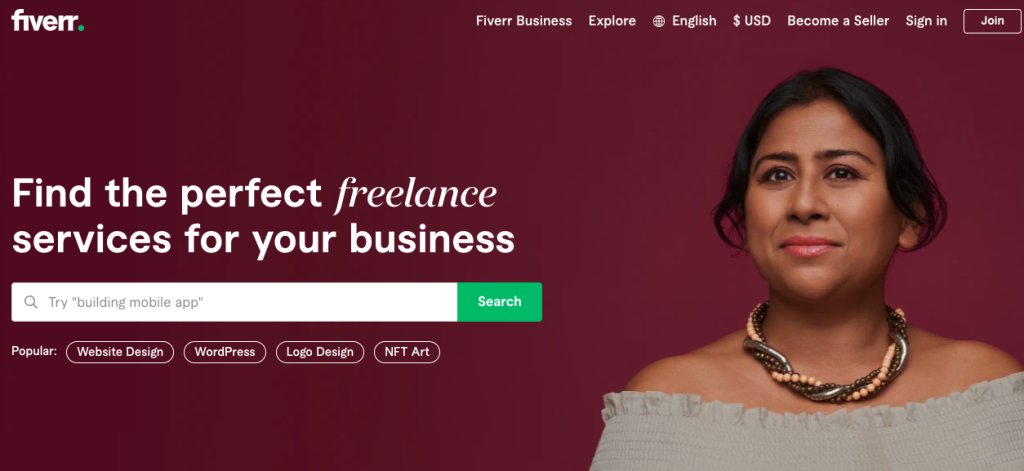 One of my favorite websites for getting help when I need it- Fiverr is a direct competitor to Upwork, so they share some similarities. This site is popular with small businesses or individuals looking to hire someone to make their designs. At the same time, larger corporations tend to hire through Upwork.
When you post a "gig" on Fiverr, freelance graphic designers respond with their rates and estimated time spent working on the project. You can choose what sounds fair to you while checking out the designer profiles. However, keep in mind that professionals tend to charge more than beginners, so you might need to spend more to get the designs you want.
However, you can also search directly for a designer that meets your requirements. This may be easier and less time-consuming if you're only looking for a one-time hire.
Further, Fiverr offers lots of other help from virtual assistants, social media managers, and programmers.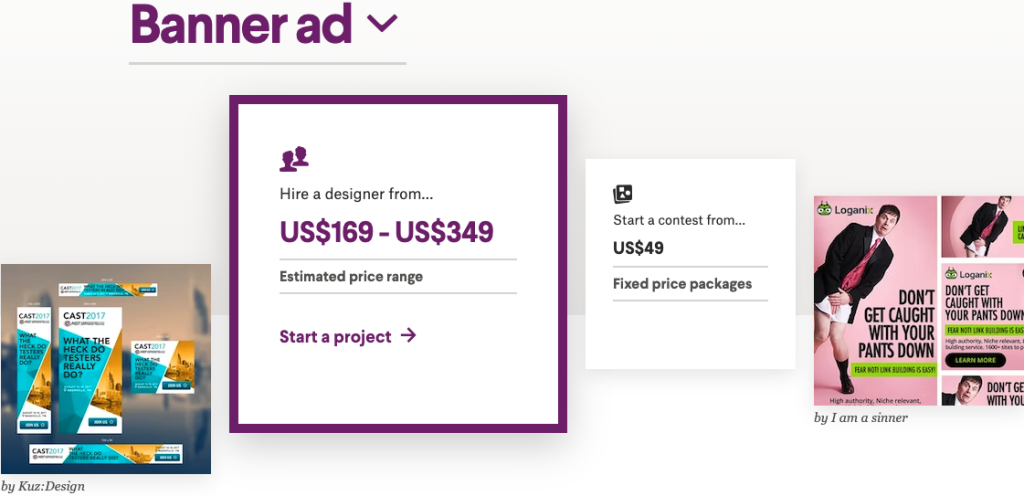 99designs is one of the websites featured here because it has a huge collection of web designers and graphic design freelancers. If you need any web content, you're certain to find someone there who can make it for you.
This site has a slightly different design process. Here's what you can expect:
You submit a project brief as a design contest.
Freelance designers pitch their ideas to you.
You choose the one you like the most, or you can reach out to designers to make changes to their pitch.
99designs allows you to hold contests where hundreds of different designers could apply. Plus, the company looks into the applying designers, so you know you're only getting the best of the best. As an example, you can start a contest for a banner ad for around $49.
However, if you'd like to hire a designer directly, prices begin at $169.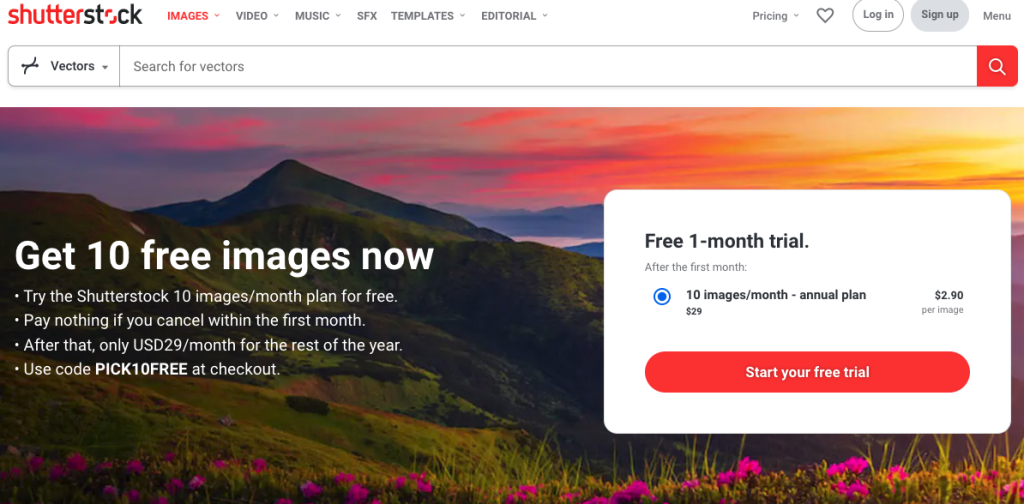 Shutterstock is a massive graphic database, with over 400 million+ images. You can find vectors, photos, icons, illustrations, and more on the site. They even have clip art and music that you can use. It doesn't cost much to use (compared to hiring a graphic designer), and the licensing is simple to understand.
Shutterstock is a classic and reliable option for getting design elements for any website since it's been online for a long time. It's very cost-effective, more than hiring a graphic designer or photographer to get the images you want.
There's a 1-month free trial and you can get 10 images a month thereafter for $29/year.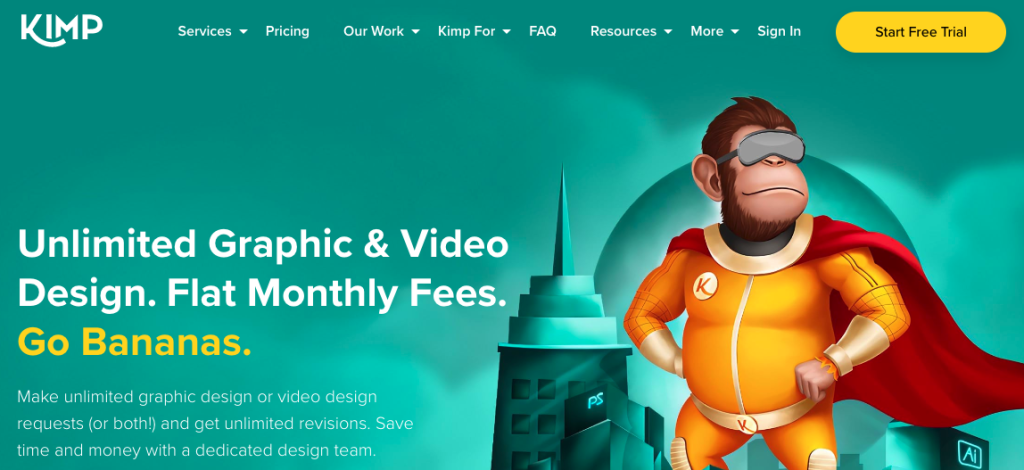 Lastly, Kimp is another great choice. This site connects you with a small team of designers who create videos and graphics. You will need to subscribe, but you always pay a flat rate for all your orders.
Many customers say that the site only offers the highest quality work too. Plus, the designers are very responsive and always keep your ideas in mind. They even provide multiple edits until you're happy with the images.
Kimp markets itself as an unlimited graphic design platform, making it unique from the other freelancer services. That means you get access to multiple designers and can have more than one project running at a time. You'll love what you receive if you have the money to support the web designers.
In short, Kimp is another option. Although, you'll need first to make sure that your business has the budget in place to pay the design team, as there's a quite pricey fee upfront. Make sure to use their 7-day trial to get an idea of the quality and how it all works!
Wrap Up
The best ways to get the graphics you need are to take a look at this list of web design resources that'll help you create the perfect designs. All together, they are a huge collection of free design resources and paid graphic design, perfect for you if you design your own graphics.
Further, the websites featured in this blog post offer design elements, professional services, and high-quality graphics that can often be used together. For example, you can use design assets from Creative Market, Flaticon, and Freepik in Laughingbird Software's Graphics Creator.
If you work with vector files, you can use any of the photo sites and the free account from unDraw to add to your creative work.
Either way, you don't have to spend a lot of money to find the graphics you need for your own website. Be sure to read each website's copyright restrictions to determine if you can use them for more than just personal use.