Visual content creation is one of the most important parts of running an online business in the 21st century and will only become more important as there'll be over 5.3 billion internet users by 2023. However, there are so many tools offered for visual content creation that it can be intimidating to know where and how to start.
However, there are a handful of different types of online creation tools you'll need. These include tools to help you with video editing, graphic design and photo editing, business presentation, document editing, content production, and audio editing.
Here are 18 online content creation tools that will help you with your business:
Animoto
Animaker
iMovie
Powtoon
The Graphics Creator
Canva
Vista Create (formerly Crello)
Remove.bg
Prezi
Beautiful.ai
Flipsnack
Webinar Ninja
Designrr
Grammarly
Hemingway Editor
Answer the Public
Audacity
TwistedWave Audio Editor
In reality, you need a handful of great online creation tools for your video content, blog post, landing pages, social media posts, web pages, to help create infographics, and more.
In the rest of this article, I'll discuss how each of the best content creation tools online can help your business. And I've separated them by the type of online creation tool, so you can easily pick and choose from free tools and decide how to create content that'll work for you.
Video Editing Tools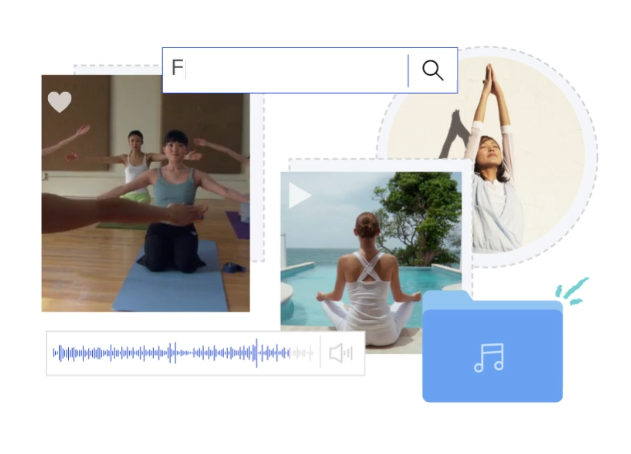 1. Animoto
Animoto is a simple drag-and-drop video editor that allows you to use its large library of licensed music, stock images, customization tools, and video templates. Its easy interface and advanced tools make video creation simple even for beginners.
Animoto's drag-and-drop interface speeds up the process of video creation, which allows any business owner to upload videos quicker and on multiple platforms. The best part is that you can directly share your video from the software itself!
Animoto offers free and paid plans, with unlimited video creation on all. This easy-to-use tool can be used on iOS devices and desktop computers.
2. Animaker
Animaker is a drag-and-drop video creation software heavily favored by big brands like Bosch, McDonald's, and Visa. Its best feature is its animations.
Animaker allows you to build your own animated characters and use them in your videos, unlike many other video creation software. It can also be used for live-action videos, but the animations are the key feature that makes Animaker stand out.
This software has a stock photo and video library of over 100 million assets, more than 1000 video templates, and convenient features like instant resizing for social media and 4k quality.
Animaker has free and paid plans. The free plan offers basic video editing services for five videos per month. However, you might need a paid plan to use its best features.
3. iMovie
iMovie is a free, pre-installed software that comes with most Apple devices. Beginner editors and professional YouTubers favor it, so it's perfect for a small business.
Like many other video content creation software, iMovie comes with built-in templates to work with. It isn't as easy to use as some drag-and-drop video editors, but it's fairly easy to use once you get used to it.
The biggest disadvantage of iMovie is that it's only compatible with Apple products. Thus, it's not available for Windows computers or Android devices.
4. Powtoon
Powtoon is one of the most comprehensive visual content creation tools available online. This video editor allows you to create fun, quirky videos with animations, cartoon-like characters, doodles, etc.
The wide range of videos available with Powtoon makes it perfect for all kinds of businesses. Do you need serious, data-driven videos for your company? Use Powtoon! Do you need fun, animated videos for social media? Use Powtoon! Do you need quirky characters and storytelling for a classroom of students? Use Powtoon!
With over 30 million users, Powtoon is a force to reckon with. They have both free and paid plans available, although the free plans only offer a limited number of tools. For a business, it's best to invest in one of the paid plans.
Graphics and Photo Editing Tools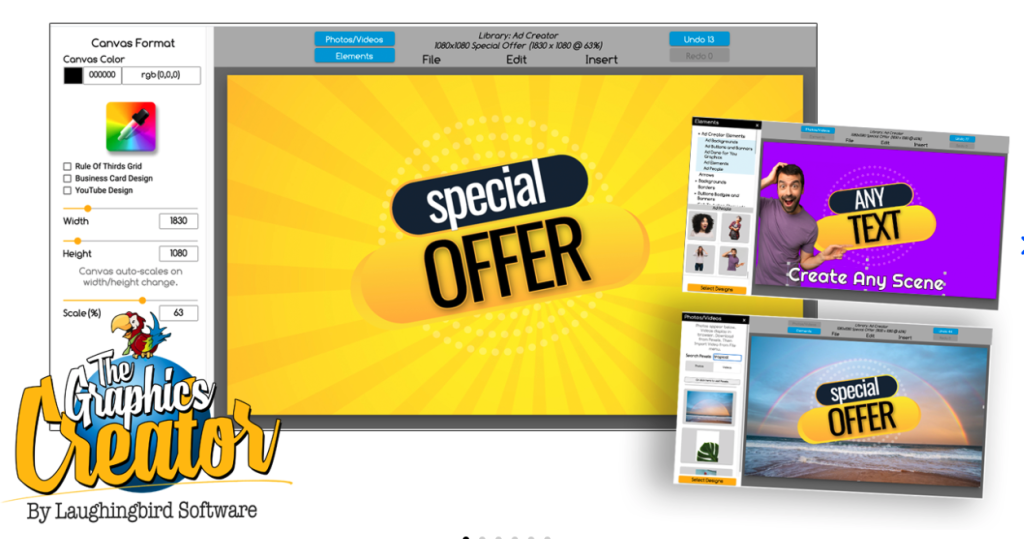 5. The Graphics Creator
The Graphics Creator, by Laughingbird Software, is a great tool that lets you create unique, stand-out designs.
It's one of the best content creation tools when it comes to graphic design. This online creation tool gives you more than 5000 design elements to create fun, quirky graphics and eye-catching presentations, e-covers, marketing, and business designs. You can use these graphics for your blog, social media platforms, advertising, and much more!
With this visual content creation tool, it's easy to create icons, cartoon-ish characters, banners, buttons, and more to create fun designs for your business. They also have over 1500 templates for visual content ideas that you can use alongside their vast online library of free icons and free stock photos.
Best of all, you can use the software to create an unlimited number of graphics or mascots with no designing experience required!
Another advantage of The Graphics Creator is that it's perfect for small businesses that don't need to invest in other software's expensive, team-oriented plans. So if you only need a simple account to use among a few people, the Graphics Creator is perfect. And you get a free version!
This tool is available on Mac, Windows, Linux, and Chromebooks. There's also a downloadable version for you to use.
6. Canva
Canva is one of the most popular online creation tools for a good reason. This easy-to-use, free software allows you to create eye-catching pictures, infographics, flyers, presentations, and much more.
Canva has many free and paid templates for every possible thing you need. From pictures for social media to flyers to planners to posters–everything can be easily created using templates or from scratch using interactive elements and fonts. It also includes infographic creation tools.
Although Canva's free plan still allows you to use multiple features, it's still best to go for a paid plan for your business. This will allow you access to more professionally created templates and features that aren't available in the free plan.
7. Vista Create (Formerly Crello)
Vista Create is an online graphics creation software. It allows you to create logos, images, flyers, social media posts, etc.
They also offer multiple templates, stock images, and icons for creations. Use their image editing tools to create any visual content, from business presentations to Instagram posts and other social media.
Vista Create has free and paid plans. It's also available online and as iOS and Android apps.
8. Remove.bg
Ever tried to remove the background of a picture in photo editing software? You'd know exactly how difficult it is to get it right if you have. However, with Remove.bg, that problem is solved.
Remove.bg isn't a full graphics creation software, unlike the other options on this list. However, it is incredibly useful for visual content creation.
Essentially, this software uses Artificial Intelligence (AI) to remove the background of any picture you upload, keeping only the main object. This makes it much easier to edit that object onto different backgrounds.
Remove.bg has free plans, subscription plans, and pay-as-you-go plans available.
Presentation Tools

9. Prezi
When you need beautiful presentations in slide, PDF, or video formats, Prezi is the place to go. This all-in-one inclusive software allows users to create beautiful, well-designed presentations for school, college, research, or business.
Prezi has three ways to create content: Prezi Video, Prezi Present, and Prezi Design. These services are available with every plan, but additional features like access to a stock photo library, support, and voiceovers are available only with some of the paid plans.
They have free and paid versions, with special plans for individuals, students and educators, and businesses.
10. Beautiful.ai
Beautiful.ai is an online presentation creation software that allows you to create stunning presentations in minutes. They have multiple templates, stock images and icons, and a simple drag-and-drop interface that makes it easy to build beautiful presentations.
Beautiful.ai also uses AI to apply designing principles to your presentations automatically. You can simply continue adding elements to your slide, and the software automatically arranges it according to visual designing guidelines.
Beautiful.ai does not have any free plans for businesses, but it does offer very attractive paid plans. However, students using a .edu email ID can apply for a free, one-year Pro Plan.
11. Webinar Ninja
Businesses today use the internet to educate, build brand awareness, and present information to clients, users, and stakeholders. Unfortunately, webinars usually cost quite a lot of money. You have to pay for building a website, hosting, registration, email marketing, analytics, etc.
Or, you could use Webinar Ninja to take care of all of that for you.
Webinar Ninja is an all-in-one website that takes care of everything to do with your webinars: hosting, registration, email marketing, payments, etc. Although there is a free plan for small webinars (maximum ten registrants), one of the attractively priced paid plans will be best for your business.
Document Editing Tools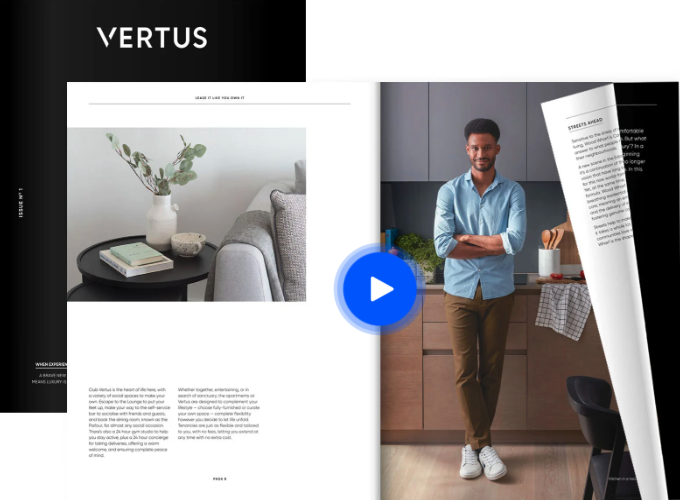 12. Flipsnack
If you have ever created or read a PDF document, you would know that there's something missing from electronic documents. The flipping of pages in a regular, physical magazine or book has its own nostalgic magic. There's something very calming about flipping through physical pages that cannot be replicated in electronic documents.
Or so I thought. But then I learned about Flipsnack.
Flipsnack is an online website that allows you to turn your regular PDF magazines or brochures into beautiful electronic flipbooks. This adds a visual element to your ebooks that immediately puts them on a higher level than simple PDFs.
Flipsnack doesn't offer free plans, but it has Standard and Enterprise paid plans. The standard plans are suitable for individuals, but you can go for one of their enterprise plans for your business.
13. Designrr
Designrr is a dynamic ebook creator that allows you to create interactive and picturesque ebooks, PDFs, brochures, and more. You can also transform videos, podcasts, and other media into PDFs, ebooks, transcripts, or blog posts. You can also import pages from any URL and publish them in all formats: PDF, EPUB, Kindle, etc.)
Designrr only has paid plans, but they offer a 7-day free trial for all plans. They have regular plans for individuals as well as advanced plans for businesses.
Content Production Tools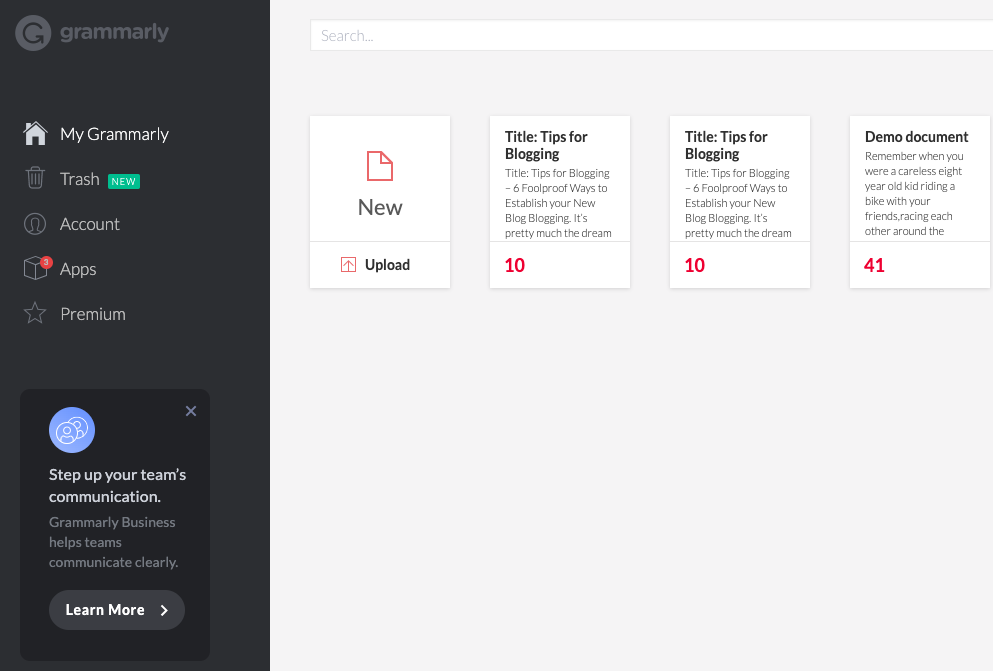 14. Grammarly
The importance of proper writing cannot be understated regarding content creation. Bad writing will always put off your audience no matter how eye-catching or picturesque your website and graphics are.
This is where Grammarly comes in. Grammarly is an Artificial Intelligence (AI) run program that checks your writing for grammatical errors, unclear sentences, plagiarism, and more. It allows you to polish your writing and convey your message clearly to your readers.
Grammarly has a free option that checks for basic grammatical errors and a paid plan for individuals that helps to identify unclear sentences and advanced language mistakes. However, the Grammarly Business Plan is the best option for your business, as it provides all functions for multiple teams under the same account.
15. Hemingway Editor
The Hemingway Editor is named after the celebrated author Ernest Hemingway. This writing tool uses Hemingway's writing principles to help you write clear, concise, and simple copy.
Hemingway's writing style followed a simple principle: Simple is better. He rarely used unknown, intricate language where simple language would suffice. His writing style featured short sentences and high readability.
The Hemingway Editor applies those principles to your writing and highlights the parts that need to be changed. It lets you know when to use shorter sentences or active voice. It also allows you to format your document in the app itself. Unlike Grammarly, which is entirely about the rules of the English language, this app helps you improve your document's readability.
The Hemingway Editor is free to use in its online version, with all functions available. There's also a desktop app that is available for a one-time payment.
16. Answer the Public
Answer the Public is a great research tool for social media and online businesses. When you enter a keyword or phrase into the search bar, Answer the Public looks into the searches involving those keywords on search engines like Google. It then gives you a chart that details all the useful questions and searches related to the keyword.
This is great for content creators and business owners to know what kind of content they should create. By analyzing the search trends of the keywords, you can match your marketing to the customers' concerns.
Answer the Public offers a limited number of free daily searches, but you can purchase one of their paid plans for more searches.
Audio Editing Tools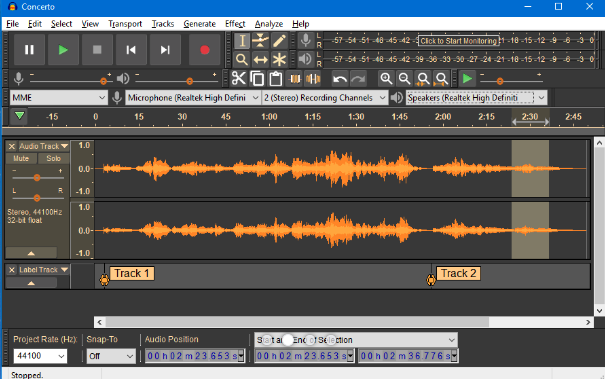 17. Audacity
Audacity is a free audio editing software available for Windows, Mac, and Linux. This multi-track editing software offers audio recording, audio conversion, playback recording, audio editing, mixing, arranging, and much more.
Audio editing is essential whether you're creating a fun jingle for your business or setting up a podcast. A well-made video with a poorly mixed audio track will chase away your potential audience. Audacity is one of the best free audio editors, and it's favored by everyone, from YouTubers to podcast creators.
18. TwistedWave Audio Editor
TwistedWave is a free audio editor for Apple products. It's available on Mac, iPhone, iPad, and online. The online version can be used on any device. All you need is a web browser to access it.
TwistedWave can be used for free for small audio files. It allows you to create and edit mono files of up to 5 minutes in length. You'll need to create an account and purchase a subscription for larger files.
Wrap Up
You need the types of online creation tools that make it easy to develop content for everyday business.
Each tool listed here lets you create just what your business needs, and makes it easy, any time of the day or night. So reviewing this list of online content creation tools is an excellent way to help you tackle your content marketing and digital content creation!
Be sure to check out the free content creation tools as well.