If you're working on your own designs, you'll need access to plenty of digital graphics. Having easy access to graphics will let you create designs quickly and build a cohesive look across your online presence. However, it can be challenging to find sites that offer high-quality graphics for your design projects consistently.
So here is a list of the top 12 places to get digital graphics online:
Laughingbird Software
GraphicRiver
Shutterstock
Behance
Creative Market
Graphic Mama
99designs
Designhill
Hatchwise
Pixabay
Fiverr
Pexels
All of these sites have plenty of options for various digital graphics. You'll need to learn more about them because they offer a variety of image styles including photos, transparent PNGs, vectors, illustrations, icons, and more. Further, some companies offer design services while others have software to help you design your own graphics.
Let's take a deeper look at how these top 10 graphic sites can benefit you.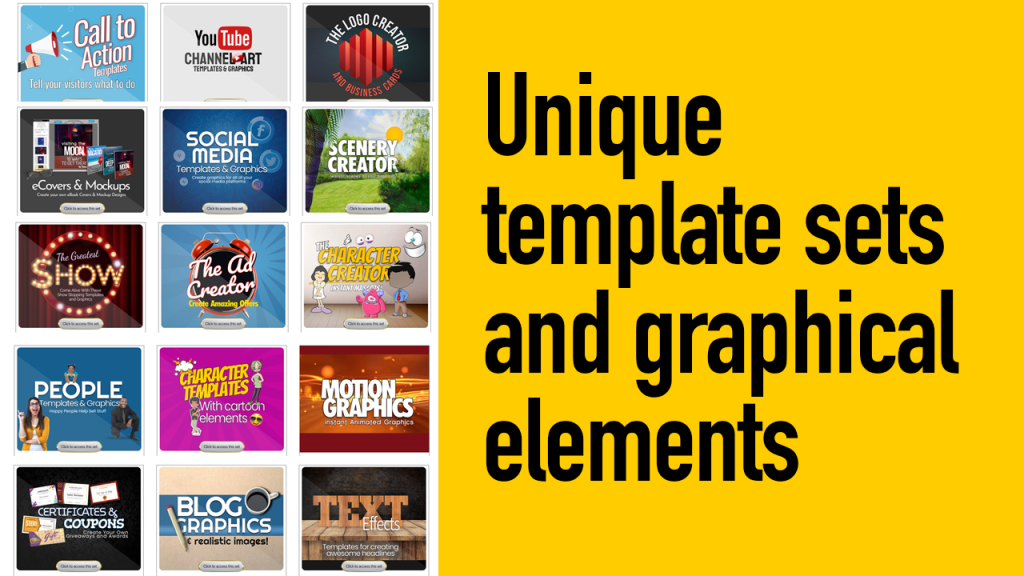 One of the top places to find the online graphics you need is Laughingbird Software. This site offers tons of attention-getting graphics and templates that you can use to create professional-quality designs. The best part is that you don't need to have any previous graphic design skills to use these images (and you don't need to know Photoshop or Illustrator)!
You'll find pre-designed templates, transparent PNGs (which can be challenging to find online), banners, logos, business cards, book covers, cartoon graphics, and tons of stock photos, to name a few. And you can use thousands of high-quality images and designs (included) freely in your own work.
Whether you're making a blog or an eCommerce site, you're sure to find what you need to create for art and design projects. Further, it's easy to create small business marketing graphics that'll help convey your unique message online.
The Graphics Creator
There's another feature that sets Laughingbird apart from the competition: The Graphics Creator! It's an all-in-one design solution. You'll not only get all the graphics you need in one place, but you'll be able to edit them into a beautiful design with a software tool that small businesses and even non-designers can use.
Be sure to try their free trial version of The Graphics Creator before going all in. You'll get full functionality and design features along with a couple of free template sets.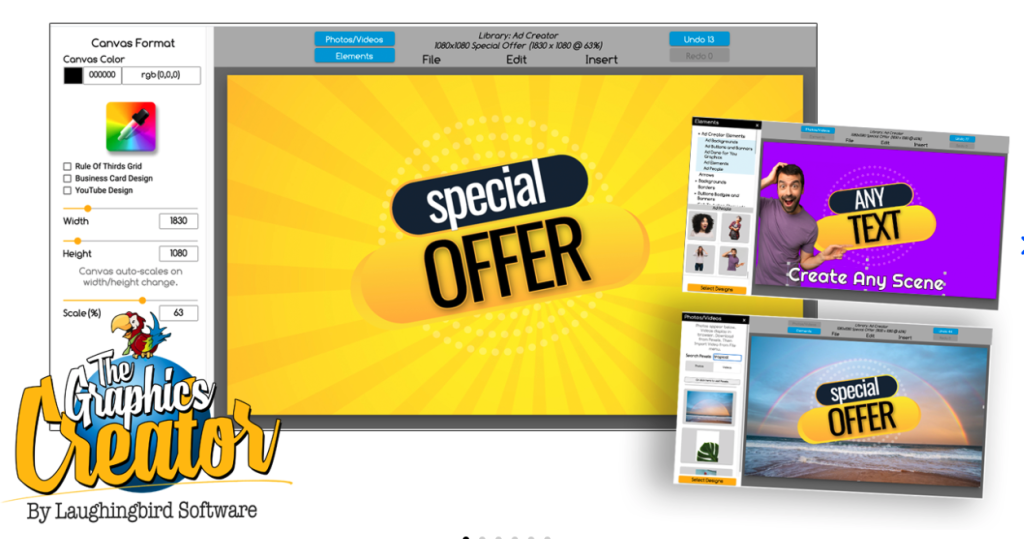 The Graphics Creator full version gives you instant access to more than 1,500 unique templates and over 5000 graphic elements, making it easy to design images for your website, email, social media, and digital marketing. You can also keep up with the Laughingbird blog and simple video tutorials to learn more about design, marketing, and business solutions.
A huge benefit of The Graphics Creator is that you can import any PNG graphic or JPEG you obtain from other sites!

Another great place to find digital graphics is GraphicRiver. This site is known for having professional stock graphics and easy-to-use design templates. You can take the templates and change the fonts, logo design, and other elements to make your own designs for your website or print. Just make sure you have experience with PSD or vector files if you choose to use them.
GraphicRiver guarantees that all of its graphics are high-quality. They have high creative standards for choosing their content from graphic designers, so you can trust that nothing unprofessional or messy makes its way onto their website. The major difference between GraphicRiver and Laughingbird Software is that you buy the graphics you need one at a time, rather than having access to thousands of graphics at once, for one low price.
Plus, GraphicRiver has a fun "Featured" page where you can check out the week's best graphics. These can include logos and fonts, plus anything else that stands out to the site's moderators.
GraphicRiver also allows creatives to post their graphics on the site. Users are very interactive on the site, and you can watch competitions or keep up with design news through the page. It's definitely worth checking out if you need some graphics!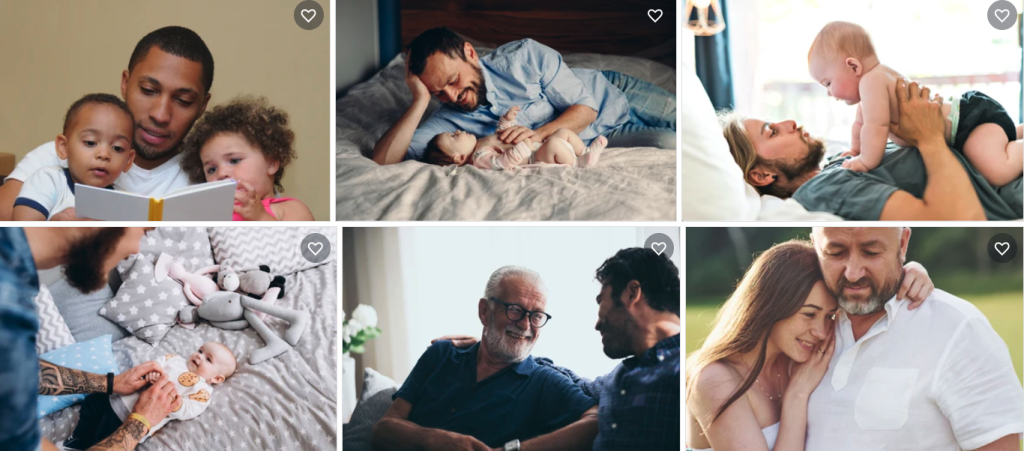 Shutterstock is one of the most popular options on this list. Professional designers constantly add new graphics to the site's searchable content, so you'll always have plenty to choose from. According to Shutterstock, they now have more than 405 million images (as of March 2022), as well as hundreds of thousands of professional contributors. You can trust that the site will only grow in the following years.
This site has a heavy focus on offering photography, although you can also find tons of videos, music, and vector designs that you can use. Shutterstock can also give you copyright licenses, making it so that you're the only one who owns the graphic.
Although you will purchase images individually, you won't have to pay yearly to keep them on your pages, as Shutterstock has tons of royalty-free photos and illustrations. You can also combine the images you get from the site to create stunning designs.
In short, Shutterstock is a very well-known website. You're sure to find plenty of stock images that suit your website through them.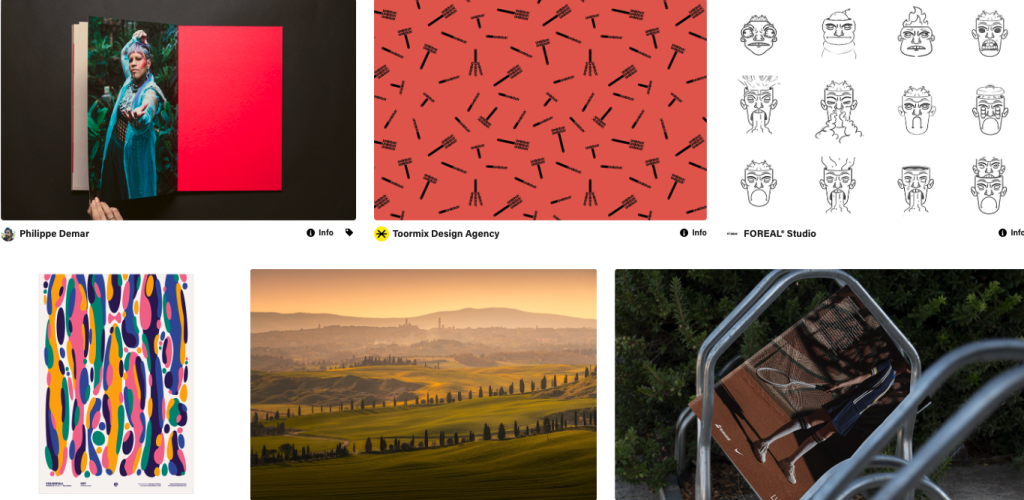 Consider visiting Behance to get digital graphics online. Behance is a social media platform with graphic designers in mind. It's owned by Adobe and has a large base of designers and artists. If you're looking for custom graphics, it's a great place to start.
This website works as a graphic design marketplace, letting you browse through thousands of designer profiles to choose a style that suits your project the best.
The site allows creatives to share their profiles for free, so you'll have access to various graphics from many individuals. You can contact the designers through Behance if you find designs that you like. They'll create unique graphics for you while staying consistent with your brand identity.
Overall, Behance is an excellent option for browsing graphics. You'll also have a direct way to communicate with the designers, making it convenient to hire one for a logo design, business card, virtual book cover, or other graphics specifically for you.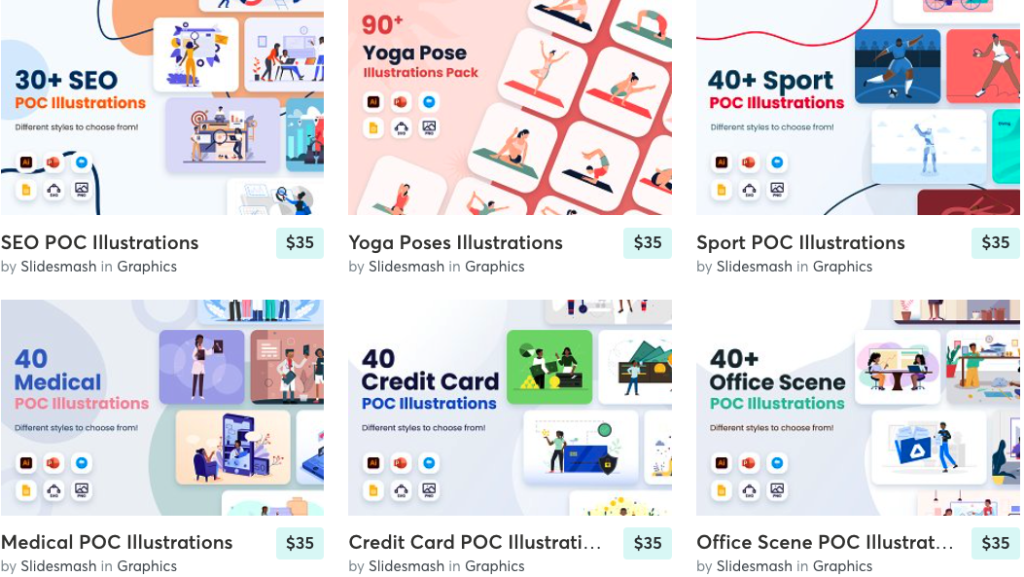 Creative Market sells a variety of different design elements. You can find stock photos, icons, and even WordPress themes on their site. Creative Market says that they have more than 3 million unique templates, graphics, themes, images, and fonts, so you're sure to find what you need.
If you're an eCommerce site working through Shopify, many themes are also available. You can also check out their most popular fonts on their landing page.
Creative Market has a variety of designs from individual designers that you can purchase and use in your own works. The site also allows you to sell your designs as a professional graphic designer.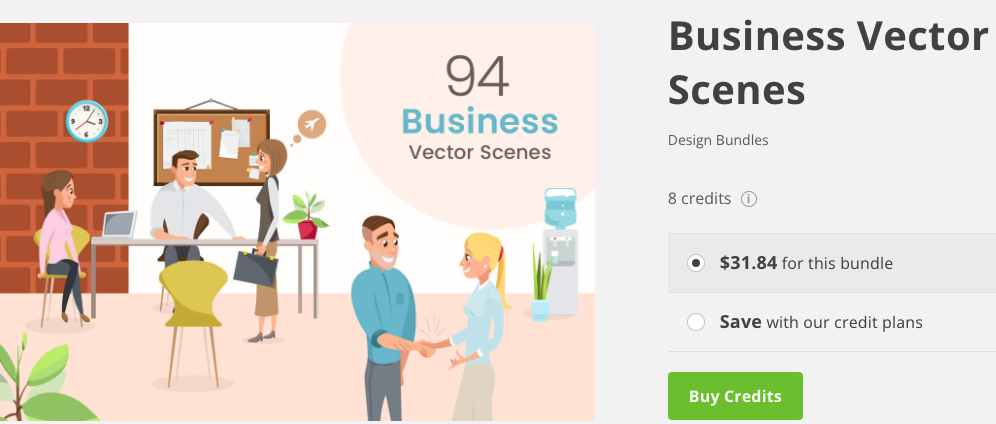 Like Laughingbird Software, Graphic Mama has unique graphics that can help you really grab attention.
They have vector cartoon characters, design bundles, and graphics for Powerpoint presentations. Some of their offerings come in multiple formats such as EPS, PDF, and PNG files, for which you don't need to use challenging tools like Photoshop or Illustrator. The other benefit is that you can the PNG images in other design tools like The Graphics Creator.
In order to make a purchase, you will need to buy credits. These come in big or small bundles, or you can even buy one at a time.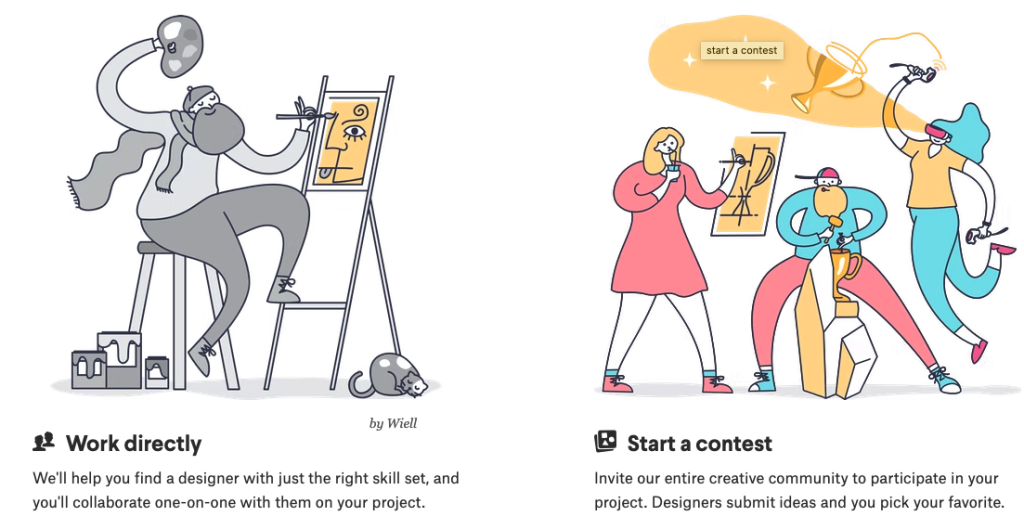 99designs is a crowdsourcing graphic platform. What this basically means is that several designers create unique graphics (through a "contest"), allowing you to choose the ones that you like the best. This helps you find the best designer for your needs and doesn't limit you to waiting and hoping that the person you hired sees your vision.
The 99designs community is massive, making it a great place to find graphics for your needs. In fact, popular contests can have hundreds of applicants trying to create the best logo design or marketing image. Plus, you can give the designers constructive feedback and ask them to tweak the designs.
A huge benefit is that once you choose the winning graphic, you have full copyright over the design. You can download the design and set it up anywhere that you want to.

Designhill is another site that helps you find the perfect designer from amongst many.
They have a contest option where you pay one fee and then let the artists submit their best work for your design.
However, you can also choose from predetermined gigs with set prices. So, you won't be left guessing how long it'll take to finish your graphic… and thus how expensive it'll be. Just set your budget and get started. You can even work with the designer directly (unlike in a design contest).
And here's another idea… use their AI-powered logo creation tool just by answering a few questions and clicking a few buttons. You'll get dozens of logos to choose from immediately.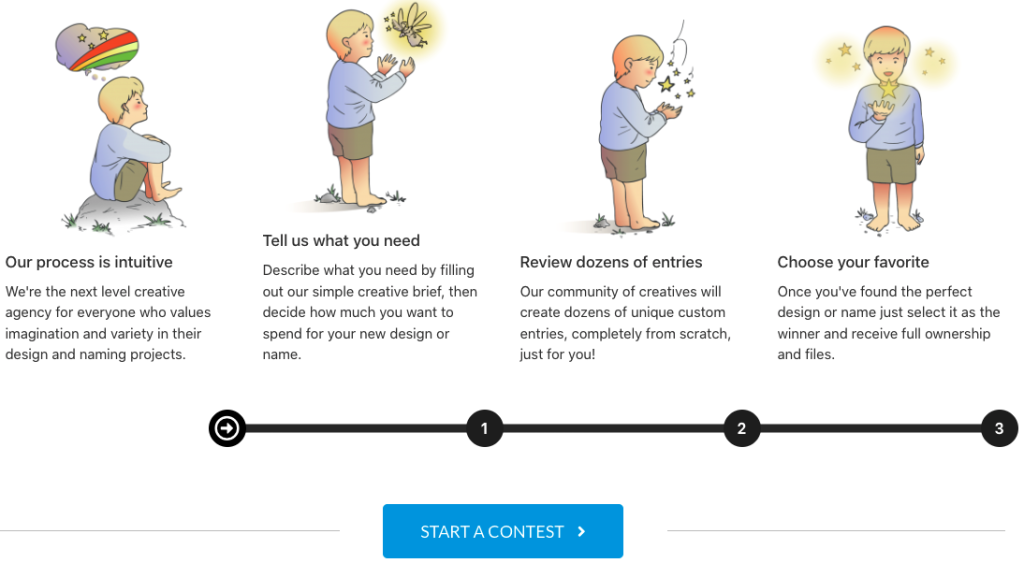 Like 99designs, Hatchwise allows you to post a contest or prompt and choose your favorite designs from the graphics that creatives send you.
Hatchwise claims to be less pricey, although it likely depends on the type of projects you post. More designers tend to respond to 99design posts, but you'll still find hundreds of talented designers on Hatchwise.
You can make your design brief for the contest very detailed as well. To help ease your mind, you can also cancel the contest or ask for changes to the designs. That way, you know you're getting something that you'll love.
As soon as you send the designer money, you have complete access to the graphic and can do anything you want with it.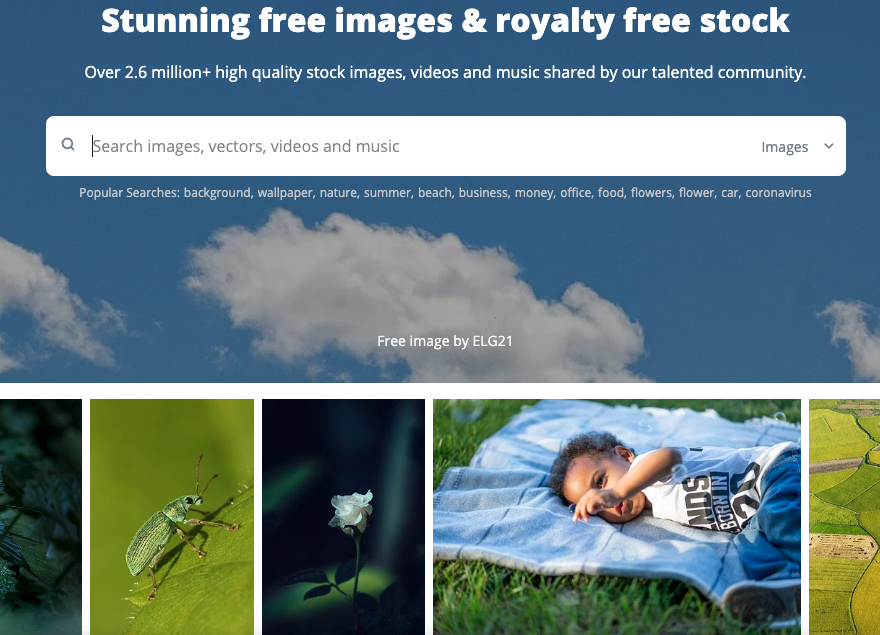 Pixabay is best for when you want to get various content for your designs from a single source. They offer copyright-free images, music, illustrations, and videos. You don't have to pay anything according to the Pixabay License—even if you're using the graphic for commercial purposes.
This site houses a massive community of creative individuals. It's an easy-to-use and safe site for when you want to find quality stock images.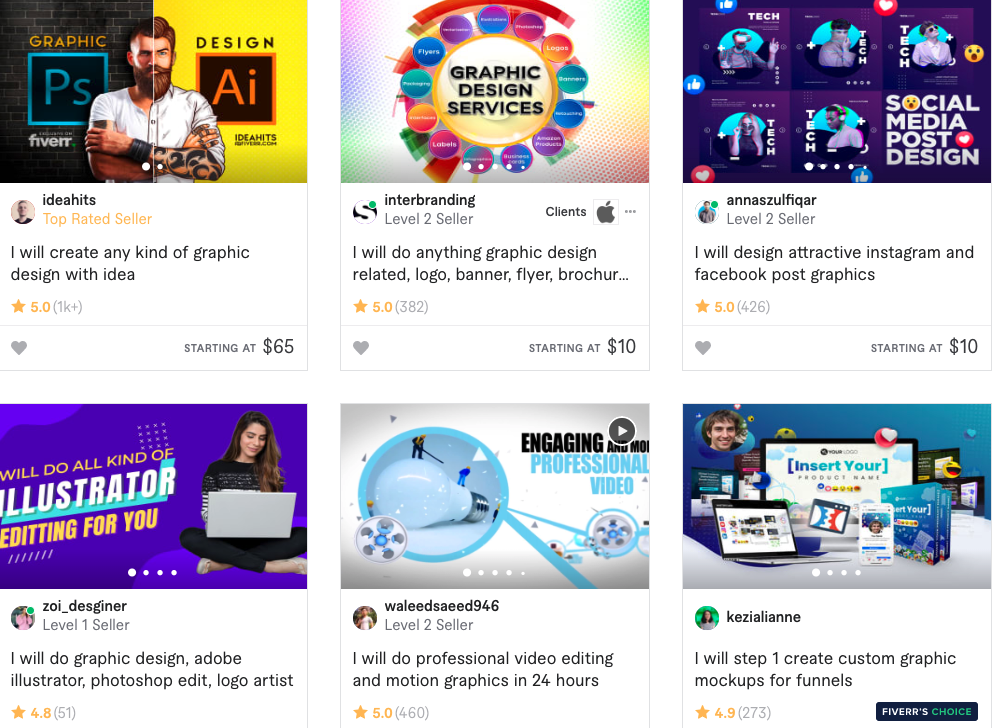 Fiverr is one of the largest spaces for graphic design services that you can find on the internet today. You'll post gigs, to which freelancers respond. They'll let you know how long it will take to make the design and how much they'll charge for it. Then, you can pick the freelancer that you want to work with.
Fiverr freelancers can help you create a logo, icon, or any kind of graphic! Once you pay for the graphic, you can download it and include it in your work. Most logos on the site will cost about $30 to $50, although you can get graphics for as cheap as five bucks. Top-rated designers can cost as much as $500 or more.
If you're just looking for a few small graphics to include in your works, you can post quick gigs for relatively cheap. You can set up gigs for photo images, vector images, or any other type of graphic.
Naturally, design quality will vary. The site has a huge following, so you will likely get responses from designers very quickly. The site has a huge following of freelance designers, so you're sure to find someone who can meet your needs.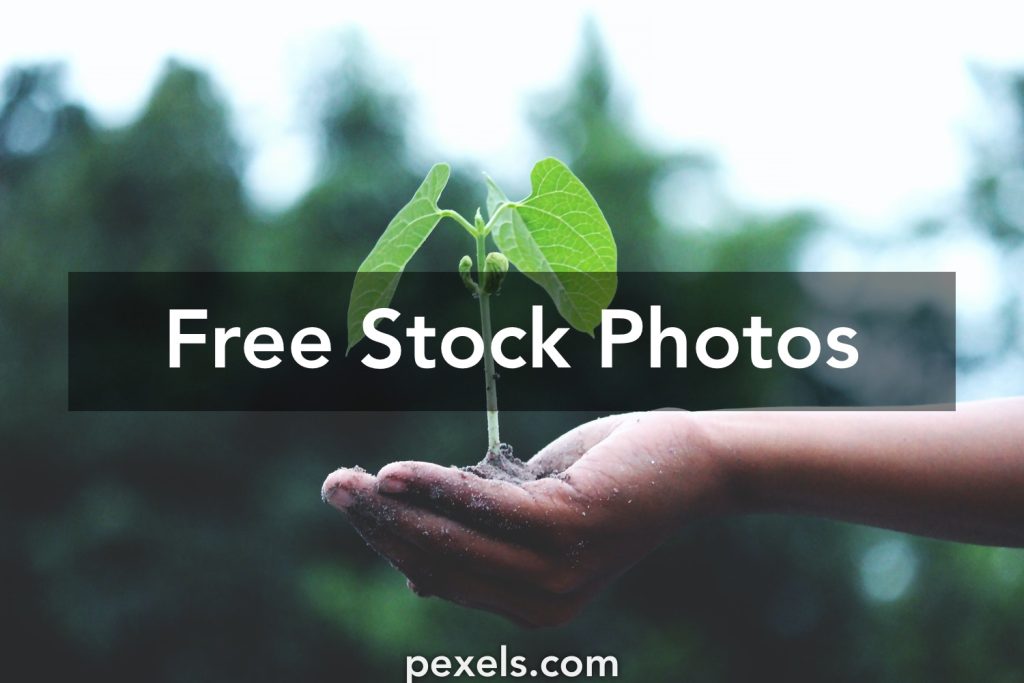 Pexels is very similar to Pixabay—it offers free stock images under its license. The photos are easy to sort through thanks to its organized tagging system. You can even edit the photos from the site without worrying about infringing on copyright laws.
If you find that you love a particular photographer or designer, you can even support them by sending a donation through the platform. Many creative professionals post their works on the site to gain a following and make some money.
If you go for Pexels, you're sure to find images that you can use in your projects. The site has an extensive user base, so thousands of new graphics get uploaded every day.
BONUS: Pexels photos are included for free inside free graphics maker software (just search, drag, and drop right onto the design canvas).
Wrap-Up
This list includes the best places to get graphics for digital online use. Most of them offer graphics to use in your artwork, websites, marketing materials, and presentations. However, you'll also find companies that offer design services.
Browse the list to discover your perfect design options!