Hi Creators!
Thanks so much for the really thoughtful and helpful comments you've all been giving us about the new design tool we've been working on (it's almost ready)!
We've added another new feature you'll love.We've partnered with PEXELS Stock Photos – Now there's a whole new way to insert beautiful images into your designs.
All of the images you import can be used for commercial purposes (T-shirts, banners or graphics you create to sell to your own customers)…. all royalty free too!
Soon, you're going to have access to lots of awesome new features that'll help you create amazing visual content and stunning graphics. And, you'll still have the same ease of use you've come to expect with Laughingbird software.
In addition, you'll have all of your templates and graphics right there in your design center, with only one simple login.
Keep an eye out for more details about the really cool stuff you can create with the Web Graphics Creator. We're almost done with it and are ready to launch it.
In a couple of days, we'll show you other unbelievable new design features you'll have access to.
AND… A special offer is coming your way… just for you, as a thanks for being part of the Laughingbird family.
Make sure to leave a comment, question or idea below!
All the best, Marc & Lisa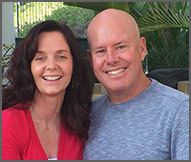 Marc & Lisa SylvesterThe Creators of Laughingbird Softwarehttps://stagingapril.laughingbirdsoftware.com