A Whole New World of Designing is Coming Your Way with the brand new Web Graphics Creator!
Hi there Creatorpreneurs!
We're excited to let you know that BIG things are happening. We've launched a brand new online graphics tool that'll really help you and your business look awesome. Over the next few days, we'll be showing you a few new features of The Web Graphics Creator.
Here's our first video for you. We've included all 800 Google Fonts into the software! The fonts are searchable and all of them can be used for commercial purposes or for your own business. You can create T-shirts, banners, business cards, logos… you name it and then you create it! 😀
Watch this:
See how simple it'll be to use beautiful fonts that'll improve the quality and ease of your design?
Soon, you're going to have access to lots of awesome new features that'll help you create amazing visual content and stunning graphics. And, you'll still have the same ease of use you've come to expect with Laughingbird software. In addition, you'll have all of your templates and graphics right there in your design center, with only one simple login.
Keep an eye out for more details about the really cool stuff you can create with the Web Graphics Creator. In a couple of days, we'll show you other unbelievable new design features you'll have access to.
Make sure to leave a comment below!We'd love to hear what you think of this.
All the best, Marc & Lisa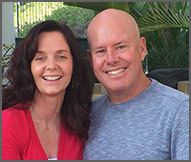 Marc & Lisa SylvesterThe Creators of Laughingbird Softwarehttps://stagingapril.laughingbirdsoftware.com