Hi there Creatorpreneurs!
One of the most common questions I get from entrepreneurs who work at home is "how can I make my own ebook cover?"
Creating your own eBook Cover AND Mockup Designs
In this article, I'm going to go over the two main ways:
• Do it yourself with ebook cover templates:
• Or, you can hire a designer from a marketplace like Fiverr.com
I have some insider tips that are going to help you create a professional looking ebook cover in just 3 simple steps. Then I'll show you 5 ways to use your designs for marketing to get more traffic, more clicks and hopefully, more sales.
---
How much do graphic designers charge for book covers?
First, let's figure out if you should hire somebody to create your ebook cover, or do it yourself.
Most designers charge between $20 and $50 for an ebook cover design. Typically, if you find designers on Fiverr, for example, they're most likely using the very tool you'll see below to make the same eye-catching book cover images you can create yourself!
Some providers DO offer quality work however, and they'll offer an extra package or two that may include the cover design, the 3D mockup of your ebook, and maybe a few additional items like a background image or a text overlay.
---
How about doing it yourself? Is it easy? is it time consuming?
It's super easy when you use the eCover and Mockup set for The Graphics Creator. You'll start off with a ton of eye catching software box mockups and ebook cover templates. You can tweak the ebook cover title and modify or combine them any way you want!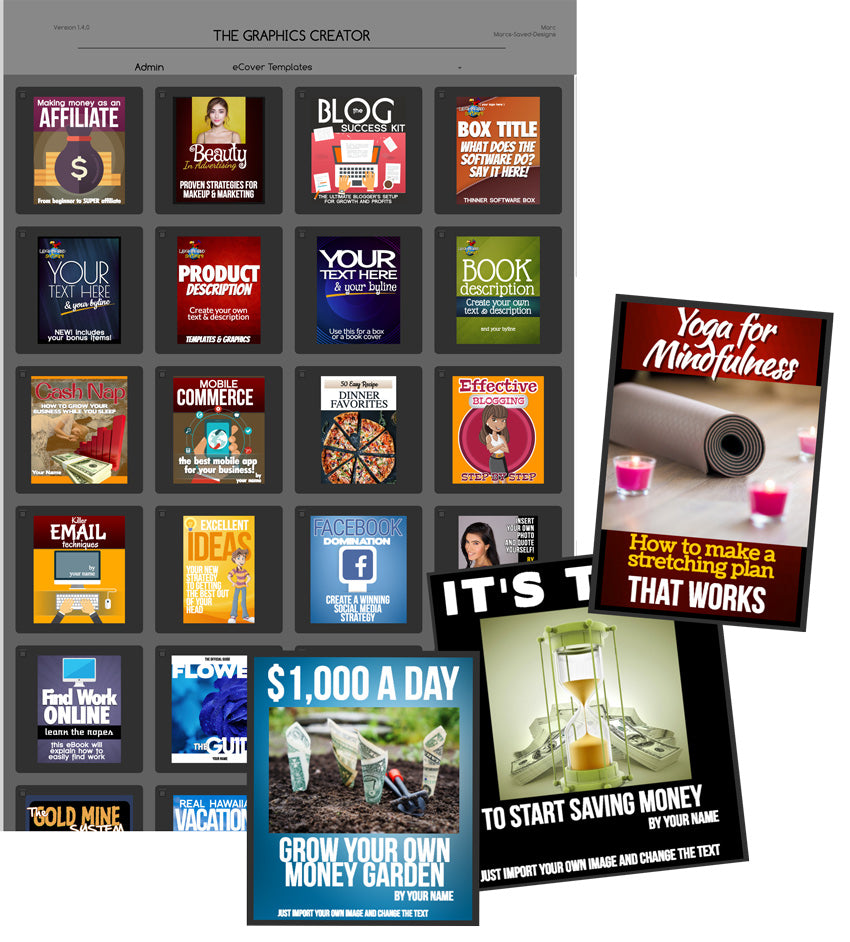 Edit them in a few minutes; Double click on the text to change it. Add different images from the stock photos library, drag and drop additional elements onto the canvas like background images and add headlines … for free! No extra charges.
Download as many designs …and as many revisions as you want without being charged extra. You can also save your ecovers and mockups for later use, which will save you time AND money. Keep saving your designs! It's almost like getting free ebook covers!
You can actually have a stunning ad for free at the same time! Check out the mockups below.
How do I design my own book cover?
You don't have to be a designer in order to create your own book cover! Thousands of people all over the world are using The Graphics Creator software (and our new online graphics creator version). It's by far the easiest way to design beautiful mockups. You can download the software for free (or try the free 1-week trial of the online version).
Step 1: Select one of the cover templates.
Add your title and author name to the book template. Adjust font size, color, text and more! Select the blue "elements" button, you can drag and drop different graphics onto your cover design.
click on the "photos" tab and drop in nice background (over a million photos are included for free) onto your ebook cover. Download your finished book graphic as a .png or .jpg file.
Step 2: "Map" the image to a 3D mockup design of your book image
Next, launch the 3D model collection. It contains hardcover book mockup, software boxes and others. Choose one and it'll appear on the canvas. Now you can simply drag your stunning cover from the last step right onto the 3D mockup.
And Step 3: Add more design elements
you can even design a full on ad if you'd like! Just add a text headline and some other elements like a nice background image. This tool makes it easy.
---
3 things you can use an eBook Cover Design for
Showcase your mockup or ebook design marketing yourself in a professional manner.
Have you ever seen the thumbnail graphics on fiverr? how trustworthy do some of them look to you? The graphics that DO look appealing appear far more trustworthy don't they? You get what I'm saying.
Let's say you're creating a free PDF ebook you'd like your customers to download. The cover image will be the first thing potential customers see, so it's important to design something that captures their attention and sets you apart from your competitors.
Choose a template and just follow the steps above and you'll be able to accomplish this small task.
Use your new designs to make money by selling the ebooks design on Etsy or other sites that sell digital products
The Graphics Creator gives your full royalty free and commercial rights to sell what you make with the software. you can start a new business designing book covers and mockups. the latest version of this program comes packed with templates that are optimized for Kindle books. There's a big market for Kindle book covers!
Use your new ebook designs as social media or blog post headers
The more blog or social media posts you write, the more changes you have of getting google to notice you. The more Google notices you, the more traffic you'll get.
The eCover gives you professional pre designed templates and everything you need to make featured Images for your blog pages.
(there's an online version you can use to create your ebook cover and mockups too! grab the free trial and see how easy it is.)
Creating a beautiful ebook cover is quick and easy.
You can do it yourself in about 10 minutes. You'll never again pay high prices for a book cover designs, and you'll always have full control over the details.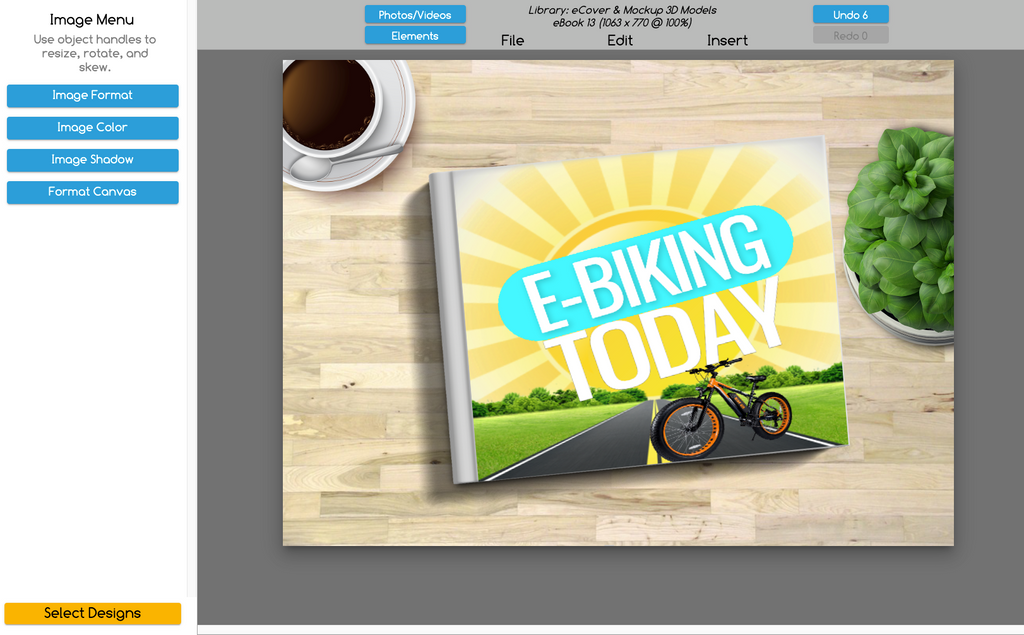 Now go out, design something amazing.
– I'd love to see what you come up with so please share your book covers and mockups in our Creatorpreneurs Facebook group – or point to them in the comments below!