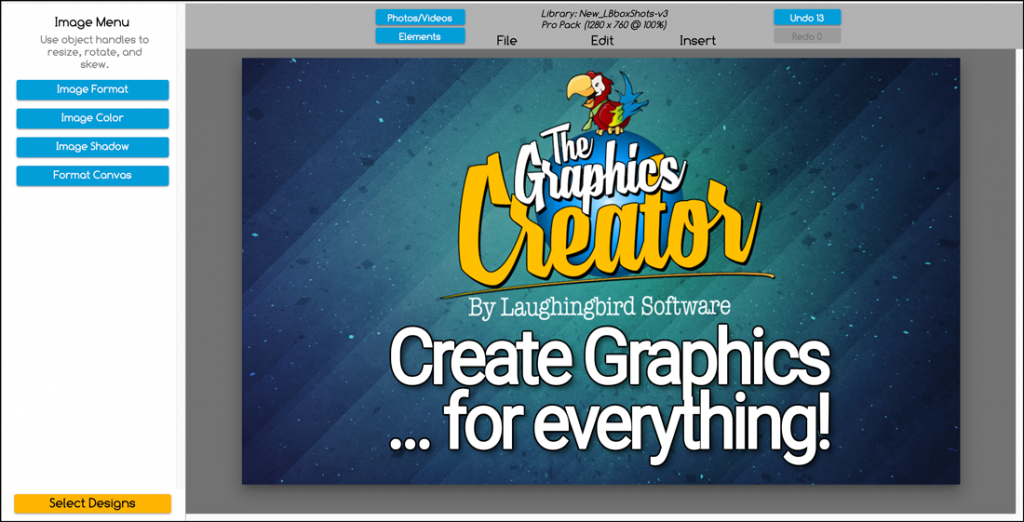 Need a quick graphic for your social media post? Want to make one yourself, but don't know where to start?
I'm going to walk you through creating 5 types of social media images using The Graphics Creator! (And I'm going to show you how to create them all… for free ???? )
---
For this article, I'm going to assume you already have The Graphics Creator software installed on your machine, or you have access to the Online Graphics Creator.
---
What makes good social media graphics?
In my humble opinion, it's two things:
• They should be simple and eye catching,
• and your social media graphics should contain SOME kind of "call to action" ('click here', 'buy now', 'visit the website', etc …)
That's all there is to it!
Let's launch the free Graphics Maker tool. The Graphics Creator is the best free tool for creating awesome designs and sharing them with your friends on social media. You can create, edit and download designs and use them on Facebook, Pinterest, YouTube and other social media platforms.
The Graphics Creator has a clean, simple interface that makes it easy to create custom images. You can use this tool for creating social media graphics from scratch, or by installing a few of the 'add-on' packages that contain pre-made templates. A super time saver!
The possibilities are endless!
Here are 7 social media graphics you can create instantly with The Graphics Creator
---
Create your own Facebook Post Image
Facebook post images are good for promoting your business or sharing information with friends.
The recommended size of a Facebook post is 1200 x 630 pixels.
Using the Graphics Creator, Choose "NEW" and set the canvas to 1200 x 630.
Now let's search the stock photos area to find something that relates to our business. For our example, let's assume we walk dogs for a living.
Push the "Photos / Videos" button and search for something like "Dog Walking":
Just slide the image onto the canvas. Easy.
Now, let's Include a Call-to-Action (CTA) so your social media viewers will "take action" on the your social media channels or blog post. Create some CTA words like "We'll walk your dog! Visit our website for more info…", or "sign up for tomorrow's Dog-Walking Workshop!"
you can even get creative with your blog posts or social media graphics and tell your visitors to download your newsletter, 'find the link in the first comment' below. It'll make them read your post and hopefully ask a question or two.
The Graphic Creator software has over 1000 fonts built in and you can also use the fonts that you have installed on your computer.
Here's our final Facebook post image!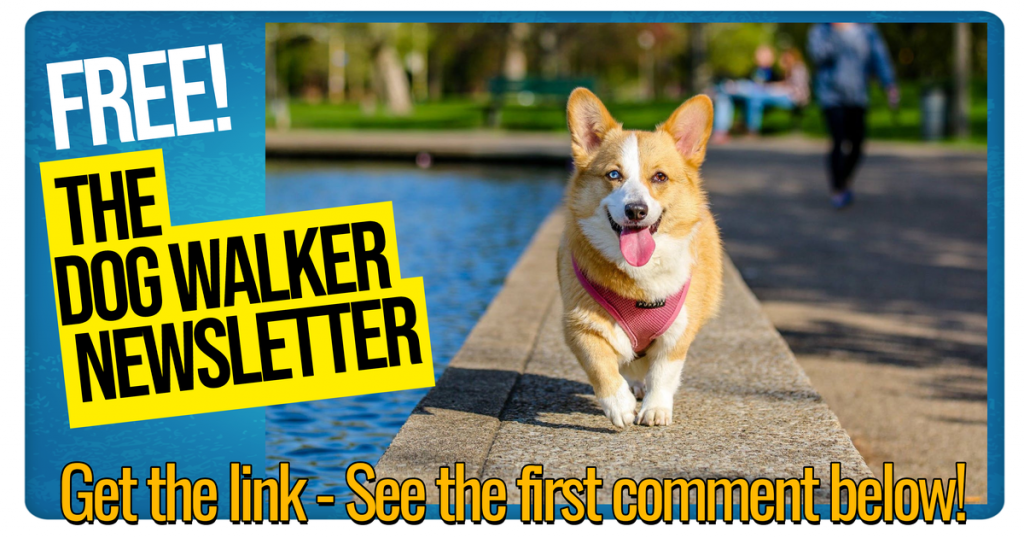 (you can use this image on Twitter, Instagram or any other social media platform)
---
Creating videos for social media
You can create more than stationary social media graphics …another great way to stop your viewers from scrolling is to create a "motion graphic" and upload it as a Facebook post. Motion graphics will create a quick and easy way to show your visitors that you care about what they are watching.
Uploading a motion graphic may be the difference between attracting new followers… or not!
Here's how to create a motion graphic for Facebook
---
Create your own YouTube Channel Art
Now it's time to get your YouTube channel art in order. The look and feel of your YouTube channel is most likely the first impression your potential customers will see when they visit your channel and it needs to be memorable, attractive, and most importantly – yours!
Using the Graphics Creator and The YouTube Add-on Set, you can choose from hundreds of templates or upload your own image and customize it however you like.
You'll never have another boring video thumbnail again!
Choose one of the YouTube templates and Create custom YouTube thumbnail images
---
Create a Pinterest Pin – with a motion background!
Pinterest is one of Lisa's favorite social media platform. The best way to get your pins noticed is by using a graphic with one of your keywords in the text.
Pinterest now allows you to create "video pins". So using the Graphics Creator, you can create your Pin, then apply a video background (see the video above).
Did you know Pinterest's Ai can actually read the words on your pin? It can! and it's how you can rank a little higher than your competition
The great thing about the Graphics Creator is that you can create designs for any occasion. Maybe it's somebody's birthday or you just want to create some fun. You can make engaging social media graphics that are memorable for your Facebook or Twitter pages.
Whatever the occasion, you'll be able to create eye-catching social media graphics and images that your viewers will notice.
Hop onto Google and type in "quotes for birthday" or "Quotes for the summer" – you'll get a ton of great ideas and great quotes that are freely listed all around the web.
Next, open a new canvas and push the "Photos/Videos" button.
You can merge any of the quotes with photos to create stunning images and memorable memes. The Graphics Creator is a powerful creative tool.
Here's an idea: set up automated timed released posts. Create 30 quote images and set them up to be released at the same time every day. Create an engaging social media posts that will magically appear on people's feeds in the morning, noon and night.
It takes seconds to create a professionally designed quote with your favorite photo or video – The Graphics Creator is so easy to use: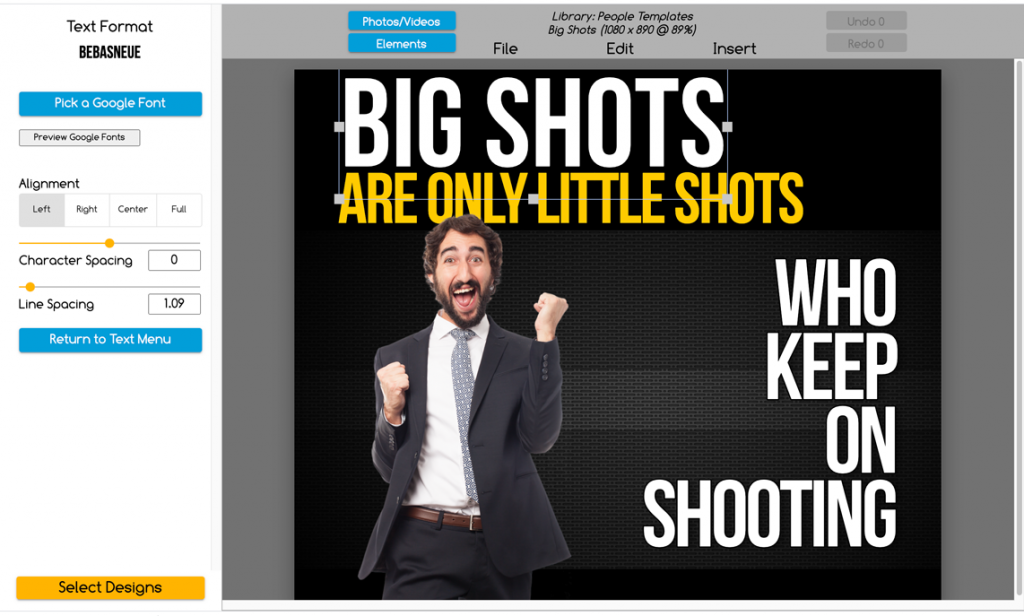 It's easy to get overwhelmed with the amount of time and money it takes to create social media graphics. But, you don't have to spend a lot on either one! With The Graphics Creator app, you can generate free images for your blog posts or Facebook ads without any design experience necessary. You're welcome ????
The Graphics Creator makes creating your own social media graphics a breeze Designing (and sharing) professional-looking visual content on your social media sites is fun!
Get started today! Create images that stand out – Simply sign up for a free account, open the app, select any of the professionally designed social media templates from our library (or upload your own images), customize with text and photos, then share!
If you have any questions about using this tool or want help getting started creating visuals for your brand's next campaign, reach out to us! Just visit the support page.