Get ready for animated elements in the new Web Graphics Creator!
Hi Creatorpreneurs.
We truly appreciate the ongoing, thoughtful comments and questions about the unique, new design tool we've been showing you. It'll be ready to play with in just a few more days.
So far we've shown you our extensive font collection through Google and brand new image integration with easy access to thousands of royalty-free, commercial use images… (included FREE!) Select an image immediately and pop it into your designs!Are you ready for two more BRAND NEW features that'll make your designs fully stand out above the rest?
Animated gifs and video motion backgrounds!
Watch this:
And here's a template with a video element!
This feature is great for: 1. page headers2. youtube intros3. Animated Ads4. you can even create an animated Facebook cover page graphic:
And it just keeps getting better…You'll have access to the software and all of it's new features… anywhere you have a wifi connection (at home, traveling, business conference or Starbucks). And, yes, it'll work on a laptop!
What's really cool for all of us??? The new technology we've used to create this design tool allows us to add upgraded features, new templates and new graphics super duper easily!
This means that we can continuously add awesome upgrades WITHOUT you ever having to download or "add" anything! All the fantastic new stuff will be in your account as soon as you sign in (and there will NEVER be an additional charge for anything we add to The Web Graphics Creator).
And yes, we'll be giving you, as part of our Laughingbird family, access to it before anyone else…
And at a big DISCOUNT! Hey, you've earned this discount for sticking with us through so many versions of The Logo Creator (starting in 2001) and The Creator7 :)Just keep in mind that the discount will only last for a short time until we announce it to the public… then we'll be increasing the price permanently.
If you're ready for a huge step up in technology that'll let you design more efficiently and help your visual content stand out above the rest, then watch for the next email with all of the details!
P.S. WATCH FOR YOUR LAUGHINGBIRD SPECIAL OFFER COMING TO YOUR INBOX IN JUST A COUPLE OF DAYS
Can't wait to let this out into the world.We're almost ready. 🙂
Make sure to leave a comment or suggestion below!
Marc & Lisa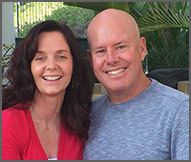 Marc & Lisa SylvesterThe Creators of Laughingbird Softwarehttps://stagingapril.laughingbirdsoftware.com