Using relevant and colorful images in your content should be a huge piece of your online marketing strategy. This is based on actual research!  Find out which images to use and how to use them to boost your sales.
The results are in… content with stunning, eye-catching images gets more views than text-only content. That's why you need to include more images in every step of your online marketing strategy.
First, consider which types of images work best:
To begin, think of images that are relevant to your content. Using stock photos just because they're pretty won't teach your audience what they need to know. Use unique and meaningful images for different content.
Also, consider that the images you choose are dependent on your audience's expectations as well as your product or service. Additionally, there are different types of images for each type of content:
Social media
Images are pretty important on social media. Here, you can upload behind-the-scenes types of photos of yourself and your colleagues, your work environment, or your products.
Alternatively, you can create eye-catching graphics for your Facebook page, Twitter, or Linked-in posts. Graphic designs often work well for small, online businesses that don't want to (or can't) take behind-the-scene photos. If you work at home or work in a shared space, photos probably aren't going to happen. So, graphics are the perfect alternative.
Pinterest
Although Pinterest is often thought of as a social media platform, it's foremost a search engine. Therefore, your pin's images must be designed to immediately capture the attention of your target market.
Graphics only images, or a mixture of graphics and stock photos, can be used.  Additionally, infographics have been popular because of the depth of information shared on just one pin using both text and graphics.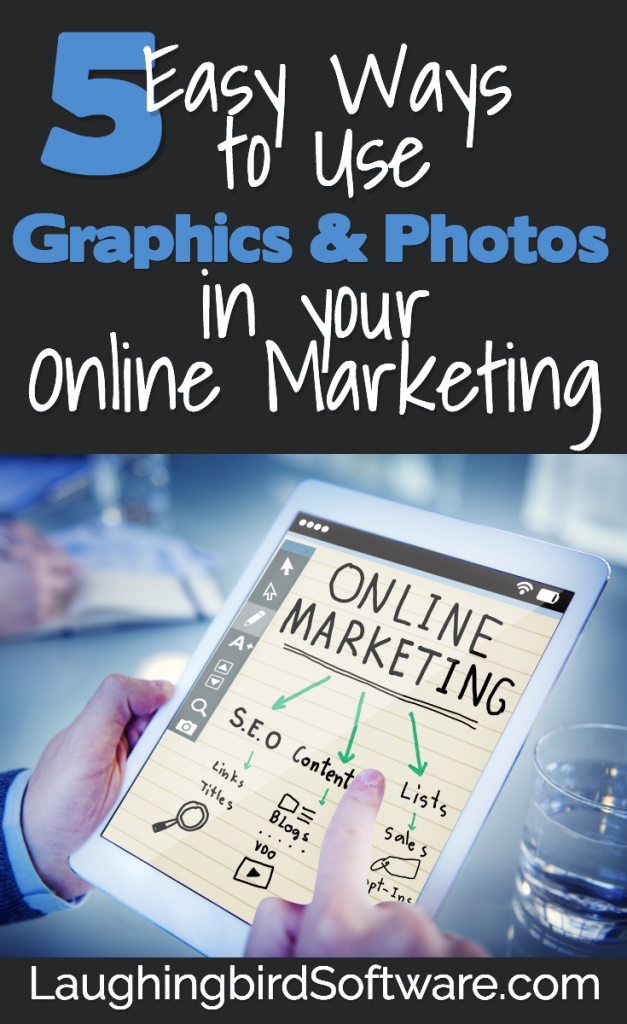 Email campaigns
Creating an email list and sending out newsletters to your subscribers is one of the best ways to keep in touch with your audience. Don't neglect to add one or two appropriate visuals letting them know what your email is about. Using stunning graphics or photos that clearly state what your email is about, which will encourage your subscribers to actually read your email.
Advertising
No online marketing strategy is complete without advertisements, paid or free. Often, a mixture of both will best direct traffic to you. And if you're paying for advertising, you can't afford to not have the most amazing, stand-out images. You may use product photos or graphics and stock footage. However, the images should be relevant to what you are advertising.
Website
On your website, you'll need a variety of graphics or images. These may include, banners, opt-in forms, product images, graphical buttons, design elements, and a logo. While a logo and buttons are usually graphics, the others may be a mixture of both photos and graphics.
Now, check out how to use images to improve (and protect) the content of your online business:
1. Stock photos or royalty-free photos?
But what's the difference between stock photos and royalty-free photos.?
According to Piktochart, stock photos have limited usage rights while royalty-free photos can be used several times on various projects. These types of photos can either be downloaded for free or purchased – depending on where you find them.
Of course, using stock and royalty-free photos have both pros and cons.
You can find high-quality photos under both of these categories. You're also bound to find something you can use for your campaign, no matter what type of marketing campaign it is.
The problem with stock photos, however, is that they can look extremely generic, especially if the image isn't perfectly relevant to your advertising message. You can solve this by adding text and other graphics to the photos.
Meanwhile, royalty-free photos are less expensive but have fewer resale restrictions. There's a huge chance you'll find the same photos being used around the internet, which is another reason to add graphics to your images.
Look at how easily this can be done: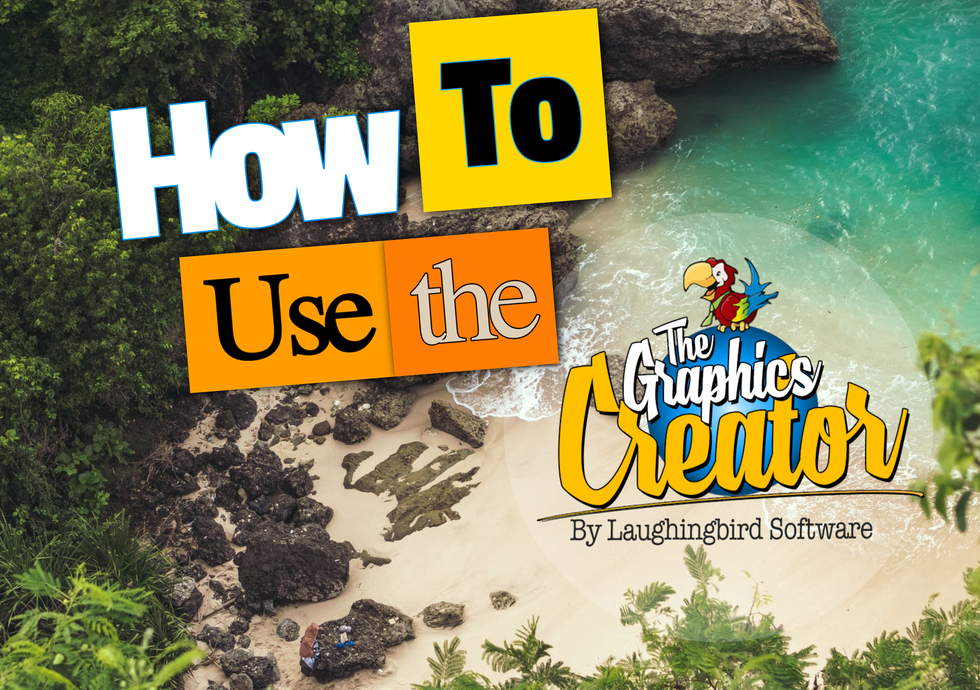 2. Use the right image.
To get that perfect image, ask yourself these three important questions:
Does the image emphasize the point of your message?
Does the image follow the same subject or emotion as your message?
And does the image complement your message as a whole? So, is it directly related to your message?
3. Design clean graphics.
So, how do you create "clean" graphics?
First, use one to three fonts that complement each other. You might even use a single typeface and edit the effects and the size to make it look different for the header, subheader, and text.
Next, use a maximum of three colors for your color scheme.
And by all means, arrange the images, text, icons, logos, and every element in a way that's easy for the eyes and still conveys your message best. This is easy to do using the online Graphics Creator.
4. Maximize the impact of your image with the right keywords.
In order for your site, advertisement, or article to be found through search, you'll need to make sure you've clearly decided what you'd like to tell your audience. Then you can choose keywords that are the right fit for your message. Plus, strong keywords may rank higher on Google and other search engines.
This is an important part of your online marketing strategy. Quite often, businesses forget to optimize their images for the search engines, leaving their entire page unfinished. Just as you would use those keywords in your blog article or on your website, you must also use them in your images. Doing this lets the search engines know that your pictures are delivering the same message as your written words.
Further, you can maximize your site's optimization by using the keywords in an image's title, meta description, alt text, description, and caption.
5. Legally obtain photos and graphics you'll use.
Perhaps the most important part of using an image for your marketing strategy is to obtain images legally. This includes graphics, as well as photos.
Photographs and graphics are often protected by copyright. This allows the creator to showcase their photos without the fear of it being used by someone else. If you see a photo on the internet, it doesn't mean you can just grab it and use it in any way you want. You'll need to find the source of the image and check out the license agreement before using it in any way you wish.
However, public domain images have no rights reserved. You can use them commercially and edit them however you'd like.
Finally, if you search for images through online stock agencies, the license is usually spelled out on each image. This is the only recommended way of finding graphics and photos online that you can legally use. Searching Google is never recommended, as you can never be certain where that image came from.
It doesn't take a lot of time to think about how to best use images in your online marketing… and it's super important to the success of your business!
Online entrepreneurs & small business… Create the perfect image and get the attention of your target audience.