As an online marketer or small business, you need a helpful box of the best social media tools available.
However, with so many apps and products online, how do you choose the ones that'll make your day easier and grow your biz?
Leave the overwhelm behind by checking out Laughingbird Software's top 10 tools.
What Kind of Social Media Tools Do You Need?
You'll need several types of tools including scheduling & posting software, an easy social media design maker, analytics tools, and more.
The right tools will make each day easier and minimize the amount of time you spend on social media, leaving more time for other tasks.
This is especially important if you're a small company and don't have a big enough workforce or money to maintain your social accounts.
How do I know Which Social Media Platforms to Use?
The first task your small business must do is to choose which social platforms to use… and how much time to invest in each.
If you're not sure, you'll need to take some time to decide which is best for your particular business. Facebook, Instagram, and Pinterest are three of the most used social media apps for businesses, so they're worth considering.
The social media tools you're about to see can be used for each of these social platforms and others as well.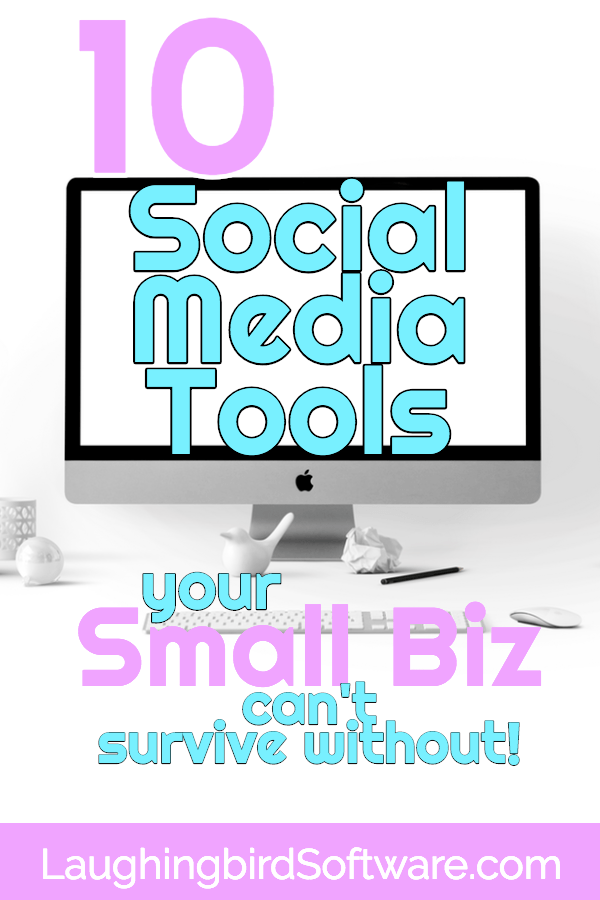 ---
---
Here are the Top 10 Social Media Tools for Small Business:
Lots of business owners will definitely recommend this website. HootSuite works extremely well if you're someone who has multiple accounts for your company.
Hootsuite is especially recommended if you're an agency that handles hundreds of different accounts on multiple platforms. Here are some of the features that make this tool great:
Post scheduler that works for various platforms
Built-in analytics that gives you data about when the best time to post is
Check your mentions, comments, reply, and more in one place
Influencer search
Advanced analytics feature for in-depth reports on which posts worked and which didn't
It's basically a great site that helps you look after your accounts all at once. It has a comprehensive and yet easy-to-use interface. What's more is that it offers training on how to use the site and in social media marketing in general.
HootSuite has free and paid versions – the paid options simply unlock more helpful features.
There's a reason why you should always post evergreen content. It's because it can help you gain traffic for months after publishing an article.
To help with that, MeetEdgar is a tool that allows you to re-post your evergreen social media posts. You don't have to worry about your post once you've organized and scheduled your posts by category. The program will automatically post under the category selected.
Bonus! Once it has gone through all the posts, it'll recycle them. Talk about convenience!
Buffer is one of the most widely used social media tools for a lot of different reasons. For one, it's so easy to use that even those who aren't tech-savvy can make it work.
Plus, it has features for scheduling, data analytics, team collaboration, and engagement. You can also install a browser widget that helps you choose an image or page you want to post in the future.
Further, each campaign you create has its own dedicated interface, which makes it easier to track and use. Also, if you're fond of reusing your old content (and this is a great idea by the way), this site will analyze each post so that you can determine which was most successful.
Buffer has both free and paid versions.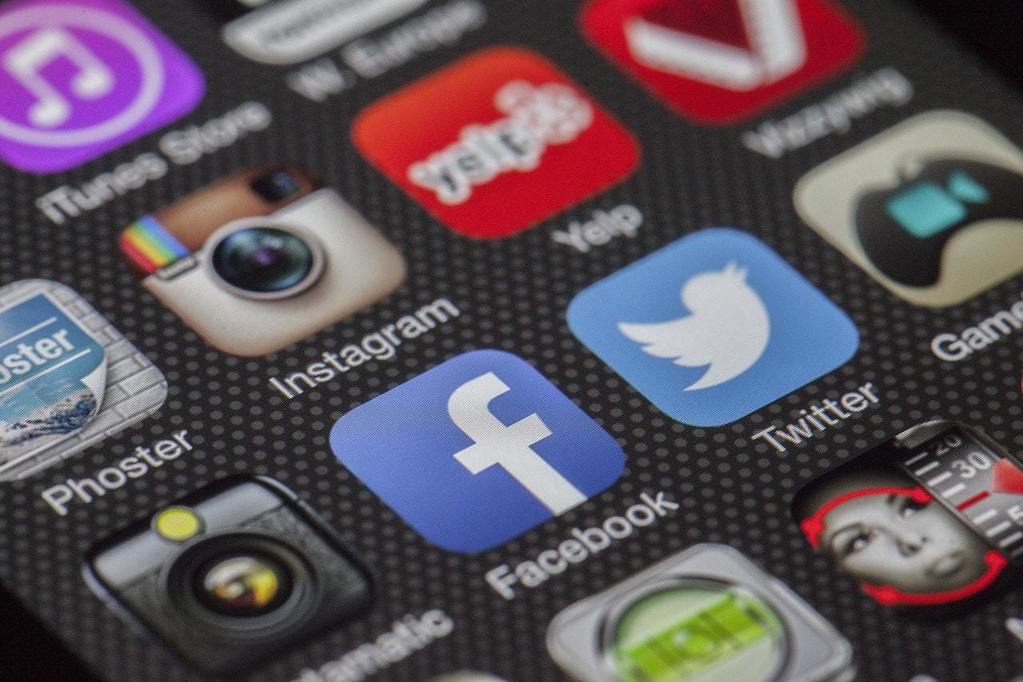 Posting relevant content is a must in order to gain attention and get engagement.
What's great about BuzzSumo is that it allows you to see what's trending on different sites and in various locations. Decisions on what trends to post content on are easy because of the descriptive analytics.
You can also find influencers in your niche who are posting similar content. So, the BuzzSumo app actually doubles as an influencer search tool.
Agora Pulse is an all-in-one app that helps with scheduling and analytics. It can also help with team collaboration and evergreen content recycling. But there are also several other features which makes it a perfect choice for anyone who's managing social media accounts.
For example, it allows you to check out your social media messages on several platforms at once.
Other popular features include the ability to analyze your competitors as well as to create Facebook competitions. These help to increase your following and engagement on each social platform.
Although it has a free trial, paid versions start at $39 per month.
While most of the apps mentioned have been about scheduling and analytics, one of the most useful social media tools will actually help you create visually stunning content.
If you want to increase your following and get fantastic engagement with those followers, you'll need to post content with images and graphics. Each and every post needs to stand out visually in order to get clicked on.
With Laughingbird Software's professionally-designed templates you can easily create your own social media graphics, even without any design experience.
Simply choose which template you want to use, drag and drop the text and elements, and export it.  What's great about this software is that you get templates already perfectly sized for Facebook, Instagram, Pinterest, and Twitter.
Further, The Graphics Creator is not just an editing tool. You can also create 100% unique designs if you'd like (and which you can do after playing around with the software for just a bit).
Import your own images and graphics or choose from the royalty-free images and fonts included in the template package.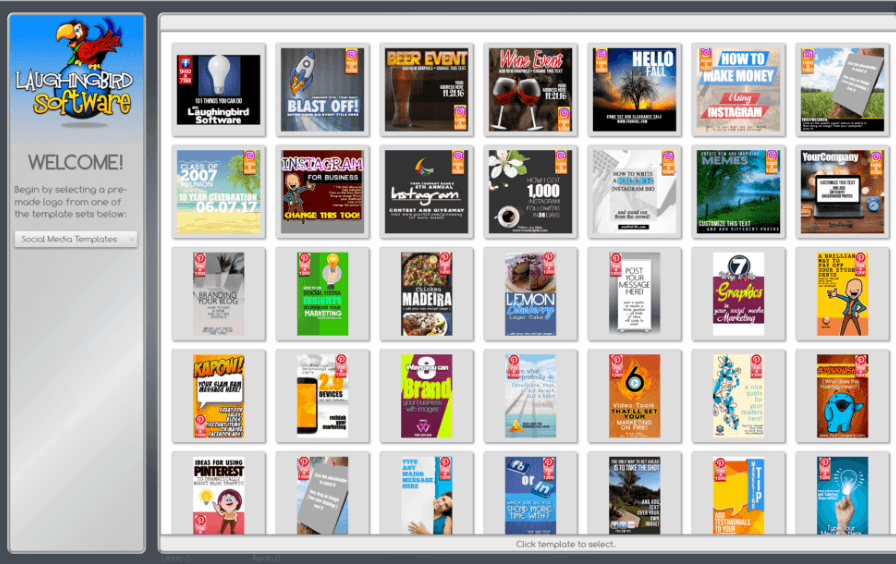 If you're on Pinterest or Instagram, Tailwind is a must-have app. You can easily schedule your posts and save time with their bulk image uploading, multiple board pinning, and drag-and-drop calendar. You can also optimize the scheduling of your posts for when your audience is the most active online.
As with other schedulers, this tool also has in-depth analytics, helping you find which posts have worked the best. It also has a hashtag finder that lets you add hashtags as you pin.
What's super cool is that you'll see your engagement increase significantly once you're posting regularly.
You can use the program for a free trial period but expect to get limited features. To unlock all of the important features, membership starts at $9.99 per month. ***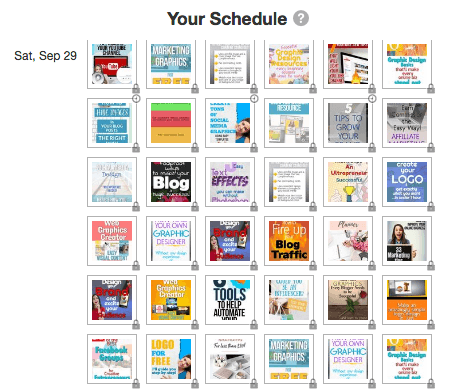 IFTTT is an acronym that stands for "If this, then that." This program is very unique and its one-of-a-kind features make it incredibly popular among small business owners.
Using IFTTT, you can get all of your devices talking to one another, saving you a ton of time. Here's how it can help with social media posting:
Basically, IFTTT lets you select social media "applets"… share one post on Instagram and then it'll automatically be shared on Twitter.
You can connect various applets and add personal instructions that make it all work as you'd like.
A lot of online business owners sell their products via social media, especially on Instagram.
Foursixty allows you to create "shoppable" Instagram feeds on your own website. You can add these galleries on your product, check-out, or home page. There's even a feature that allows you to add these links into an email newsletter.
What's even better is that you can manage your shop on the go. It has an iOS app that makes it easy to view your shop wherever you are.
This Instagram tool also features an in-depth analysis of every shoppable image you have, showing your conversion rates.
Foursixty is kind of pricey, but you can start with a trial period to determine if it's worth it.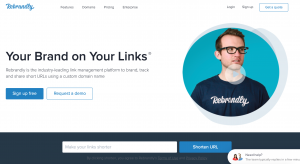 You can use Rebrandly to shorten and create "branded" URLs to share on social media. Using a custom domain name in your links will help your business remain consistent with your brand at the links level and have a higher click-through rate as compared to generic URLs. Rebrandly states that the click-through rate is up to 39% higher.
Plus, Rebrandly helps you with link management, traffic routing, and detailed analytics.
Which Social Media Tools Work Best for You?
Although these are suggested to be some of the best social media tools for your small business, you'll still have to choose the ones that work best for you.
Social media management can be sooooo much easier than what you are doing right now, I guarantee. Why not start a trial or two of these products? You've got nothing to lose.
And check out the social media templates and other easy-to-use, no experience required, design packs from Laughingbird Software. Posting dry links and plain text won't get you the clicks and sales you need, even if you're already using some of these tools.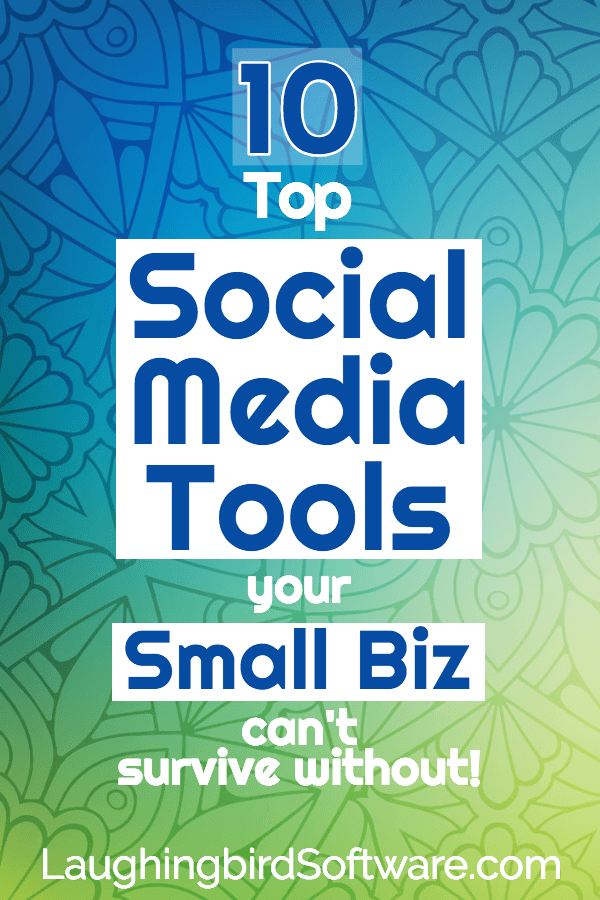 ***One or more links in this article may be an affiliate link***
Disclosure: We may occasionally be an affiliate or brand partner for some of the tools or services mentioned in this blog. This means that, if you happen to purchase anything from links you click on in this article or in any of our blog articles, we may receive a commission, at no cost to you. Because we want you to have access to awesome stuff, we'll only suggest tools that'll help you grow your business and make your day easier!