Facebook is a huge community where social engagement is the desired outcome. Like any initial interaction, making a good first impression is of utmost importance. Using motivational Facebook cover photos will get you noticed.
Fortunately, you can find motivational Facebook cover photos and images easily, if you know where to look. You can get them from design marketplaces or freelance designers, or create them with graphics apps and photo editors.
In this article, I'll show you where to get a variety of Facebook covers as well as help you make your image or photo unique.
What Should I Put as My Facebook Cover Photo?
Your Facebook cover image is the first thing your visitors will see, so it's essential to choose an impactful image, especially if it is on your Facebook business page or in a group. There are many good cover photo ideas for online businesses, many of which can be used for your personal profile page as well.
Just plugging in a beautiful photo might not be enough. Instead, why not get a little creative and use an attention-grabbing idea.
Facebook Cover Photo Ideas:
Inspirational or Motivational Cover Photos
Photo Quotes About Life or Business
Happy Life Quotes or Messages
Calls-to-Action
Emotional Appeals
Brand Logo and Designs
Questions (to start a conversation)
Personal or Business Introduction
Creative Design
Because there are many options, the best idea is to test a few of them to see which one grabs a user's attention. This is easy to do with a call-to-action or question since you are looking for a direct response.
If trying out the other cover image ideas, you may want to create a survey or post asking your visitors to give you their responses. If the inspirational cover photo is for a Facebook group, these are great ways to engage your group members.
Where Can I Find Facebook Cover Photos?
There are many places to get or create motivational cover photos, graphics, and images for your Facebook timeline cover. Where you decide to get these depends as much on your budget as your personal preference or company brand. The best Facebook covers will come from the places I mention below.
Take a look at the choices:
1. Stock Photo Sites
There are numerous websites where you can grab free stock photos. The problem with this approach is:
It won't be unique– Thousands of people have used this image before
It won't contain your business logo or brand images– So what's the point really?
It may not be the ideal size– Facebook is very specific about the best cover photo size being 820 pixels wide and 312 pixels tall. Although you can modify the photo size on Facebook, it can still end up not fitting within those parameters.
However, there are many inexpensive or even free photos to be found.
Here are some of the best stock footage websites to find them on:
Pexels
Vecteezy
iStock
Depositphotos
Shutterstock
Getty Images
Stocksy
2. Graphics Apps and Photo Editors
There is a multitude of software apps that let you easily make Facebook images without hard-to-learn, costly graphics programs like Photoshop or Illustrator. The ones listed below have a free version to get you started.
This is the only design software that lets you download a free version (for Mac and Windows) to keep on your desktop. You can use the free templates or add a variety of templates. The wonderful thing about this software is that you can use ANY template you like by resizing the canvas to the Facebook cover photo ideal size of 820 X 312.
There are no limitations… you can use the thousands of built-in fonts as well as the hundreds of graphics and images that come with the free software. You might also like to add stylized templates and graphics through unique collections and/or import your own logo, photos, and graphics.

You don't need design skills to create visually appealing designs! There's also an online, browser-based version you just log into.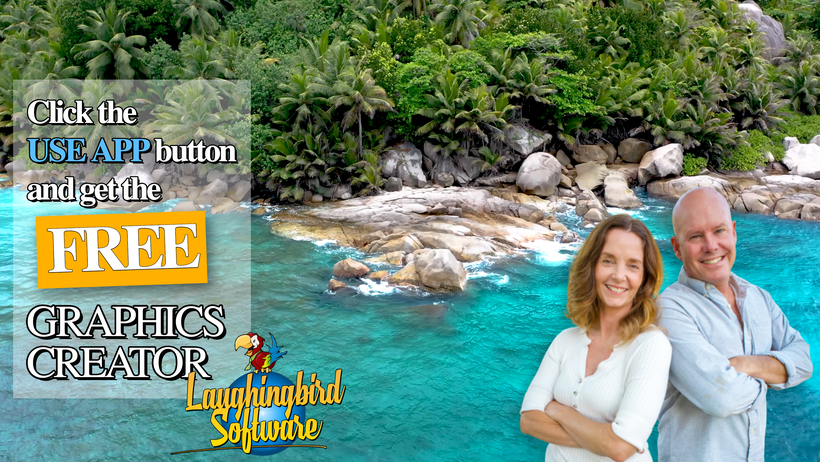 A fast and easy photo-editing tool, Pixlr offers you a free option that can be upgraded with an additional collection of editing tools and even AI-powered image background removal. So you can upload the photo you want to use on your cover image and add overlays, filters, and stickers to make it your own.
3. Design and Art Marketplaces
Another great place to find inspiring Facebook covers is through popular marketplaces that offer predesigned inspiring covers that you manipulate to create your own version.
Although Etsy is well-known for selling crafty and artistic goods, it also has a huge offering of modifiable design templates. Individual sellers have pre-designed packages waiting for you and you can choose the style you want for your business. There's typically a one-off price for each template set.
The downside is that you need to learn to use the software in which they created the templates, typically either Photoshop or Canva. So you can't just buy the templates without having an understanding of the software needed to edit them.
Creative Market is different than Etsy in that it sells digital goods only. So, they have a huge variety of individually designed template packages to choose from. For example, you might find the motivational Facebook templates you're looking for in a larger pack of social media designs.
Once again, the templates must be modified with the specified design tool it was created with.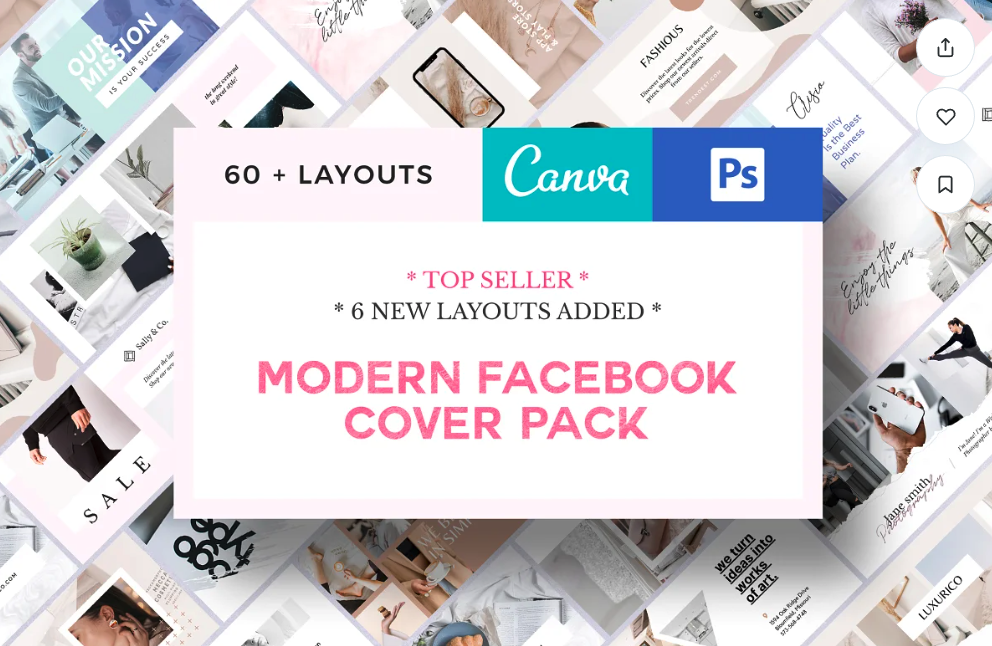 4. Freelance Designer Marketplace
Another option to get the cover designs you want is to hire a graphic designer. But since hiring an individual designer can be quite expensive, here is another idea… purchase a Facebook design from an individual designer through a discount marketplace.
You've probably heard of Fiverr. They've been around for many years and, yes, actually started by offering services for only $5. Now, most design services are a bit more expensive but you can hire a designer for far less money than going to a graphic design agency.
Just read the reviews and look at samples before you choose someone to create your graphics for you.
Similar to Fiverr, you can choose from a designer across the world. Here's the difference: You can hire one directly or you can start a contest in which creators will submit their ideas for your Facebook cover photos and you can pick the best design.
How Do I Make My Facebook Cover Unique?
If you have a Facebook business page, great value should be placed on representing your brand and capturing the attention of your target audience. You can do this by making your visuals unique.
You can make your Facebook cover stand out by using your own graphics and images. If you use design templates, edit them creatively and add your brand logo and unique images.
How to Create a Facebook Cover Image
There's no doubt that you'll save a lot of money if you make your own social media graphics and covers. And there are design programs that make it easy, so you don't have to be a graphic designer. Although you can get access to free downloadable design software or a free browser-based online trial, you may want to upgrade (typically for a small fee) in order to get all of the features and/or templates and graphic elements.
When you're ready to get started, you'll have access to unique templates and graphics with which to create your masterpiece. In most template-based design programs you will begin by choosing a template. Then set the canvas size to 820 X 312 for your cover design, and start creating. Import your brand logo design or other brand images.
Don't forget to make certain your inspirational Facebook cover photos also look good on mobile devices.
It's easy to make your own cover and graphics, but it never hurts to follow simple design tutorials. You're welcome to begin with this video:
Best Quotes for a FB Cover Photo
As discussed above, quotes are a popular and positive way to express yourself or your business on your Facebook timeline image. Inspirational quotes or thoughts, quotes about life, and even quotes about self all make for gripping Facebook cover images.
Here are 10 of the best inspirational quotes for your motivational Facebook cover:
"If you want something you've never had before, you have to do something you've never done before." – Drina Reed
"The best way to predict the future is to invent it." – Alan Kay
"If opportunity doesn't knock, build a door." – Milton Berle
"Change your life today. Don't gamble on the future, act now, without delay." – Simone de Beauvoir
"It's not what you look at that matters, it's what you see." – Henry David Thoreau
"Keep your face always toward the sunshine… and shadows will fall behind you." – Walt Whitman
"A positive attitude gives you power over your circumstances instead of your circumstances having power over you." – Joyce Meyer
"Life shrinks or expands in proportion to one's courage." – Anais Nin
"Life isn't about finding yourself. Life is about creating yourself." – George Bernard Shaw
"I never dreamed about success, I worked for it." – Estee Lauder
These are great quotes but there are thousands of other ones that might fit your brand or message perfectly. For instance, good morning quotes are positive and uplifting, just like you want your Facebook cover to be!
Final Thoughts
You can find motivational Facebook cover photos in a variety of places online. But keep in mind that your cover is the first thing your audience will see when coming to your Facebook page.
Thus, it's important to make it unique, no matter whether you create a single image yourself or hire a graphic designer!