Having an online presence is necessary for business success… and having a Facebook business page to sell your product will help you reach your sales goals.
But like any social media tool, you have to know how to properly create your Facebook business page in order to get positive results.
First, create your Facebook business page with your business goals in mind. What do you want it to do for your business? How do you want people to interact with your page? Second, make it look professional so that you grab the attention of your target audience.
A Facebook business page, in addition to a personal Facebook page, is a necessary tool to help you sell your product or service.
But like any social media tool, you have to know how to use it effectively before it produces positive results. First, you need to learn how to set it up with all of the important business and brand details. Then, you have to make it visually grab the attention of your visitors!
Wondering how you can do this? Read on…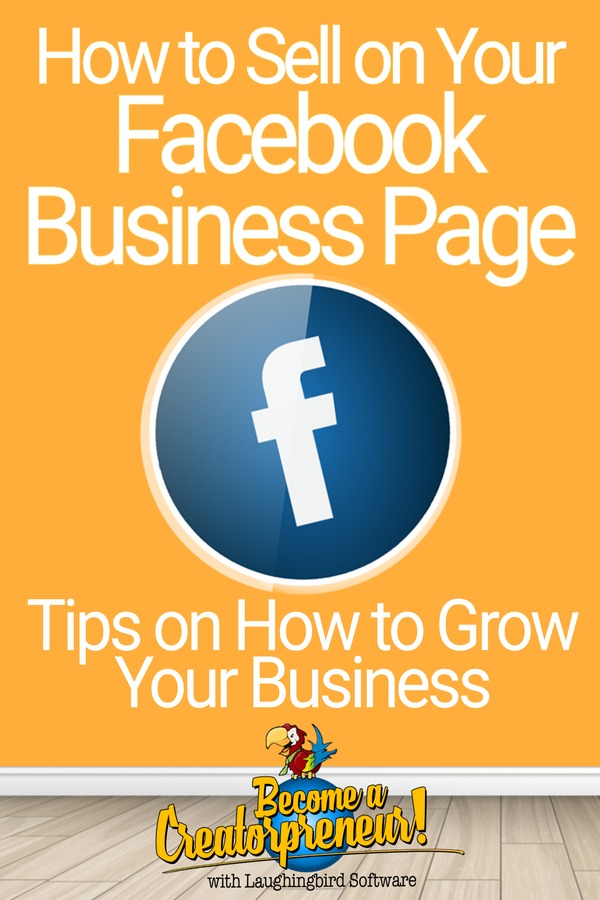 Why You Should Use Facebook in Your Marketing Strategy
Facebook is currently the biggest social media platform on Earth with around 2.9 billion active monthly users. That's a third of the entire human population. The number is understandably overwhelming. But consider this: You have a huge chance of reaching your target audience!
To understand who those users are and how they use Facebook you can find out more. Knowing these statistics will help you sell your product or service to the right market.
Now, get ready to build your page, learn how to post correctly, and engage with your audience!
How to Create Your Facebook Business Page Correctly
If you want to reach your target audience, you need to build a Facebook page that showcases your business brand. It's helpful to understand that a business page can reach your target audience in a way your personal Facebook page just can't.
With a Facebook business page, you can specify a category that your business belongs to (Local Business, Brand or Product, Entertainment, etc.).
Also, you'll have the freedom to use Facebook's analytics data, pin your posts, add contact information (such as your email address, website URL, and phone number) and schedule your posts.
1. To begin creating your business page, add all of the information you can so that page visitors will know who you are and how to reach you. Don't leave out anything if you can!
Fill in every detail that tells your visitors how your product or service can help them. Your audience needs to get a feel of what your business and brand are all about.
2. Next, add a high-quality profile picture, either of yourself or your business logo. Don't let viewers think you are hiding or unsure of what you have to offer by leaving a blank profile picture.
3. Use the "Edit" button, another must-do in order to sell your product through your Facebook Business page:
Yes, Facebook has a button available for you to "Edit" on your business page (see image below). This is a great way to promote an offer that'll help you sell your product.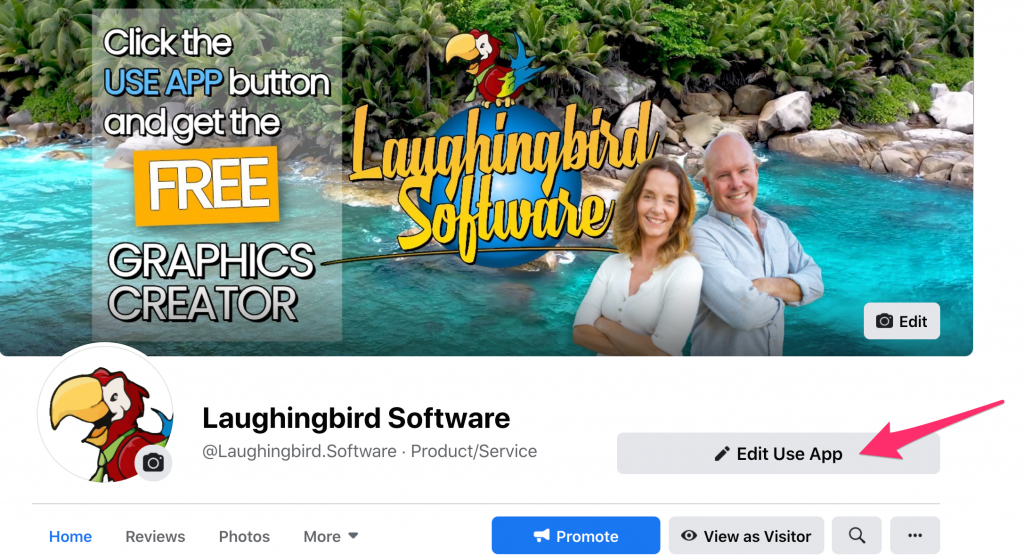 The basic idea should be to ask visitors to click by offering something of value (or a way to solve their most pressing problem).
Click to edit this button. Then choose the action you want your business page visitors to complete. For example, you can select from "call now", "follow", "contact us", "use app", and more.
Then add the information required so that visitors to your business page will be taken where you want them to go when they click on it.
4. Finally, add a professional-looking Facebook cover photo or header. Make sure it's not blurry or gets cut off. Facebook is always changing the header size… so look up the specifications before adding a new header.
You might also consider adding a promotion or Call-to-Action (CTA) on your header. Offering a freebie in return for their email is always a good idea to help you sell your product or service. Change your Facebook header as often as needed to remind others of your special offer.
Here's an example… Laughingbird Software uses the header to tell visitors to click on the button below to get their free design software and templates.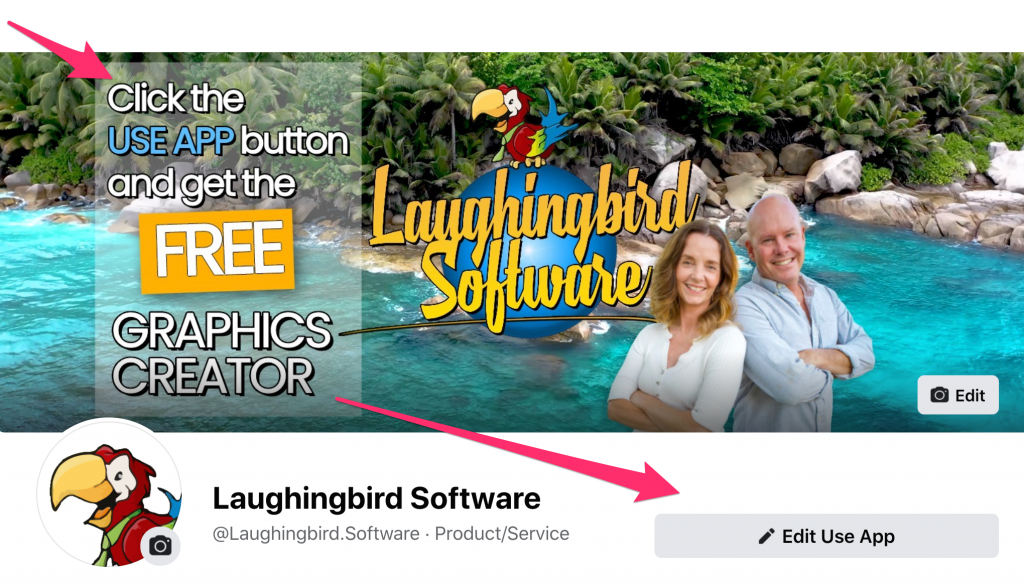 Guide to Posting on Your Facebook Business Page
What, when, and how you post determines how successful your Facebook business page is in selling more and growing your business.
Only share valuable content. This can include free offers, articles, graphics, videos, shared posts from others, tips, motivational quotes, and even direct links to buy your product. Each post, however, should relate to or help solve your target audience's main problem.
Further, make your posts niche-specific so that your audience will know what your brand is about just by glancing at your page.
Additionally, make sure the posts are either yours or that you give proper credit to whoever originally shared them.
Finally, post when your typical visitors are more active. To further get their attention, you can focus your ads and posts on specific target markets and niches.
All of these ideas and tips will help you reach more of your Facebook audience.
How Often to Post
Don't go crazy posting non-stop. Companies with fewer than 10,000 likes that post 60+ a month may actually receive 60% less engagement.
But do use a calendar to schedule your posts. And make sure to track their success regularly so that you're not posting content that is never seen or clicked on.
Create Eye-Catching Images to Keep Visitors on Your Business Page
Why is creating an attention-grabbing Facebook business page important? Because posts with images and graphics get higher engagement rates than simple posts. And with better engagement comes increased sales.
So you need to do 2 things to make your page stand out:
Create a colorful, branded Facebook business page header that includes your business logo.

Post regularly and include an interesting graphic for each post!
The good news is that you don't need design skills to make stunning images. Create all of your own images for Facebook with The Graphics Creator software…
Grab the FREE Graphics Creator software and free templates here!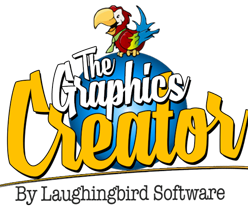 Prepare to Engage with Your Facebook Audience
Now that your Facebook business page looks remarkable, with a unique header and all of your important business details included, create a couple of attention-getting posts. Do this before inviting a huge audience so that you appear to have an active page.
Make sure that you've completed the 2 steps above with your free design software and make your posts inviting!
And don't forget to ask for interaction with your posts. Do this with a question, survey, meaningful quote, or a link to your blog or other valuable product or service.
Now you're ready to capture the attention of your audience and engage with them directly on your business page.
Be sure that you can reach out and respond to questions or comments as quickly as possible. The faster your response time, the better the feedback you'll receive.
Engage with both negative and positive comments in a friendly and professional manner. Try being creative and witty with your responses, if appropriate.
And, remember… whenever you are posting, don't forget to add a call-to-action (CTA). In other words, tell them what to do next.
You can ask them to sign up for your free newsletter, service, or product. Or you can lead them directly to your sales page to book your services or buy your products.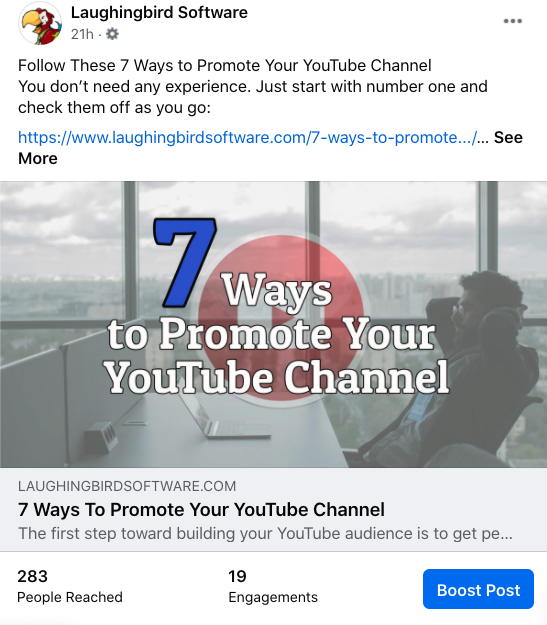 Learn from Facebook's "Page Insights"
Page Insights are a super valuable tool that Facebook gives you to help you maintain a successful business page.
You can find this analytics tool inside Facebook's Meta Business Suite. Keeping an eye on your Insights will give you important information about your current followers and what posts they like and interact with. By finding out which posts get the most engagement, you can create more just like them.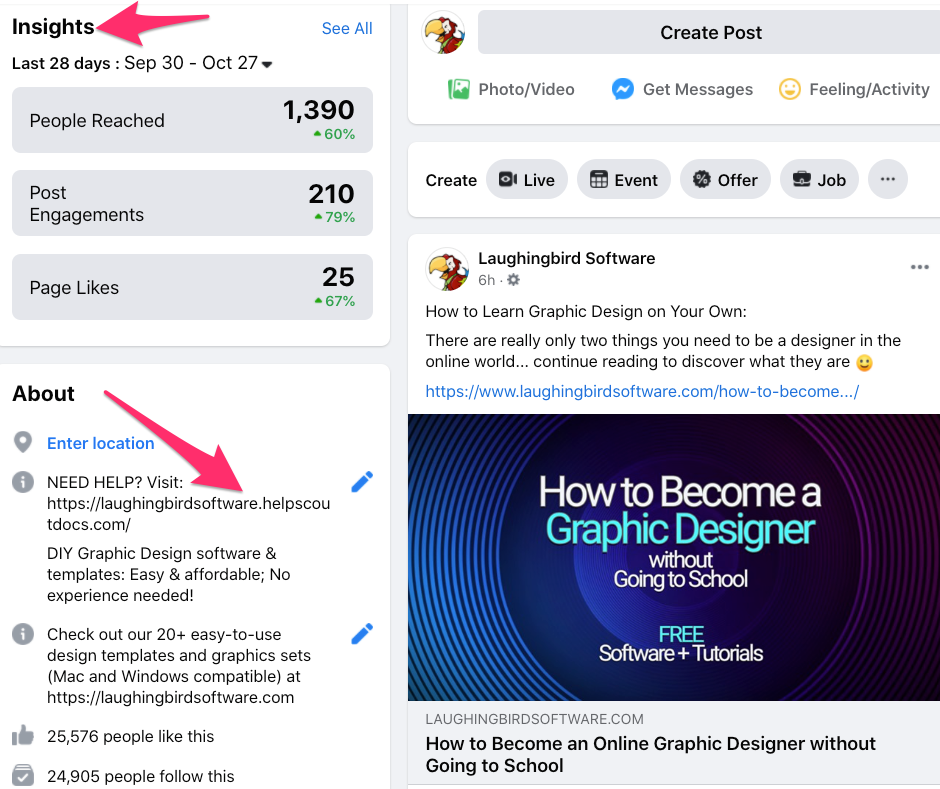 Besides looking at your page's overall performance, you'll also view specific information about your visitors' demographics and engagement.
You can use this to tweak your future post's, posting primarily at times when visitors are most likely to engage. And if you're not sure who your target market is, Facebook analytics can help you narrow your group down.
Using Your Facebook Business Page to Sell Your product
Now you are ready to sell your product or service with your Facebook business page. Although this is just one marketing strategy, it can be a huge contributor to sales for those who take the time to do it right.
Plan on some trial and error during the initial stages of creating and marketing your page. And keep an eye on your page's Insights, adjusting your details and strategy as needed.
Once you have created your Facebook business page with the tips mentioned above, it'll get more attention and engagement, helping you to sell your product or service.
Get the FREE Graphics Creator and start posting attention-getting graphics on your Facebook page or group!