Learn How to Make Your Own Company Logo Design… and then do it!
A logo is a key identity of your brand. But, you probably don't have a large enough budget to use a professional graphics designer to create one for you (nor do you want to wait days/weeks to get a concept of your design, only to then need revisions). Here's an easy way to get your logo created…
In this Company Logo Design Guide, you'll discover design basics, how a logo helps your small business, and how to make the best logo design for your company.
Logo Design Basics
A logo is the "face" of your company, helping to bring recognition and consistency in an overcrowded marketplace. It's a part of your brand identity and helps to convey your brand message.
So, in order to get a great logo design for your company quickly, and get what you want, you need a simple do-it-yourself design tool. Here's a guide to creating your logo that'll save your small business time & money. You'll get the job done quickly, even without a drop of design know-how.
But before diving into DIY logo designing for your business, check out these basic tips. They'll help you understand what kind of image you want and need. Then you'll be able to create your new business logo in a matter of minutes.
What Does a Logo Do for Your Business?
A great company logo design will make your brand look professional and stand out from the crowd. Your logo can also elicit emotions that help your customers connect to your product or service.
Additionally, your customers will more easily remember you. For all of these reasons, they're also more likely to click on your ad.
Bottom line? You need an attention-getting logo that appeals to your target market. Find out below what you need to create a stunning, recognizable logo that helps sell your product or service.
Want to skip the tips and start designing your business logo? Watch to see how easy it is:
So, how do you make the best logo for your biz? Here are 7 tips to guide you:
How to Make the Best Logo for My Small Business
1. Choose your brand's colors before you create your company logo design
Pick just one or two main colors. The first color will likely be used in around 80% of your brand design.
If you need a third for a small "splash" of color, that's okay too. It's unwise to use more than that. If you do, your design will probably look like a cluttered mess, making it overwhelming and uninviting for your customers.
It'll also be quite a bit more expensive to print out multi-colored logos on business cards, letterhead, etc.
2. Focus your design on fonts
Just as using too many colors can overwhelm your viewers, the same is true for the number of fonts. Work with a maximum of two fonts, perhaps a font for the company name and a different one for the tagline.
Many beginning designers tend to use too many fonts in one design… they're just so much fun to play with! However, the end result should be easy to read from a distance and look like an experienced designer created it.
3. Be creative but simple
You don't need to be an artist to be creative. Simply take some time to put a slight spin on an image that follows the other tips mentioned in this article. Keep your company logo design simple.
Simplicity helps with versatility, which you'll need in the years to come. Not only should your logo be easily recognizable but also easy to place on any blog, website, social media or marketing material.
Additionally, you'll be able to easily modify your logo when a change of colors or slight modification is desired.
Remember, you only need one logo, so it should look good in any application and media.
Although special effects can make many boring images brilliant and eye-catching in other circumstances, you want to avoid over-using features like gradients, bevels, and shadows in your company logo.
They may look cool but can take away from the simplicity (as well as be difficult to reproduce in print). Or, you could have two versions, one that's a little spiced up for online use and one that is print-ready.
4. Choose what type of logo design to create
There are a few types of logos you'll want to consider making for your business:
Iconic/Symbolic – Logo designs that make use of simple shapes, icons, and symbols fall into this category. These could include images specific to your business (like using a truck icon for a moving company) or be an abstract design you use to represent your company. Two of the most famous iconic logos are Nike's swoosh and Shell's 'shell' icon.
Typographic/Wordmark – These are words that show the company's name in a stylized font. As there are tons of fonts out there (the Graphics Creator online software contains 800+ Google fonts), your company can create a typographic logo unlike any other. Famous logos in this category are Disney, Coca-cola, and FedEx.
Lettermark-  Just like it sounds, this kind of logo uses a company's initials to represent itself. CNN for "Cable News Network" is a very well-known letter mark. However, some might caution that you'll need to have the resources to adequately make sense of your logo if you choose to use just your company's initials.
Brandmark- A brandmark usually involves a "strong graphic" that is used to represent a company and its product or service. Nike's swoosh could also be considered as a Brandmark logo since the swoosh evokes a sense of moving swiftly. Therefore, it adequately represents the motion of running in Nike shoes.
Mixed – Finally, these use a combination of a unique icon and a stylized text name of the company. Combination logos, like those you can create with Laughingbird Software's logo templates, are perhaps the most popular of all. They're easy to get familiar with and produce a strong representation of your company through both text and image.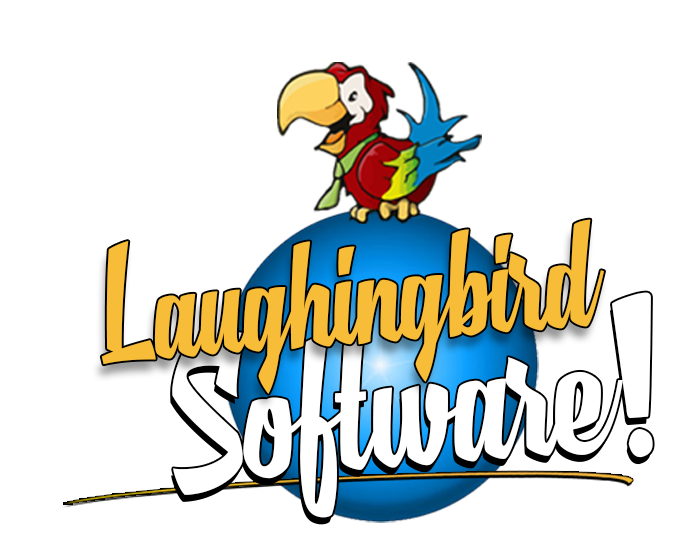 5. Make sure it looks great in black and white
Your company logo design will likely be used in many different ways as years progress. Just be sure that it's still easy to view whether it's on a light or dark background. If your design looks great on both black and white backgrounds, then you're good to go!
6. Keep an eye out for "negative space"
While you're reviewing your logo design, don't forget to leave negative space, also known as white space, around and within your image. This will help your design appear clean and sharp.
Use this design technique to create a unique look for your logo. For example, FedEx's logo has a hidden arrow in between the "e" and the "x" (leaving enough white space around the arrow to be able to see it).
Consumers actually have a great time finding these unique elements in a brand's logo and it gives them something to talk about. And if they're talking about your logo, you can't ask for more!
By now, you've started to form an idea what you'd like your company logo design to look like. Now it's time to create it! If you're still not quite sure what you want, that's okay too. Simply viewing templates and design elements will give you a lot more to work with.
Get The Graphics Creator and start designing!
FINAL THOUGHTS
Although creating a company logo design sounds like a difficult task, it really doesn't have to be. Make it easy by using any of Laughingbird Software's online design tools.
Just choose a pre-designed logo template, drag and drop elements, and choose colors and fonts with one click. Make a logo for your business or any graphic you need for blogging, marketing, and social media.