5 Web Graphics you must have to run a successful online business:
You've probably heard about how important it is to have high-quality images on your website and blog. Okay. Well, just know that you're missing out big-time if you haven't put any thought into using awesome web graphics to make your sales!
Before finding out what these super important graphics are, I want you to know WHY web graphics are essential:
Effective web graphics visually explain what you want your audience to understand. This is super important.  I'm certainly guilty of not always reading the information right in front of me. I'm in a hurry. You're in a hurry, too right? And with all the great forms of visual content these days, why bother reading a whole long page?
Additionally, beautiful and interesting graphics grab attention. If a web page doesn't look appealing, you probably won't trust it or think it has anything special to offer.
And… a web page that uses key graphics carefully will keep your audience on the page longer. Not to mention that it will allow them to continue to build trust.
Finally, great graphic design creates a visual outline, allowing easy site navigation. Finding important information is also way easier. This decreases customer frustration and increases the chances of a purchase being made.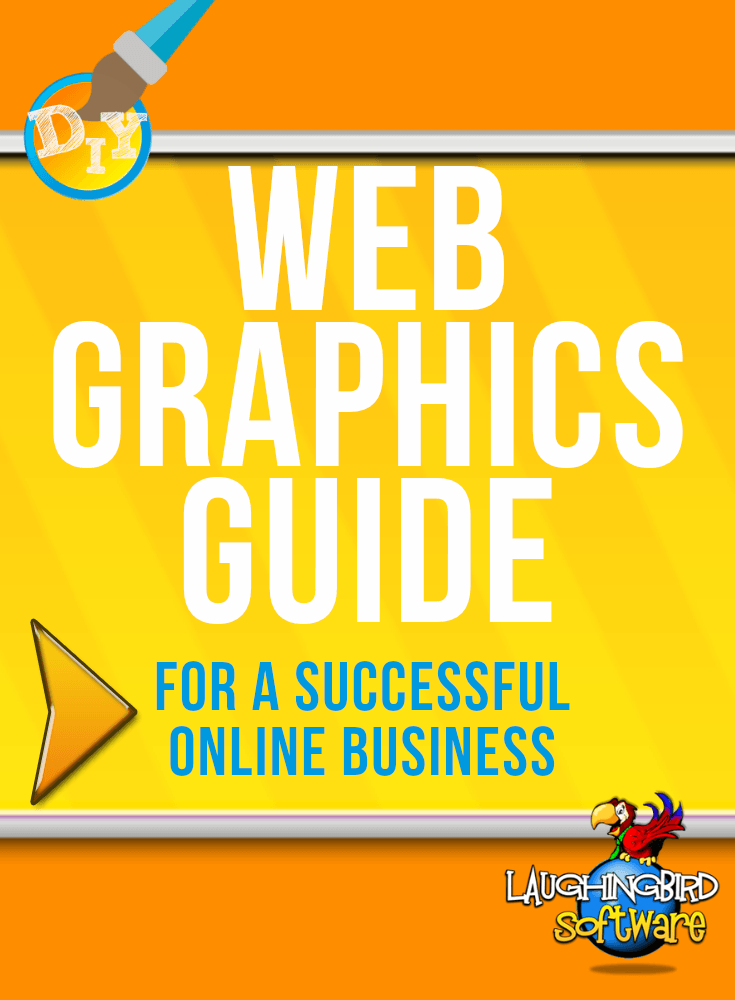 Now that you get the importance of quality web graphics, I'll get to the 5 most important web graphics for your business website:
1.  Page Header
What's the very first thing our audience will see when they come to your page? Yup, the big, beautiful page header across the top (headers are important on social media and YouTube as well). If they just see a bunch of text, they'll probably leave.
Really. They will.
A page header tells your audience that you're a professional business.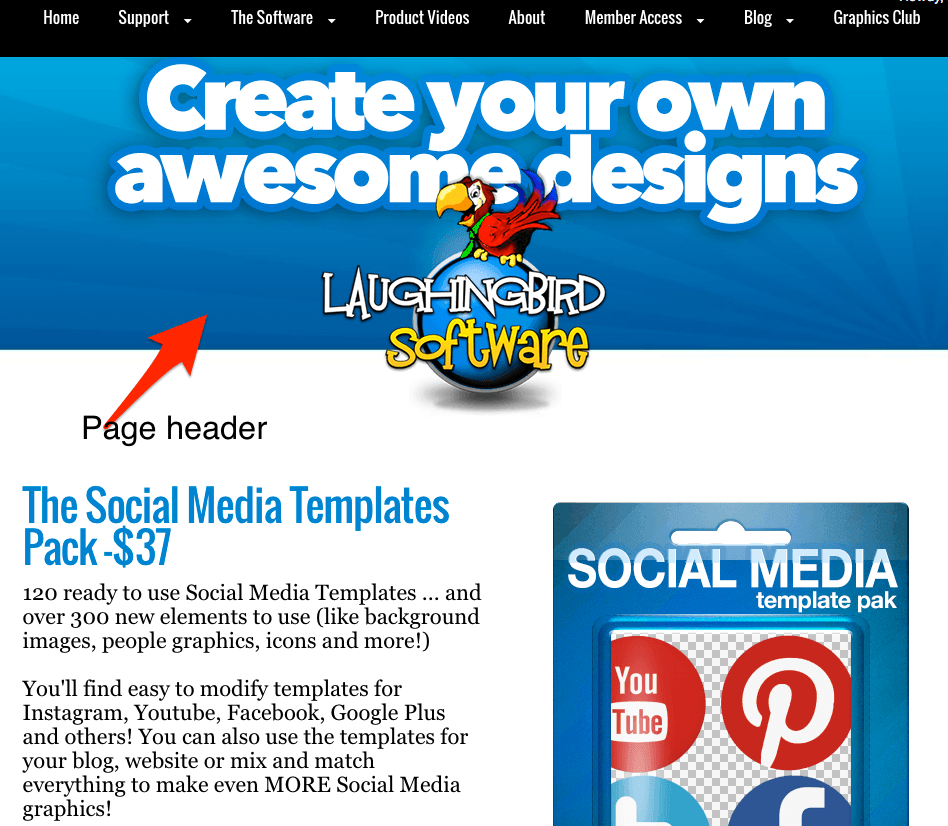 2.  Product or Service Graphic
This will be the very first preview a potential customer will get of your product or service. A crisp, clean image of the product is essential for showing its value (eCover and mockup graphics work well for virtual/downloadable products).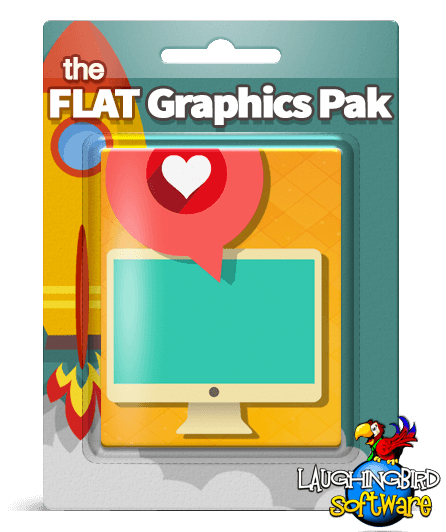 3.  The "Add to Cart" button
That's right! Don't be shy. You are trying to make a sale here, after all. A highly visual, stand-out "Add to Cart" (or perhaps, "More info here") button tells the customer what to do. You'd hate for there to be any confusion, right?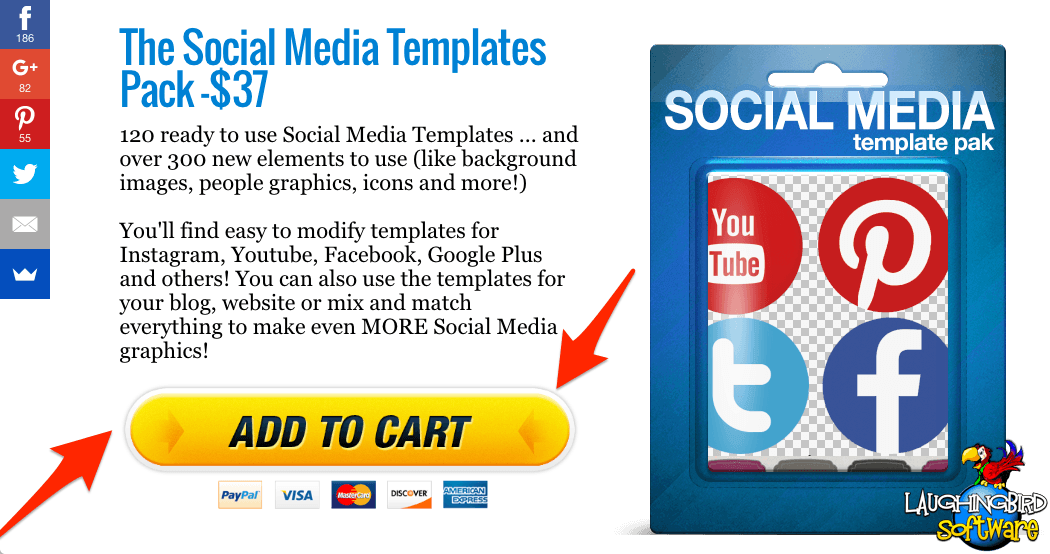 Web Design Tip:
Consider having a Product/Service Graphic and "Add to Cart" button in more than one place on the first page of your website.
People may click the button immediately if they have a strong sense of the value you have to offer and feel your site is trustworthy.
If not, no worries. Give them another opportunity to click the button once they've gathered some more information. This opportunity will come in the form of Product Demonstration graphics.
4.  Product Demonstration Graphics
Don't hold back now! You can use several images to clarify your offer and gain trust. Even if you've already taken photos of your products or services, graphics can be used to help them stand out.
For example, use designs that frame a product, clarify the offer or simply get the attention of potential purchasers. Check out the following examples of high-quality graphics created using Laughingbird Software.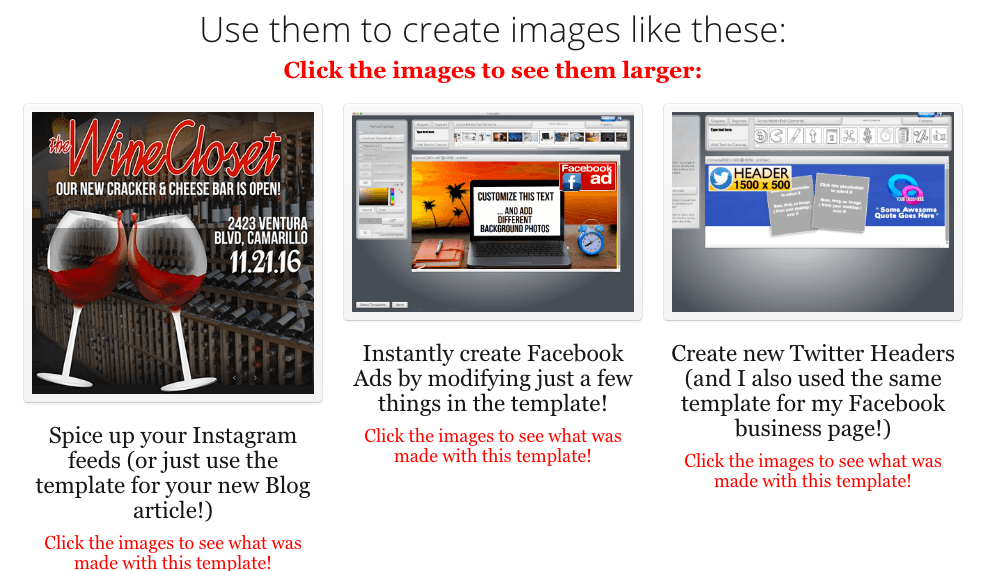 5.  Logo
No, no, I didn't forget the all-important logo. A logo should immediately give your audience an idea about what kind of company you are. Your logo design communicates the feel you want your customers to have when they browse your site.
A carefully crafted logo also identifies you wherever you are (on your blog, social media, advertisement, email, etc.). Stamp your logo on your blog, website, social media, product images, emails and anywhere else it might be seen.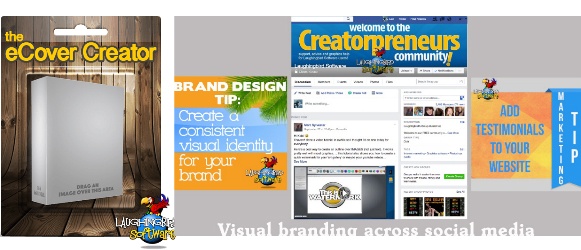 Yes, there are lots of graphics you can use for various online business needs.
However, the 5 web graphics mentioned here are the very first needed to succeed in online business.
Start making your own web graphics now! And… make sure to consider how to use awesome graphics to build your visual brand.
Make sure to check out the newest online graphics creator, The Web Graphics Creator… design from anywhere, anytime. And get motion video, animated gifs, awesome fonts, and stock images 🙂