It's hard to believe that kids are going back to school and that we're entering the fall season in the western hemisphere! This means it's time to make new plans and set goals for the next one.
And, it 'tis the season to sell… after all, the holidays are just around the corner.
So, we're here to help you get prepared. No, August is not too early to start. Holiday decor is already on the shelves (because big retailers are planning ahead). In order to compete successfully, you should be planning now too!
Your first goal should be to make sure you're visible. The cool tools we're talking about today will help!
Take a look!
---
CREATORPRENEUR TOOL OF THE WEEK!

Yes, you need printed materials! Even if you're just an online company! Besides passing out printed business cards at business events, you can get noticed in so many different ways.
Think about how you can stand out for the holidays. How can you speak to your target audience directly so that you can make more sales during the holidays!
Have you ever thought about printing and sharing these cool items???
Stickers (pass these out at events or in your local business community)
Coloring books (with your logo and contact info of course)
Coasters (another great idea for events or for customers to use at home)
Custom Labels (for your own products)
Car Magnets (one of our favorites… find out more under the creatorpreneur tip of the week below)
Folded Business Cards (not only are they unique, but they're also easier to hold onto)
Those are just some of the creative ways your biz can stand out during the holidays! Get going! Start printing and sharing now so that you have plenty of time to build a customer email list.
BONUS! Save 15% off your first order!
GRAPHICS CREATOR VIDEO OF THE WEEK
Discover how to make and print your own logos and business card designs with The Graphics Creator! Marc makes it easy, so follow along 🙂
PRODUCT OF THE WEEK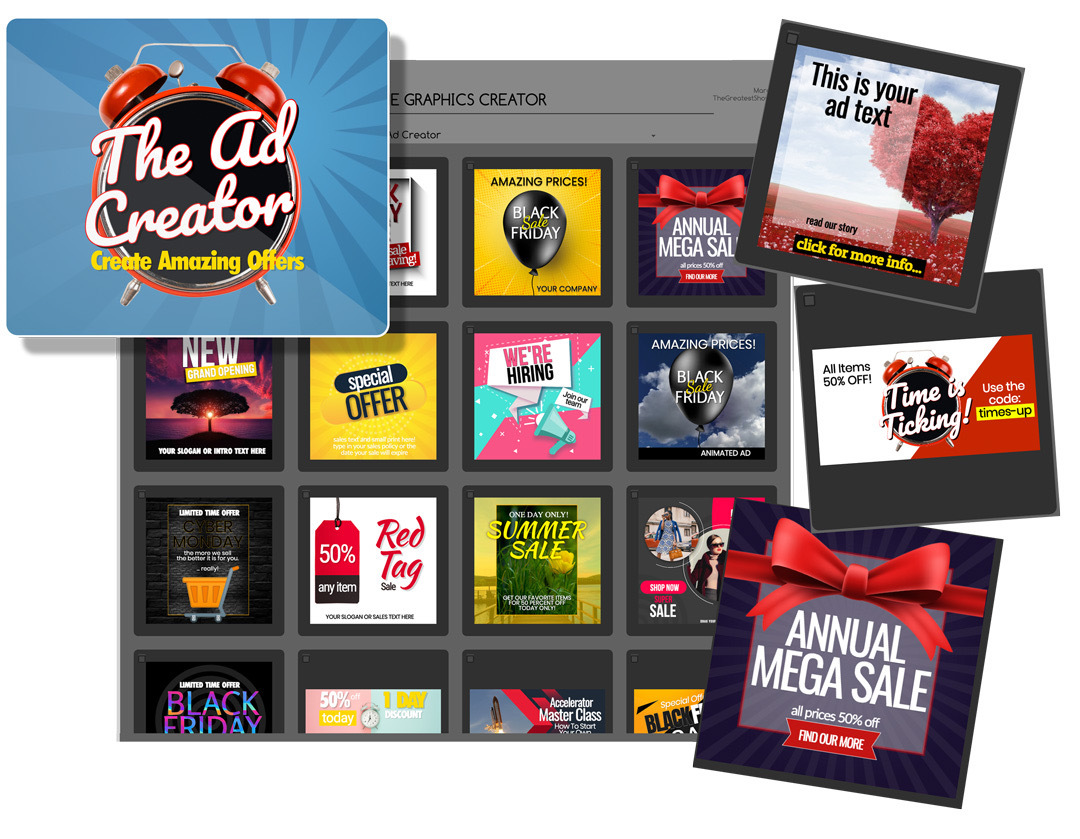 The Ad Creator templates and elements are the product of the week because of their bold and clean designs… they're sure to make you stand out in a crowd.
Because of the bold yet simple designs, you can create an advertisement within just a couple of minutes. How about creating a Facebook Ad, Instagram post, Pinterest pin, or tweet?
Plus, with the upcoming holidays, you can add your holiday images to any design!
CREATORPRENEUR TIP OF THE WEEK
Print just one unique item to increase your visibility!
For example, we mentioned the car magnets above. You can really get creative with these! We've actually given these as gifts because they're so much fun as well as practical. Use them only when you need them.
And even if you don't have a local business, you can spread the word about your online store or service. Hey, people are on their phones and tablets all of the time, so you'll be easy to look up.
Plus, you get "bonus points" for traveling with your car magnet… especially if you're attending a business event!!!
See you next week!
Marc & Lisa
Disclosure: Laughingbirdsoftware.com participates in affiliate programs with other websites and businesses. We may receive compensation for referring traffic to these companies.