Hey Creatorpreneurs!
Too busy to learn new design tricks that'll help you sell your service or product?
What if you could learn a cool trick that'll improve how you design graphics for your business… in just 6 minutes?!
The design tips in this newsletter will make it fast and easy to place ANY image right on top of ANY graphic… ANYwhere you want! How about putting an image of yourself in an ad design that shows you as the creator, coach, or expert?
Watch the 6-minute video below to find out exactly how to do this, as well as a couple of other tricks along the way.
---
CREATORPRENEUR TOOLS!
Transparent graphics are essential! And they're easy to create and use. Watch this video to see how Marc removes an image's background and uses it in a design:
In this video, you'll learn how to quickly search for royalty-free images to add to your design, download them correctly, and then make that image transparent by removing the background… right within the Graphics Creator software!
Plus, Marc will show you an optional background removal tool that anyone can use (it's free too)!
Still too much work? Make it easy by grabbing png graphics already cut out and ready-to-go!
---
LAUGHINGBIRD CORNER
The transparent image tricks you've just learned above have so many applications:
When you don't want one image background image to clash with another design
To add a transparent logo onto any business image or media
When you want to layer a bunch of images into one design
When you can't find a transparent photo or image you want that's already cut out and ready to drag onto The Graphics Creator's canvas
The problem is that searching for an image, reading its license terms (and/or buying it), and then removing the background still takes time.
Naturally, there's nothing easier than having a whole bunch of transparent images to quickly drag and drop into your design.
So, we're dedicating our own time and resources to bring you transparent PNG images that you can literally drop into your image. Take a look at our newest transparent png graphics to add to The Graphics Creator: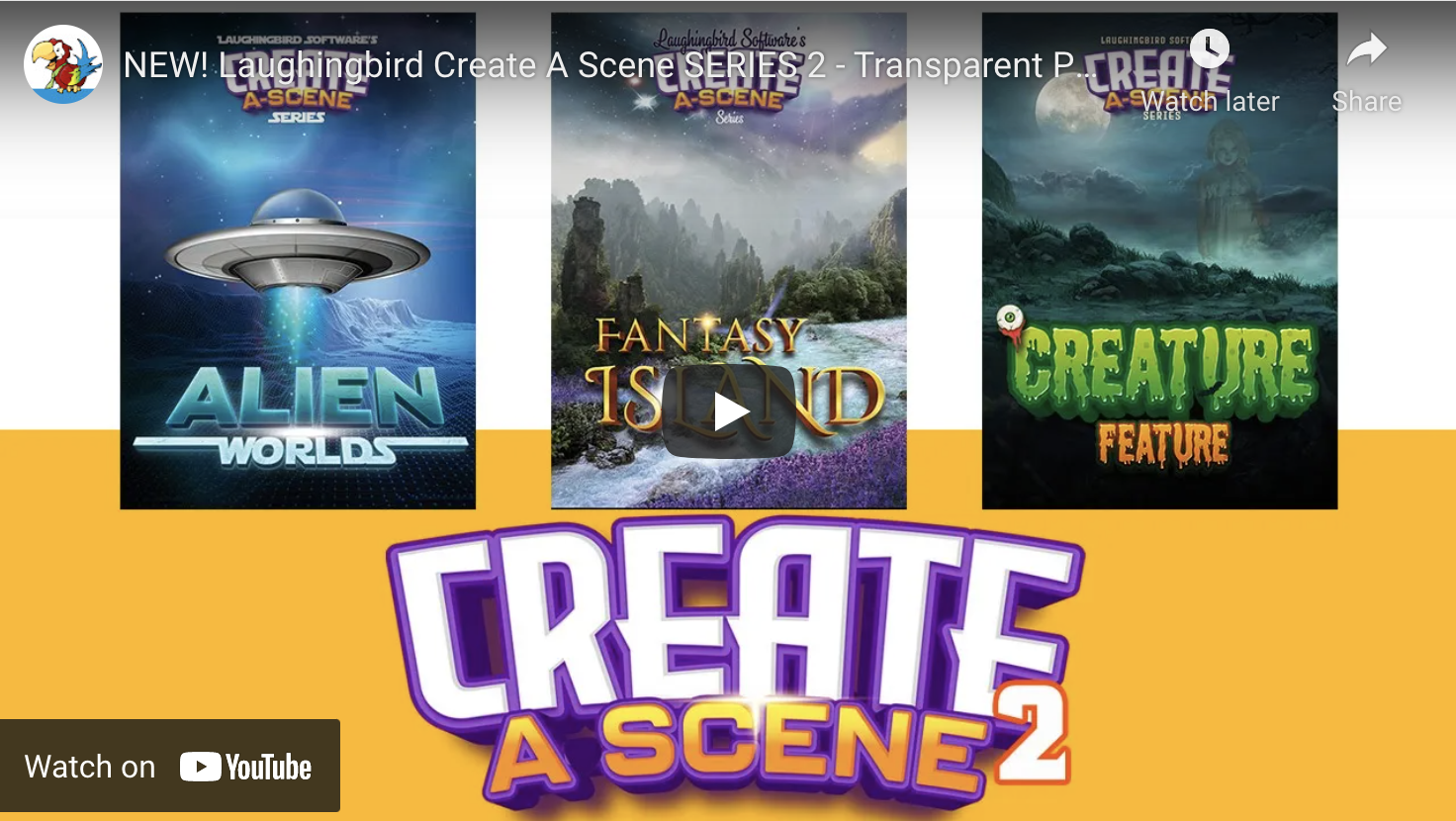 ---
CREATORPRENEURS ACADEMY TIP
Although you may want to use your personal transparent image or logo on some of your designs, it's a good idea to test out a variety of images to see which ones resonate with your audience.
How about adding a ferocious dinosaur to your marketing ad, a fantasy beach scene on your social media post, or an alien mascot to your web designs? Mix it up and see what grabs your audience's short attention span!
---