Hi there Creatorpreneurs!
Welcome to issue #1 of The Creatorpreneurs Newsletter!
We're excited to have you join us on this journey as we explore the world of creating content, being an entrepreneur… and learning how to market ourselves a little better. ????
Along with videos showing you a few tips and tricks in using The Graphics Creator, Lisa and I will be showing you some new tools we find around the interwebs that will help make things easier on us all to market ourselves.
In our first edition, let's talk about the tool we're using for this very newsletter! We tried creating the newsletter on our own (pasting different areas of content from our site and around the web) into our eMail campaigns, but found it super time consuming and not really 'pretty'.
That's how we found Revue. It's super easy to use (look! I can do it!) and it'll give you a ton of ideas for creating newsletters for your own small business (or just for fun to family and friends!)
Hope you enjoy this format, and this first issue. If you have any comments or questions, leave a comment below!
– Marc & Lisa
---
CREATORPRENEUR TOOL OF THE WEEK!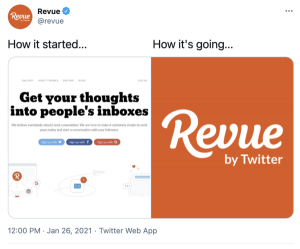 REVUE – A newsletter tool for Creatorpreneurs
This is the software Lisa and I use to create our weekly newsletter. It's easy, fast and … fun!
Transparency: It's free up to a certain number of subscribers. The price goes up in increments of $5/month depending on how many people you're sending to. Well worth it tho to have a powerful tool like this.
---
GRAPHICS CREATOR VIDEO OF THE WEEK
As a Creatorpreneur, being creative is easy. But marketing yourself and your new creations is a little harder. Here's a cool way to get your name if front of others… design your own tShirts! Wear them around or hand them out to your friends and family.
Watch this video to see how you can do this with The Graphics Creator
---
PRODUCT OF THE WEEK.
Every week, we'll bring you a new set of graphics that you may not have seen.
This is a collection of 100 PNG images (with transparent backgrounds) featuring Tank the tortoise and Caesar the hare. They're toon style characters good for all your memes, blog posts, tShirt designs, even ads!
Lance from SadDuck created these images.
---
CREATORPRENEUR TIP OF THE WEEK
86% of social marketers use Facebook ads, and the platform's advertising revenue continues to grow. Meanwhile paid advertising options have come up on Instagram, Pinterest, Twitter, and elsewhere.
Social media platforms are tweaking their algorithms, making it clear to brands that paid promotion is a must if you want to get visibility. If you want your social strategy to maintain or gain momentum, then embracing paid social is a must.
---
Thanks for reading!

See you next week!
…Now go create!
— Marc and Lisa