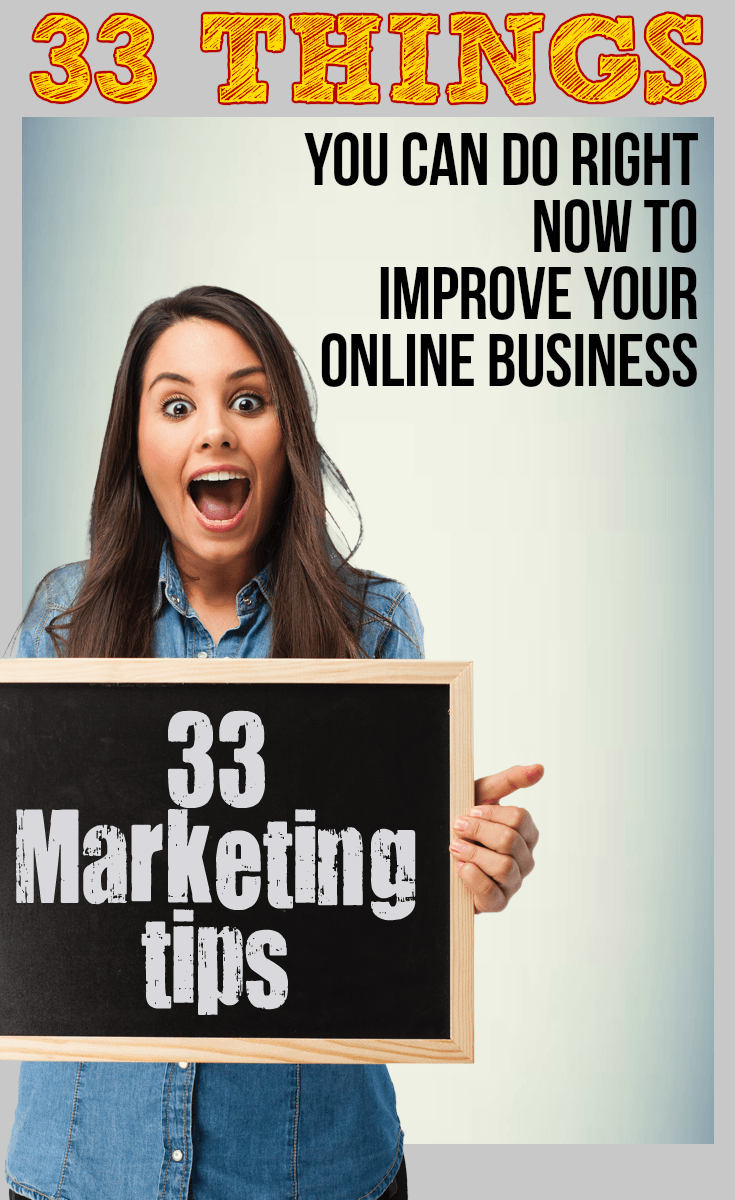 (the graphic above was created with The Graphics Creator! Check it out free today!)
Take action today – right now! These 33 marketing tips can be accomplished pretty easily!
Watch the videos posted below each tip for more marketing help:
YOUR FIRST of the MARKETING TIPS IS EASY – BUT POWERFUL: MAKE THE MOST OF YOUR EMAIL SIGNATURE!
Sometimes we forget the little things – like adding your website to your eMail signatures.
Link everything up by adding social media accounts and website URLs.
Add your main marketing message or company slogan. Remind people why you're so great! Be creative and unique: Consider using a small graphic 🙂
---
DEVELOP AN EMAIL CAMPAIGN
Creating an effective email campaign takes more than just having a list of people:  You'll need great content, a way to manage your customers and the emails sent, and a well-designed template.
If you don't have  an organized campaign set up, do it today. There are lots of programs online, including ones with free trials. Check out how to get started with AWeber.
https://www.youtube.com/watch?v=AP4exfW5E9k
---
START LEARNING ABOUT ADWORDS AND INCREASE YOUR SALES
Google AdWords. Do you know much about it? Is it scary?  … do you already use it but maybe you're not doing it 100% correctly?
Adwords is a powerful way to get visits to your sites, products and services. Watch this video from Isaac Rudansky. It's a great beginner course and it'll make Adwords less scary!
---
MARKETING NEEDS TIME MANAGEMENT
Okay, so before you get too far into all 365 of these marketing tips, let's go back to the basics: Yes, you'll need to manage your time well when it comes to marketing your business. It's easy to get overwhelmed with ideas.
Here are two suggestions:
First, use the "Save to Favorites" button right here in the Promobot whenever you find a pertinent tip for your business that you can't get to right away.
Next, watch this short, time-saving video for ideas that you can apply to organize your marketing strategies.
---
WRITE SALES COPY THAT ISN'T CHEESY OR SLEAZY
Yes, writing sales copy is hard! You're wondering how to write copy that converts to sales but still conveys your interest in helping your customers and not just making money. You can do this. Start now by going beyond what you have to offer…tell potential customers how what you have will benefit them. Check out this video to get you started.
---
ADD PERSONALITY AND MORE TO YOUR SOCIAL MEDIA ACCOUNTS
People don't want to talk to brands and logos, they want to talk to people. Add a photo of a real person to your social media accounts and don't always shout about your own business. Add personality to your brand using humor, graphics, and photos.
This is a great way to get your customer's to warm up to you and your product or service. Start by adding a Facebook timeline image.
MAKE A HIGH-CONVERTING LANDING PAGE TODAY
Do you want to convert visitors to your customers? Figure out how to create sales pages, landing pages and more using Leadpages.
---
HOW TO CREATE AN E-NEWSLETTER… THAT DOESN'T SUCK
Today, bring in some new customers by creating a newsletter. The idea is to write your e-newsletter, then publish it on a regular basis for your existing customer base (and then tell them to forward the newsletter to a friend). It's easy.
Just talk about what you're doing and any new products or services you've launched. You need to stay on a customer's radar and encourage repeat business. Don't forget to include lots of marketing tips in your newsletter 🙂 Watch this video on creating a newsletter:
---
5 PRODUCTIVITY TOOLS TO MAKE YOU BETTER, FASTER AND STRONGER
Pat Flynn uses a lot of productivity tools to help him push forward in his money-making business. In fact, He uses dozens, but here are his top 5 tools that will help you get the most out of the time you put into your work. Valuable information!
---
BLOG YOUR WAY TO SUCCESS! CREATE A BLOG IN 4 MINUTES…
Blogs are great opportunities to extend your digital marketing strategy by creating a whole range of long-tail keywords (more specific keyword phrases) for search purposes. Show off your skills and expertise to build trust in your customer base. Be sure to keep your blog updated with quality content to win both Google and web visitors who will love you for it.
---
ONE OF OUR FAVORITE MARKETING TIPS- CREATE A LOGO THAT STANDS OUT
Every great business has a definable logo that the public recognizes. Create a logo that expresses your brand thoughtfully. Do it right now, easily and inexpensively.
Logo Creator & Business Card Templates
---
THROW IN A FREEBIE TODAY! MAKE IT HAPPEN
Today's quick task is easy. Whether you've just delivered a product, a service agreement, or just a brochure, add in a freebie to make your customers happy.
Send out a quick "thanks for buying" eMail with a free download. OR, upload a freebie to the sales page as a 'bonus' offer. Everybody loves free stuff.
So sit back, meditate and think what you could give to your customers (so that they'll keep coming back!). It may take you 20 minutes – but it'll be worth it.
---
LET TODAY BE THE DAY YOU ADVERTISE ON BLOGS
Investigate online advertising opportunities by researching where your target market likes to go. What blogs appeal to your customers? Contact the blog owner and sponsor them in exchange for advertising space. Or, see how Google's Adsense can help.
---
TODAY – CONSIDER CREATING A FREE VIDEO COURSE!
Have you ever considered creating a video tutorial showing your services or latest product? Watch how easy it is to create a video course:
---
KEEP THOSE BUSINESS CARDS HANDY – DISTRIBUTE 5 TODAY
You never know who you might bump into, so never leave home without your business cards. Make sure your business cards contain all relevant information, including your website address and any social media accounts you might have. 
Logo Creator & Business Card Templates
PRINT YOUR LOGO AGAIN AND AGAIN TODAY
Branding is more than just having a logo and a style. It's about recognition and reaction. Potential customers should react with great emotion when they see your logo and learn about your brand.
So don't just let your logo sit on your website. Print it:  Everywhere!!! Business cards, mugs, pens, mouse pads, t-shirts and more. Wear them, use them, pass them out. Get a reaction!
---
DO A PRESS RELEASE TODAY
Write a press release about your business after reviewing tips online. Use the press release tips to help write a "story" to sell your product. Then contact your local paper to speak to an interested journalist, who may even write the story for you. Make sure you have a high quality, identifiable logo on each press release.
---
CHOOSE AN EFFECTIVE TEMPLATE FOR YOUR WEBSITE
Don't stick with a boring standard website template. Get creative and look professional by choosing one that expresses your purpose and easily allows all you have to offer. This doesn't have to be expensive. understand a little about website design; then choose a template that works for your business.
---
EVERYONE LOVES A BARGAIN
If you don't have a 'mini' version, then today is the time to create a free or discounted version of your product or service. This can entice new or existing customers and lead to a long-term business relationship. As your product is being developed, research how to sell it!
---
THE POWER OF COMMUNICATION – CONTACT YOUR EXISTING CUSTOMERS
Utilize free marketing tips! Talk directly to your customers if possible or post a brief survey on your website or send the survey via email. Ask lots of questions: Why did you purchase the service or product? What would improve the product or service? Get to know your customers while gaining a better understanding of the power of communication.
---
WRITE BLOGS TO INCREASE YOUR WEB TRAFFIC
Make the most of your own blog by writing posts that naturally encourage people to link to it. The more people who recommend your blogs, the more web traffic you'll get to your website. Not sure what this is all about? Watch this video to see how it's done.
---
CONDUCT Q&A'S ON YOUR BLOG
Utilizing emails, questions found on forums, and other sources, create a weekly Q&A blog post. You can take just one question at a time and make an entire blog post built around it. Schedule time today to begin researching or developing your questions and answers.
And grab the templates you need to create your own blog graphics:
Blog Graphics Templates
---
TURN YOUR CONTENT INTO A VIDEO
Make your Q&A posts into a video, or make any past "how to" blog post into a video. Video has become a common way for others to gain knowledge and learn important information, not to mention to help rank your site. Start using video today, even if you are just using simple photos. Or create a simple video using Powtoons.
---
CROSS-PROMOTE WITH A COMPLIMENTARY BUSINESS
If you know others that already market to your audience, contact them and make a deal to cross-promote each other's products and services. This is different from affiliate marketing.  An affiliate receives a portion of what is earned for each product sold, while cross-promotion is a mutually beneficial promotion of both businesses' product or service.
---
ANOTHER ONE OF THE MARKETING TIPS THAT WORKS WELL FOR US:  MAKE FACEBOOK A FAMILIAR SITE
One of the most effective ways of gaining loyal customers is to be active on Facebook. Sharing news, connecting with fans, holding competitions and persuading your fans to share information is great for getting your product in front of the right eyes.  Although using Facebook can be time-consuming, it has the power to help increases sales.  Invest some time learning how to market with Facebook.
---
USE TWITTER TO INCREASE SALES AND PROMOTE PRODUCTS
Once you have a number of followers, you have people who are interested in your brand or your products and you can promote any new products or information to this audience. If they like what they see, there is a good chance they will share the information you tweet with other followers. This requires time for it to have a significant effect on sales. Be sure to avoid being too self-promotional so as not to annoy your followers.
---
PINTEREST HAS EXPLODED ONTO THE SCENE – TAKE ADVANTAGE OF IT
Here's one of my favorite marketing tips:  Pinterest enables users to create themed boards to which they can pin images from across the web. The ease of creating a pin, and the number of people willing to re-pin things they like, can be great for exposing your products and website to a whole new crowd.
So, set up a free and easy Pinterest account. Even if you don't see much traffic initially, the more you pin and are re-pinned, the greater the increase to your traffic. Make sure your site has nice graphics and pin directly from there!
Grab the Pinterest Templates to make as. many pins as you want!
Pinterest Templates with Motion Graphics
---
TIME FOR DAILY DEALS
Look into becoming a Daily Deal… yep, another one of the free marketing tips! There are quite a few daily deal sites around nowadays, the most notable being Groupon and Living Social. These sites are centered on offering consumers great deals on products and services. If you choose to use these sites for promotion, they can create a lot of sales in a fairly short period of time, while increasing awareness of your brand. You may even earn repeat customers!
---
SET UP YOUR OWN ECOMMERCE SHOP
If you haven't set up your own online shop, do it now.  Find an all-in-one solution offering full customization of your sites without having to build your own site or spend lots of money!  Many sites might work for you so check out each one carefully.
You might've heard of Shopify, Big Cartel or Volusion, but there are lots of others as well.  Here's one good option and you'll get a good overview of how it all works!  Even if the rest of your site doesn't have personalized graphics, don't forget a logo!
---
START USING GOOGLE SHOPPING- PROMOTE YOUR PRODUCT
If you are actively selling products online, one great way of promoting the products is to get them listed on the Google shopping results. These results are sometimes displayed on the Google search results pages for various product queries. It's a great way to gain business and send more traffic to your website, especially if your business offers products cheaper than your competitors.
https://www.youtube.com/watch?v=jnsoStAuFYA
---
KNOW THE POWER OF VIDEOS
Today, create a well thought out, informative and good quality video. There is a huge audience on YouTube for video reviews of products and services. 
Videos also appear in the search results within Google and other search engines, typically getting shown on the first page.  It's a good way of gaining an audience for more competitive keywords or just dominating that page if you're already ranking for that keyword. Check out the video to get a great overview of creating a YouTube Channel and Video!
---
GET REVIEWS
Reviews from other sites can send traffic and increase conversions. Displaying customer reviews on your own website encourages more purchases since users can see that others have previously used the site and have been happy with their experience or products.
Try a combination of both types of reviews: Perhaps you can get people to your site with external reviews and then close the deal by having happy customers talking about your product or service.
---
EVERYONE LOVES SOMETHING FOR FREE
Give away a freebie to help gain new customers. Some companies give a customer a free item if they register their email or if they send a Tweet to their Twitter followers. Free products can easily lead to organic promotion if done successfully and gain your long-term customers. What can you give away for free?
There you go! You've now got 33 marketing tips to help improve your online sales!
Now pick up some easy graphics to help you with your marketing?!