Have you ever thought about what it would take to become a graphic designer?
Or just wanted to make graphics for your own website or blog?
Or perhaps wished you could make some extra money creating graphics while working from home?! In the online world, graphics have become an absolute necessity.
If you run an online business, you need many different graphics, probably on a weekly or even daily basis: Graphics for a website, blog, social media, email, and other marketing campaigns.
That's right! Everyone needs them and YOU can be the one to provide them! If you've been waiting for the right time to become a graphic designer, even as a side business, now is that time. I know. I know. You feel overwhelmed and maybe scared at just the thought of figuring out how to do it.
You can create graphics way easier than you think!
Read on to learn how to become a graphic designer without going to design school (and check out this easy graphics tool to help).
First, start reading up on graphic design theory:
You've been to a website that immediately makes you click away from it. Was it the colors, hard to read fonts, or just that you couldn't make sense of anything?
Yep. Sorry. You can't just start creating "designs" and expect them to be magnificent. Would you want a potential customer cringing at your logo design?
So, what's the number one thing to research when learning design? Typography!
This is because fonts can make or break your design. Knowing that you can't use 5 different fonts in a logo design is basic graphic design knowledge. Successfully limiting your colors and other graphic elements are also designer basics.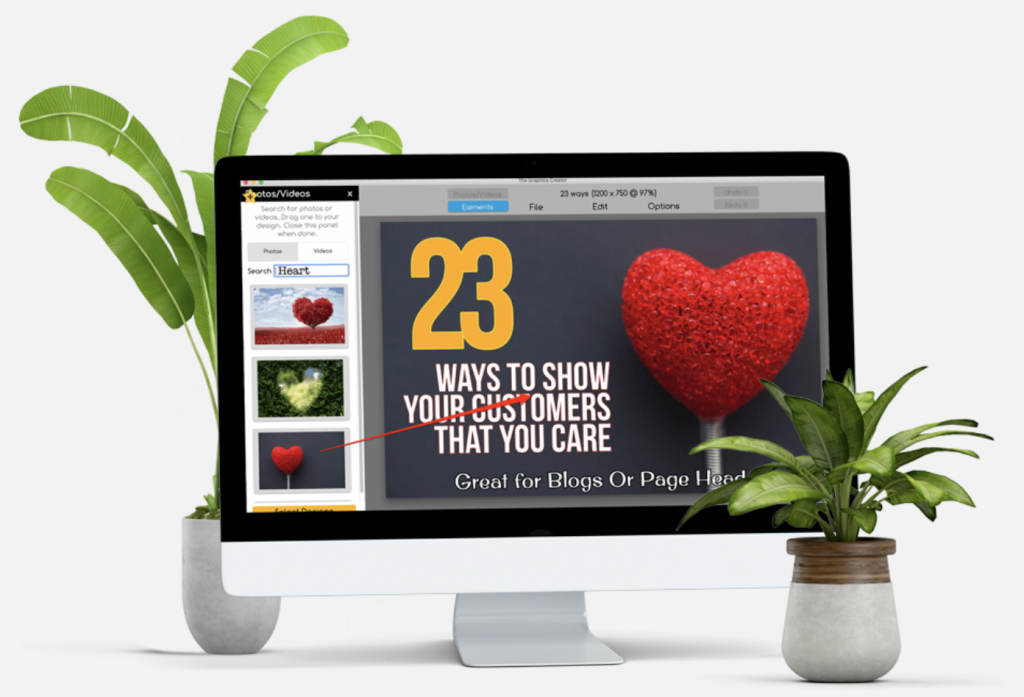 Here are three great places to learn about basic graphic design:
Learn how to become a graphic designer without any experience


Take a look at what others are making.


Free and easy graphic design video training. 
Check out graphics from other designers:
Look at designs created by other graphic designers. Don't be afraid to get some ideas from them for your own designs. Pay attention to the layout of the design, colors, and fonts.
Why do you like a particular design? What will be the purpose and use of your design?
When you find one that you want to replicate, play around with your own colors and fonts. Just don't "copy and paste" their finished designs to your portfolio (like that even needed to be said)!
Use design software that's easy but has the power to do what you need it to:
No doubt you've told to learn graphic design software that scares the pants off of you! Understandable.
Most programs are intimidating and overwhelming when just starting out as a graphic designer. Especially if you're just looking to sell graphics for a little extra cash on the side.
Right now, the assumption is that you want to learn how to become a graphic designer in order to make some extra money. Or you need to learn a skill that allows you to work from home! Or perhaps you want to create a design for your own customers as an added value.
Any way you look at it, you need graphics every day! So, here's what's recommended: Start with powerful design software that is also easy and fun to learn. The Graphics Creator will start you off to becoming a graphics designer all on your own.
You can get The Graphics Creator software up and running quickly.
Then you can simply drag and drop images and fonts from pre-designed templates. If you want to be more creative, you can even start with a blank canvas.
Once you've downloaded the software and have created a few designs, you can start building a portfolio. If you need ideas, Laughingbirdbird Software has a ton of quick video tutorials to help you out.
Build a portfolio:
Even if you haven't had any customers for your graphics yet, create your own designs to use in a portfolio.
Make a few nice logos, page headers, buttons, and social media graphics, for example.
Or, offer to create free designs for your customers, family, and friends until you have a nice portfolio and are getting good feedback on your graphics. Only include your nicest graphics in your portfolio.
Once your portfolio has at least three each of the types of graphics you'd like to offer, then it's time to sell them!
Sell your designs:
Now that The Creator software has helped you develop a portfolio, it's time to let others know what graphics you can offer them. Here are some ideas to advertise your work:
-Include your portfolio on your website. Make sure it is easily accessible by a direct link or by showing your design on the home page.
-Make some mockup designs to share through social media. You may want to offer some of your designs for free, in order to get people to take a look.
Here again, it might be a good idea to build up a "social" portfolio of your work. For example, if you're on Instagram, post 12 or more designs immediately so others see you have a portfolio and take you seriously. On Pinterest, you might wish to create a board entirely for your own designs.
-Use The Creator to make nice business cards and pass them out locally to businesses and friends that might need graphics. Keep some on hand for anytime someone asks you what you do for a living.
-Create an ebook discussing an area of expertise and include your graphic designs.
There you go! You've got easy graphics tools with video tutorials to help you become a graphic designer.