As an entrepreneur, you know you need to spend more time advertising on YouTube. But knowing where to even start can feel overwhelming. After all, you've already been stressed over just making a video.
But the important thing to know is that you can make money and grow your business on YouTube by following these simple ideas:
Write Engaging Titles
Use the YouTube Channel SEO checklist (below)
Promote your videos on Facebook
Cross-promote your videos
Don't use titles with more than 50 characters
Embed the videos on your company blog
Create custom thumbnails for each video posted on YouTube
Although it requires some thought, you can be successful on YouTube. Find out exactly what you need to do to promote your YouTube channel by reading the article below.
Follow These 7 Ways to Promote Your YouTube Channel
You don't need any experience. Just start with number one and check them off as you go:
1. Write Engaging Titles
The first step toward building an audience is to get people to start watching your videos. If the titles are boring and non-engaging, nobody's going to click through to watch your videos.
Take a look at the titles for your current videos. Are they enticing enough to get people to click? If the answer is no, look for ways to improve it.
Keep it simple but always make it clear how your audience will benefit by watching a video.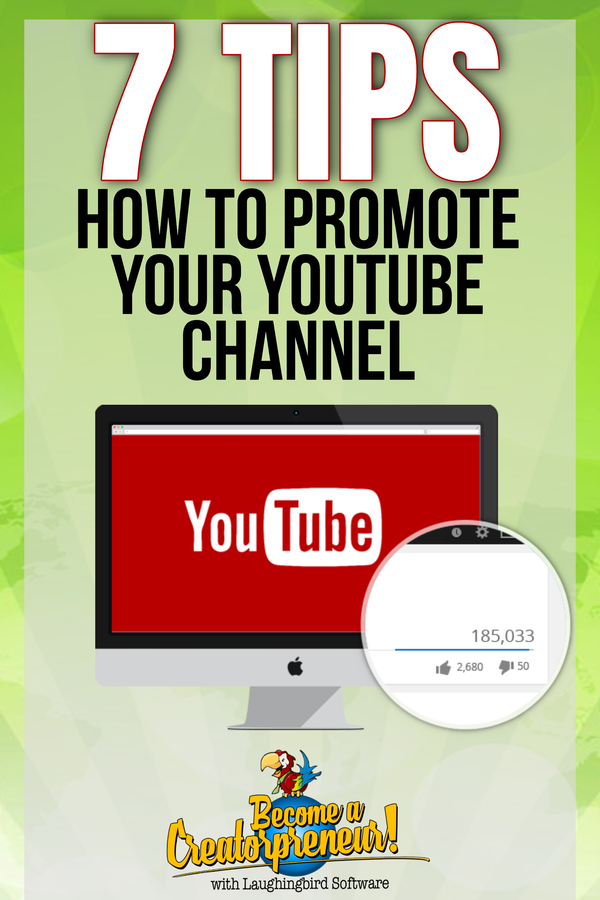 2. Go Through Your YouTube Channel SEO Checklist
YouTube is the second-largest search engine in the world. Similar to Google, people use it to find solutions to their problems, get more information on a certain subject, or to answer a question.
As a result, organic search is one of the best ways to promote your YouTube channel.
Although there are many ways in which YouTube may rank videos in search, try following some of the best practices for YouTube SEO. These ideas will increase the chance that your video will show up to more of your desired audience:
-Titles and Description
Include targeted keywords in both the title and description. You can use a tool like Keywordtool.io to help you find keyword ideas.
And… use keywords within your video. According to Brian Dean of Backlinko, speaking the target keywords inside your video will let YouTube better understand what your video is about.
-Engagement
Like many other social platforms, YouTube uses "engagement" (likes, comments, views) to help decide where videos rank in their search results.
So, increase activity on your channel by adding channel tags, using a great title, responding to comments, and creating unique background images and thumbnails.
End screens are another way to promote your business on YouTube. Check out this video on how to make an end screen: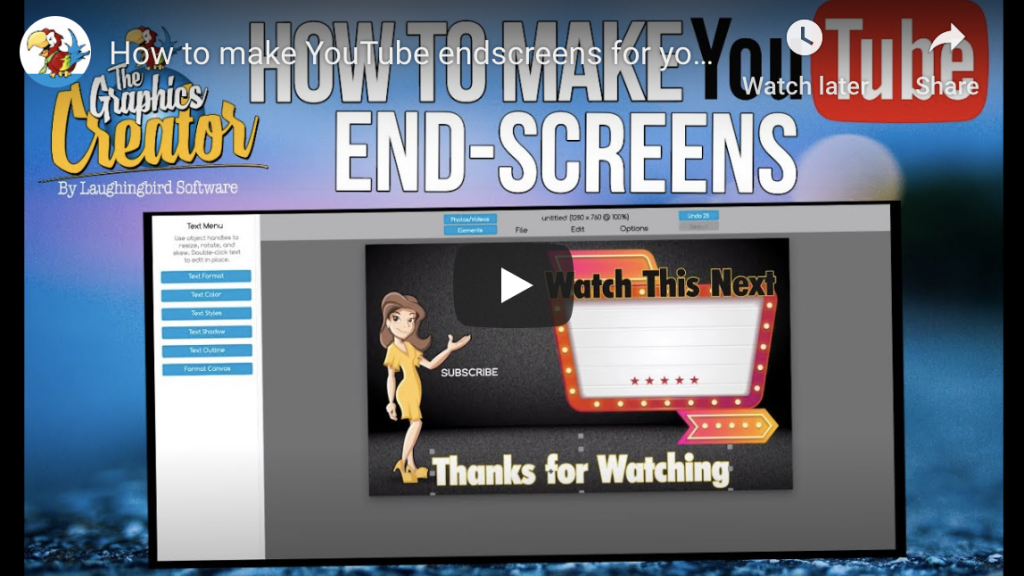 -Categories
Make sure to define your "categories" to help YouTube get a better understanding of who to show your videos. You won't get many clicks on a video if people are coming only to find out it's not what they are interested in.
-Tags
In addition to categories, use as many tags as possible. This will also give YouTube a clearer picture of the content and make advertising your channel much more worthwhile.
3. Promote Your YouTube Videos on Facebook
Use Facebook's native video uploader to share video content with another audience. Facebook videos may get more engagement than shared YouTube video links.
Always include a "call-to-action" within the Facebook video post. Tell your audience exactly what you want them to do next. For example, "Check out my other videos on YouTube" (and include a link).
Just remember to make your graphic headers for both Facebook and YouTube look consistent.
Save time!!! Watch this video to create a Facebook header that you can then easily turn into a YouTube header banner: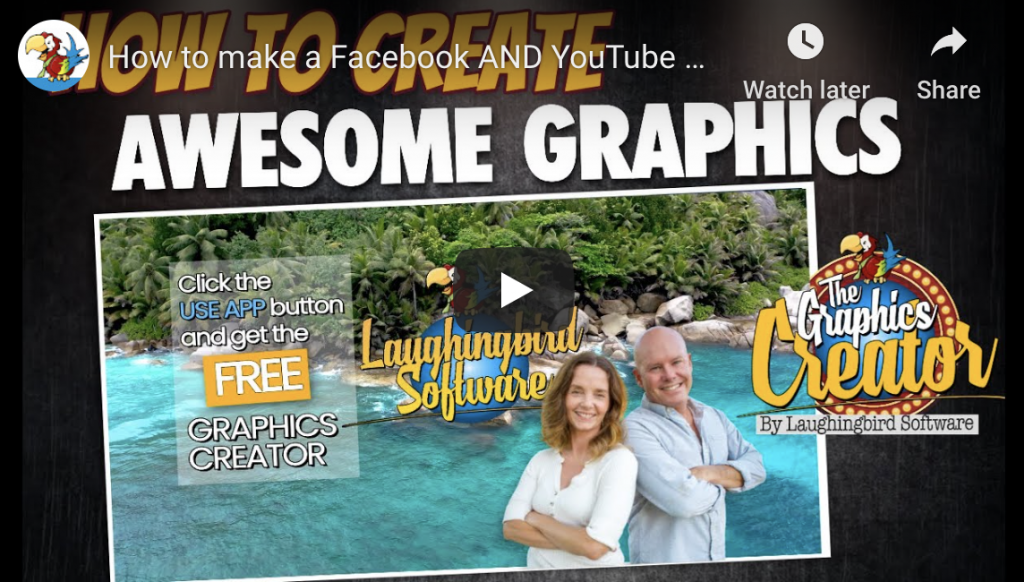 4. Cross-Promote Your Videos
Who better to promote your YouTube channel than yourself? 
Think of ways you can promote some of your videos within your other videos. For instance, reference an older video within a newer one and leave a link to it in your description. Now viewers can easily find your other content.
You can also use "cards" to help people navigate to other videos. These allow you to give more information and a direct link to your product or service.
But, consider waiting until the end of the video to add cards. You won't want people clicking away from your video that they're already watching.
5. Keep Your Video Titles Under 50 Characters
This is an easy one! Don't make your video titles any longer than 50 characters. Any longer and your title will get cut off, decreasing the chances it will get clicked in search.
6. Embed Your YouTube Videos on Your Blog
Help people find all of your video content on YouTube by embedding the videos on your blog or website, as well as other social media channels. This will increase views of your video and may increase your site's page views.
7. Use A Custom Thumbnail for Each Video on Your Channel
Verified YouTube accounts can take advantage of the custom design thumbnail feature. A good video thumbnail helps you stand out in the "related video" and "suggested video" sections.
Get some tips on designing and quickly make your thumbnails (and YouTube banners) by watching this video: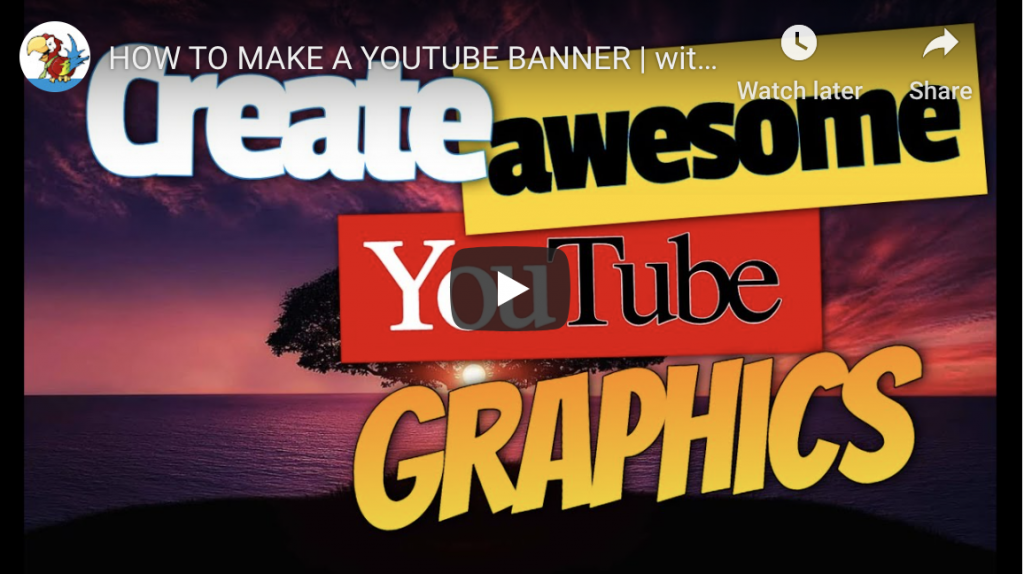 -Thumbnail tips:

Have a resolution of 1280 x 720 (with a minimum width of 640 pixels). Upload in either .JPG, .GIF, .BMP, or .PNG. Keep it under 2MB. Use a 16:9 aspect ratio as it's the most commonly used in YouTube players and previews.
And your thumbnail should work well on both desktop computers as well as mobile devices.
Want to promote your YouTube Channel with attention-grabbing graphics?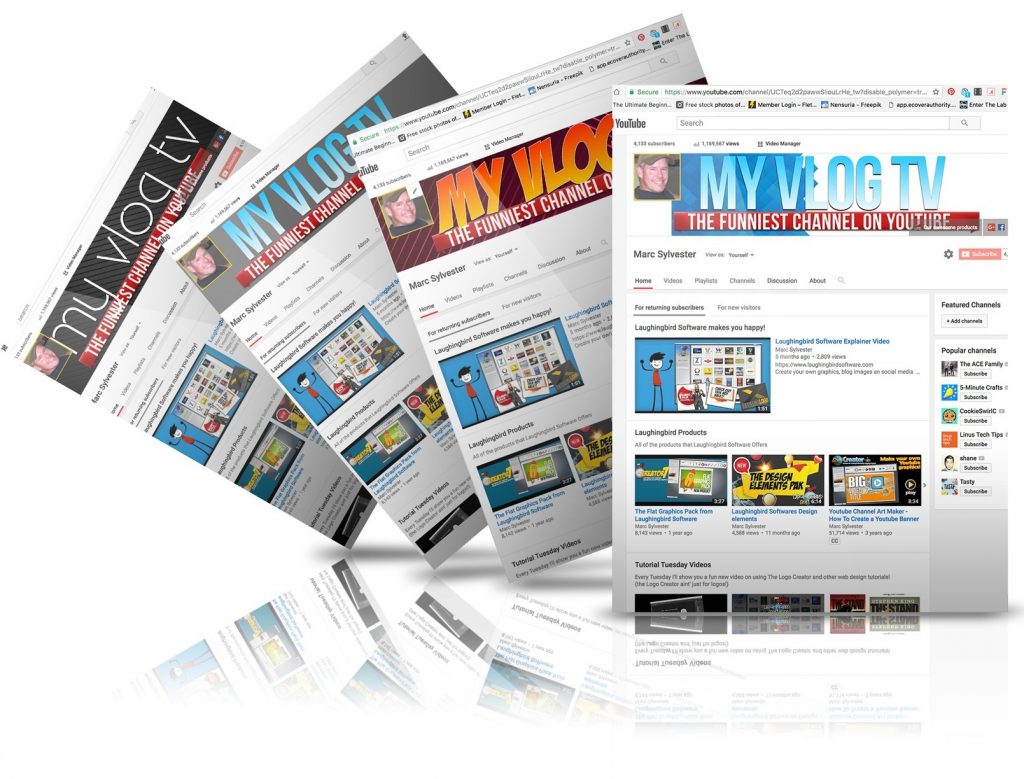 Conclusion
So, you may be wondering which of the seven ways discussed above works best to promote your YouTube channel.
The answer is… all of them together!
These ideas are actually pretty easy to implement. Just start with tip one and start working through them now. Once you've done it a few times, it'll be easy to do for every video you publish.