Warning! Are your page titles turning your customers away…?
That's the kind of headline that gets you to continue reading. After all, you're reading this now right?!
The fact is, that if you want to increase traffic and sell your product or service, you have to create a catchy headline that gets attention and makes people click to find out more. A powerful headline will entice your viewers to read your blog, click on your ad, or even open up your email.
So, here's what you can do: Find out how to craft an enticing headline by writing attention-grabbing copy. Continue reading and I'll help you learn how to create money-making headlines. And, as a bonus, you'll also find out how to make your ad design and graphic titles stand out.
Learn How to Write an Irresistible Headline
Your title has to arouse a viewer's curiosity enough for them to want to know more about it and continue reading. According to Copyblogger, only two out of 10 people might continue to read the rest of your content once they've seen the headline. But, write an amazing headline and that number will go up.
Talk to any top-level online marketer and they'll tell you to write ten or even twenty headlines for each piece of content. Only then can you be sure to choose the one that'll get you the most traffic.
The hard part is that you can write a headline in an infinite number of ways. Fortunately, there is an easy part… just follow the basic rules of headline copy and you'll get more viewers to read your content. In turn, you'll make more money.
Discover the Rules to Making Your Headline Grab Attention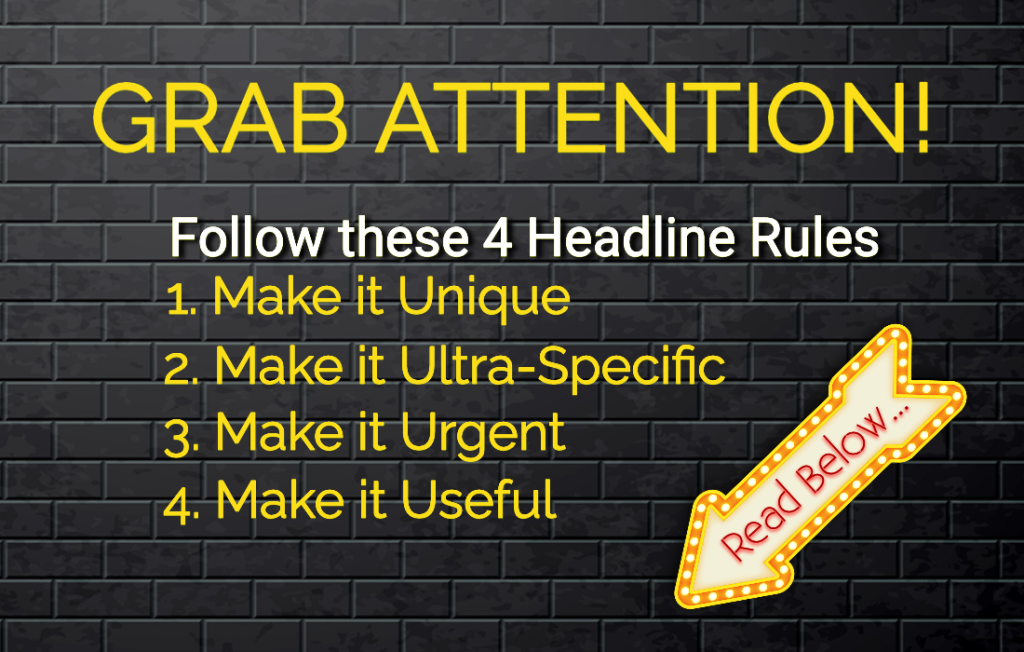 If you want to grow your audience and make more sales, you must first draw attention with your amazing title. To do this, follow these standard headline copy-writing rules. Make your headline:
Unique: Don't write the same title others have used, even though you're using similar keywords. Yes, use appropriate keywords in your title. However, try putting your title in quotes and do a Google search to see if anyone has used your exact wording.

Ultra-Specific: Answer your audience's question and get straight to the point. You must know your target audience in order to meet their needs.

Urgent: Get your readers to click and read now. Make it seem urgent to click on your headline. Instill the fear of missing out on an amazing offer so that they'll take a look right away.

Useful: Your title must be helpful, valuable, or beneficial to your audience. They need to know immediately that their problem can be solved.
Now, let's use these concepts in your blog titles, ads, or email subject line.
How to Write a Powerful Headline That Gets More Leads
Keeping those attention-getting rules learned above in mind, write headline copy that makes the decision to click on your title a simple one.
Make it easy to understand: Don't try to appear smart or super educated
Always address your viewers as "You" or "Yours": You want it to be all about how their problem will be solved if they click on your title
Use adjectives that are attractive to your potential customers' needs: "Free", "fun", "incredible", and "effortless", for example
Get emotional: Use powerful words that make your viewers want to cry happy tears ("grateful"), cheer ("courage"), or feel hope ("uplifting").
There are many different "formulas" you could use to write your headlines. However, the best way to write headlines that convert to sales is to just start writing headlines that use the above rules and speak to your audience.
To give you some ideas, I've written out several titles that I might write for my target audience but that can be easily modified to fit your needs.
"How To" Headlines:
How to Create Your Own Attention-Getting Graphics Even If You Don't Have Any Design Experience
How to Create Your Own Graphics in 5 Minutes
Lists:
5 Epic Graphic Design Tools Your Small Business Needs
10 Reasons You Should Design Your Own Ads
Guides:
The Complete Guide to Graphic Design for Online Entrepreneurs
Shocking Headlines:
You Wouldn't Believe How Easy Creating Ad Design Is Now
12 Secrets To Creating Your Own Graphics in Minutes
Titles Offering Solutions:
How You Can Use These Design Secrets to Improve Sales
Finally, A Solution to Advertising Design Without Breaking the Bank
Headlines Addressing Problems:
5 Social Media Design Problems and How You Can Solve Them
"Mistake" Headlines:
What To Do If You've Done These Graphic Design Mistakes
Questions:
Are You Using the Best Graphic Design Software?
What Are Beautiful Graphics on Your Website Worth to You?

Now that you've written out some ideas, review the four basic headline rules discussed above to make sure each title follows them. Then pick a title to make a graphically stunning headline that'll get you even more traffic.

How to Design an Attention-Grabbing Headline
Always design your headline to appear as visually interesting as possible. You should do this for advertisements, social media posts, blog post titles, email headers, and your website.
Follow These Simple Design Techniques
Use a large font size for the page headline. This draws the viewer's attention to your awesomely written headline and, of course, gets them to read it first.

Next, draw their eyes to it with a highly contrasting color. If the page has a dark-colored background, then a light or white-colored headline will stand out best.

Give your title some space… don't start writing your article or message immediately. Hit return once or twice to make sure it's not crowded and stands out.

Finally, consider creating a super attention-grabbing headline with graphics. This is perfect for advertisements, web pages, and social media or email headers.
Use Design Templates to Create a Graphical Title
Ready to make a stunning headline that captures your viewers' attention and gets more clicks? Easily create a graphical headline with The Graphics Creator Text Effects Templates.
Grab the Text Effects templates here!
Conclusion
The truth is that you can get more viewers, more clicks, and more sales just by writing and designing attention-grabbing headlines.
Make sure to:
Follow the standard headline copy rules to help you grab attention
Spend more time writing catchy headlines for your specific audience
And use the simple design techniques outlined above
---
The Creatorpreneurs Academy brings together strategic marketing with eye-catching design so you have the tools and skills to grow your business fast