If you're looking to grow your YouTube channel, you'll be surprised to learn just how much a good-quality thumbnail can help you achieve the viewership you're looking for. The thumbnail is the very first impression your content makes on a potential viewer, significantly affecting their chances of clicking on the video itself. For that reason, sometimes it's worth investing a bit extra to make sure that the image that represents your content is as captivating as possible.
On average, it costs around $10-$15 to design one YouTube thumbnail. Specific prices can vary anywhere from $5 to $30 or even more. However, the $10-$15 range is the most common pricing for a YouTube thumbnail. If you enter a long-term contract with a designer, the price per thumbnail will be lower.
However, when it comes to designing a professional-quality thumbnail, outsourcing the task isn't the only approach you can take. There's no shortage of quality software that can help you get the job done yourself at a much lower cost and in a short amount of time.
Keep reading to learn more about YouTube thumbnail design pricing, how you can go about designing a custom thumbnail yourself, and what really goes into the process.
YouTube Thumbnail Design Pricing
Depending on the level of design intricacy you're looking for and the approach you take, the cost of designing a single YouTube thumbnail can widely vary.
Cost of Hiring a YouTube Thumbnail Creator
If you don't have the skill or interest to attempt getting the job done yourself, your best bet is to outsource the job using a freelancing platform such as Fiverr or Upwork. You'll find plenty of designers (some are classified as a top-rated seller) offering services for a fixed or hourly rate on these sites. In most cases, you'll even be able to check out a designer's previous work before deciding to hire them.
Most freelancers operating on Fiverr and UpWork tend to charge between $5 and $30 per thumbnail, depending on their experience level. However, pricing can be a bit steeper if your vision is particularly difficult to achieve.
The best thing about using these platforms is that you'll be able to consult with several candidates simultaneously and then choose the one whose hourly rate and skill set matches your requirements best.
Keep in mind that for a designer of average experience, the design of a YouTube thumbnail takes around 10 to 20 minutes. If you're paying a $10 fee, that's an hourly rate of $30 to $60. Of course, when outsourcing such a creative job, you're paying for more than just the time spent on the project—you're also purchasing someone's talent and skill. Keep in mind that if you're paying almost nothing, you may get a low-quality clip art design or a thumbnail design created in minutes using template software (you could've just created it yourself).
However, this is still something to consider if you're on a tighter budget or are just starting out on the platform and posting a larger number of videos per week. In this case, it might be worth investing in graphic design software and developing a few basic skills yourself (more on this in a moment).
Alternatively, if your channel is fairly active, but you think that your time and effort are better spent elsewhere, it's usually best to enter a long-term contract with a YouTube graphic designer whose work you know you like. That way, you'll be able to settle on a monthly fee that will drive down the cost per thumbnail.
The average salary for a thumbnail creator in the US hovers around $80,000 a year (depending on experience), so if you're thinking about hiring a designer full-time, you'll want to make sure there's quite a bit of space in your budget. Luckily, a long-term contract doesn't necessarily mean hiring a thumbnail creator full-time, as most of these professionals are independent contractors and virtual assistant graphic designers who work with several employers simultaneously.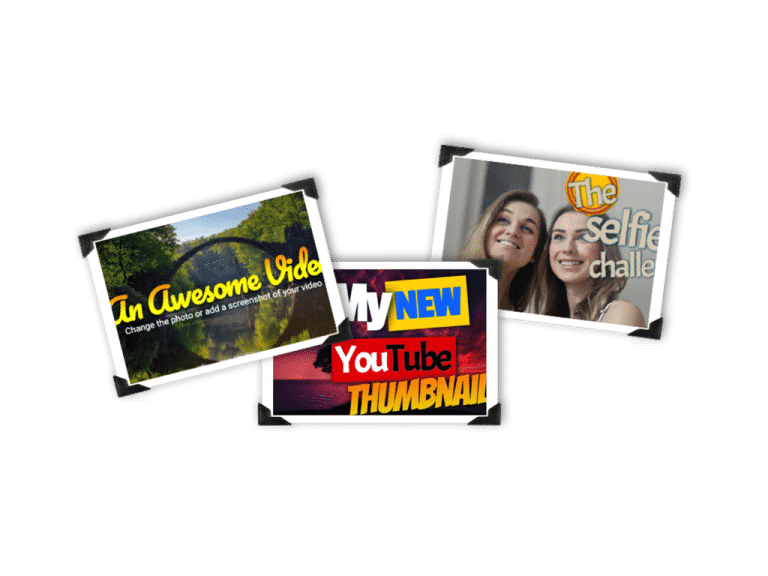 Cost of Using Thumbnail Maker Software
You can create your own video thumbnails for your YouTube channel much easier than you think, either for free or for a small fee.
Thumbnail creation software typically offers a free trial. However, to get a variety of templates that allow you to create the best thumbnail designs quickly, you can usually upgrade to a monthly plan of $10-$20 or an annual fee of between $67 and $120.
They may offer cloud-based storage, royalty-free stock and video footage, as well as other design tools that can cost an additional fee outside of the software. This makes them even more valuable. Plus, you can create other YouTube channel art as well.
Making Custom Thumbnails With Laughingbird Software
If you're on a tighter budget or would rather spend your money elsewhere, you can still have a way to make visually appealing YouTube thumbnails by using tools such as The YouTube Channel Art Maker (software is free; just download the templates you need), even if you don't have any graphic design skills yet.
Laughingbird Software gives you professionally designed thumbnail templates, either as a download or inside an all-in-one online design tool. You can drag and drop design elements, text, and images into your choice of template, creating a YouTube thumbnail in under 10 minutes. The Graphics Creator gives you millions of royalty-free stock images, Google's custom fonts, and lots of fun tools like circle text, color picker, and text design.
You can save hundreds, if not thousands, of dollars in thumbnail creator fees by designing your own YouTube thumbnails, as well as YouTube banners and other social media graphics.
Don't worry: I'll provide you with all the necessary information you need to get started below.
YouTube Thumbnail Design Software
Laughingbird Software's Graphics Creator is easy-to-use design software that lets its users create unique, high-quality graphic design.
There are two user-friendly ways to start creating YouTube thumbnails at a minimal cost:
Download the YouTube Channel Art templates for a one-time payment of $27. You'll get the Graphics Creator software with it for free and be able to access dozens of customizable thumbnail templates, allowing you to create unique (and algorithm-friendly) thumbnails in less than ten minutes.

Grab the Online Graphics Creator for $67/year (or $15/month). This option gives you access to over 1500 templates, including the YouTube collection.
With either option, you'll also be able to design a captivating, one-of-a-kind channel banner and logo—these come in customizable templates too. The templates provided by the software have been created by professional designers to help you achieve the best quality end result.
However, if you have a specific vision in mind, you can always start a new template from scratch and work from there. The best thing about Laughingbird is that you don't need to have any previous design knowledge or experience to use it. As long as you have a few basic computer skills and a minimum understanding of the English language, you'll be able to create eye-catching YouTube banners, custom thumbnails, and logos within minutes.
In the following section, I'll take you through everything that goes into designing a YouTube video thumbnail. If you're looking to hire a freelance thumbnail designer, this information will help you better understand the service you're paying for. On the other hand, if you want to take on thumbnail designing yourself, the details and tips I'll be explaining will provide you with the knowledge you need to create immediately.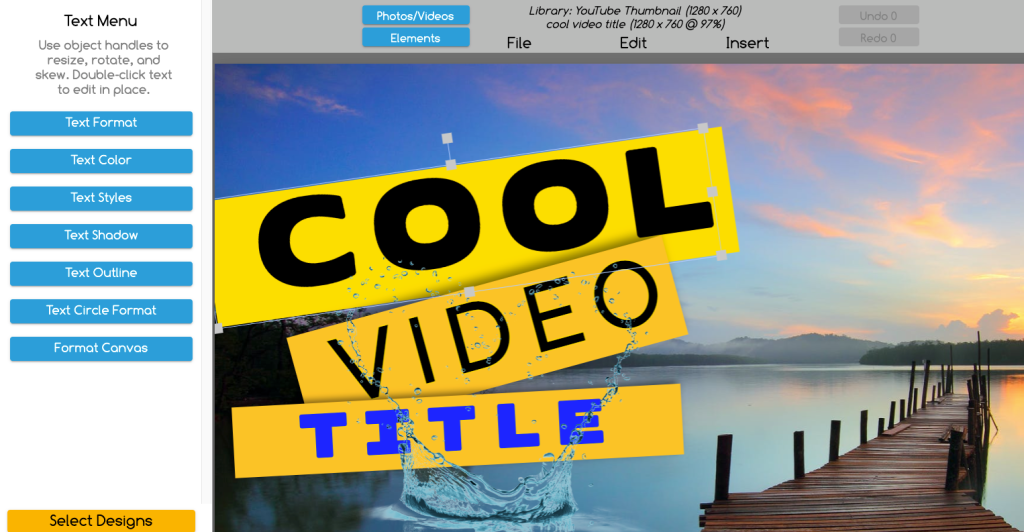 How to Design a YouTube Thumbnail
When you have a YouTube channel, you'll be needing video thumbnails often, for every video you publish. A video thumbnail serves the same purpose as a newspaper's headline or a book's title: it's a limited piece of information that creates the first impression of your content for your potential viewers. But thumbnail design can be a pricey affair if you hire a professional graphic designer.
It's time to delve into what the process of creating a thumbnail looks like, so you can decide whether that cost is worth it, or decided it's easy enough to create your own.
Here are some of the most important components that go into designing a YouTube thumbnail:
Choose the right size and resolution. No matter how fun and creative a design is, if it's not compatible with a standard thumbnail size and resolution, it'll end up looking odd or grainy in your viewers' "Recommended" section. The ideal thumbnail size is 1280 X 750 pixels (or anything with a ratio of 16:9). Moreover, you'll want to use the highest resolution possible while still remaining under the 2MB limit.
Select the right format. A YouTube thumbnail should be in one of these formats: JPG, BMP, PNG, or GIF.
Make sure the thumbnail abides by YouTube's Terms of Service. This might seem like a given, but you'd be surprised what type of imagery might be considered inappropriate, offensive, or copyright infringement by the platform. Whoever designs a video thumbnail should be well acquainted with the site's Terms of Service.
Choose the right image. This might be the most challenging part of the process, especially if you're not the creative type. Your best bet is to go for a clear, vibrant, eye-catching image that shows up well on screens of all shapes and sizes. A thumbnail image should convey as much information about the content as possible while still generating curiosity and interest.
Use the right text. No thumbnail is complete without an interesting yet concise text to accompany the selected image. The words you choose should seem bold and inviting, and they should never be ambiguous enough to be taken out of context.
Make sure the thumbnail is aesthetically appealing. Even though aesthetic appeal in itself might be subjective, making sure that your thumbnail abides by the rule of thirds is guaranteed to make the image more pleasing to the eye of an average viewer.
These are only a few of the many components that go into making an appealing YouTube video thumbnail, if you're starting from scratch. I'm not even going to delve into the graphic design skills and the artistic eye necessary to take the image to that next level.
Thus, if you want to create a thumbnail yourself, start with a professionally designed template. As an alternative, start with a fun, captivating still from the actual video. This is always an excellent way to give your viewers a glimpse of the actual content while keeping the imagery as eye-catching as possible (especially if it contains a dynamic pose).
However, simply using a video still as your thumbnail isn't enough. You'll want to combine the image with a few exciting graphics to make your thumbnail stand out among the rest. And most certainly, add a small amount of text (your title is a great idea).
Last but not least, stay away from making a clickbait-y, misleading video thumbnail. Even though custom YouTube thumbnails and titles need to be as interesting as possible, advertising something that won't be found in the actual content will only leave your viewers disappointed and far less likely to click on any subsequent videos.
What Do YouTubers Use to Make Thumbnails?
YouTubers use a variety of design software or services for their video thumbnails. Whether they design their own or hire a thumbnail creator depends on how many videos they publish each week and what their income level is. If they enjoy designing graphics, then they will likely make their own YouTube thumbnails.
Here are some of the best YouTube thumbnail makers that many YouTubers use every day:
| | | | |
| --- | --- | --- | --- |
| Thumbnail Maker | Annual Price | Trial | Best Features |
| Laughingbird's The Graphics Creator | $67 | Free version + 2 free collections | Bold thumbnail template collection; circle text tool |
| Adobe Express Premium (formerly Adobe Spark) | $99.99 | 30-Day | Over 160 million royalty-free stock photos |
| Fotor Pro Plus | $107.99 | Free Basic version | Photo-Editing |
| Canva Pro | $120 | Limited Free version | Large teams can use it together |
| PicMonkey Pro | $120 | Free 7-day trial | Priority email support |
Most software programs have free trials or a free version, although it is worth upgrading to a paid version if you are creating regular YouTube videos. Buying an annual plan is usually the best value over monthly and will save you at least a little money but sometimes a lot. For example, buying the Canva annual plan will save you around $36 per year, while buying The Graphics Creator annual plan will save you $113!
YouTubers and YouTube influencers typically use a variety of graphics for their videos. These include banners, custom thumbnails, logos, and end screens. A YouTube end screen (also called an end card) tells its viewers what to do next. A YouTuber will use this as a call-to-action graphic that gets viewers to subscribe to their channel, go to their website, or purchase a product they endorse.
Watch this video to see how it works:
Conclusion
On average, it costs between $10 and $15 to have a thumbnail creator design a YouTube thumbnail (so $100-$150 for 10 thumbnails). The process only requires 10 to 20 minutes for a professional designer. However, there's a lot of knowledge, technique, and talent that goes into it. If you're able to get into a long-term contract with a designer, the price per thumbnail will be lower.
If you have a low budget or prefer to save money, you can always create the thumbnails yourself using graphic maker software such as Laughingbird's Graphics Creator. This is usually significantly cheaper and will let you create as many thumbnails as you need, all at once. Plus, you can save a design and go back to modify it any time you like, which comes in handy if you're sticking with the same brand colors and images.
Overall, creating your own custom thumbnail design is the easiest way to stay in control and make YouTube thumbnails as fast as needed.