The Creatorpreneurs Academy brings together strategic marketing with eye-catching design so you have the tools and skills to grow your business fast.
Hey Creatorpreneurs! If you need another stream of income or want to promote your own business in a fun and unique way, then designing and selling t-shirts is for you.
As an online entrepreneur, you already know the value of having a virtual presence… on social media, a website, a blog, etc. But that doesn't mean you can't grow your business by mixing in some offline strategies.
---
Yes, You Can Earn Money by Selling T-shirts
Understandably, you don't want to waste your time on another project that doesn't lead to increased sales. But selling t-shirts, or other "on-demand" goods is easier than you think and requires little to no investment. If you want to order your own t-shirt for promotional purposes, such as to take pictures of it or wear it, then you will have to buy it. Otherwise, you can start for nothing!
Here's how it works: You choose the sales price and keep 100% of the profit. For example, the base price for a t-shirt is $10 and you choose to sell it for $20, you would keep $10 in profit.
Basically, if you sell 10 t-shirts per week, you'll make $100 (that's an extra $400 per month!). Keep in mind also that you only have to make the design once, so little of your time is required once your design is set. And, as mentioned before, you don't have to spend any money upfront. So, you really do keep all of the profit.
---
How to Design a T-shirt
This is the fun part! You can get as creative as you'd like while designing your t-shirt. First, make sure you've watched the video to learn how to create your t-shirt designs.
If you don't already have The Graphics Creator software, just get it online and log into your account to start creating.
Further, if you'd like help with ideas or feedback on your design, join the Laughingbird Software Creatorpreneurs community.
Now, read below to find out how to sell your awesome new t-shirt designs.
---
How to Sell Your T-shirt
What makes selling t-shirts online so easy is that some businesses will produce your product on-demand. This means that you don't have to buy inventory upfront before you even make any sales!
Further, buyers come to these well-known companies looking for cool or funny t-shirts. So, you don't have to rely exclusively on your own marketing. There's already a customer base.
If you watched the video, you saw Marc showing you how to create and download your design from The Graphics Creator and upload it into Teespring to sell your t-shirt. This is the easiest way to make any graphic design into a sellable t-shirt or other printed product.
---
How to Print Your T-shirt Design
Take a look at how Teespring will print your t-shirt on-demand. As an entrepreneur, you have enough to do without worrying about orders and shipping.
Thankfully, Teespring produces your t-shirts after an order is placed. You simply create your design and upload it. When you get a sale, Teespring handles order production, shipping, and customer support for you. Super simple!
Next, check out their Getting Started video and guide.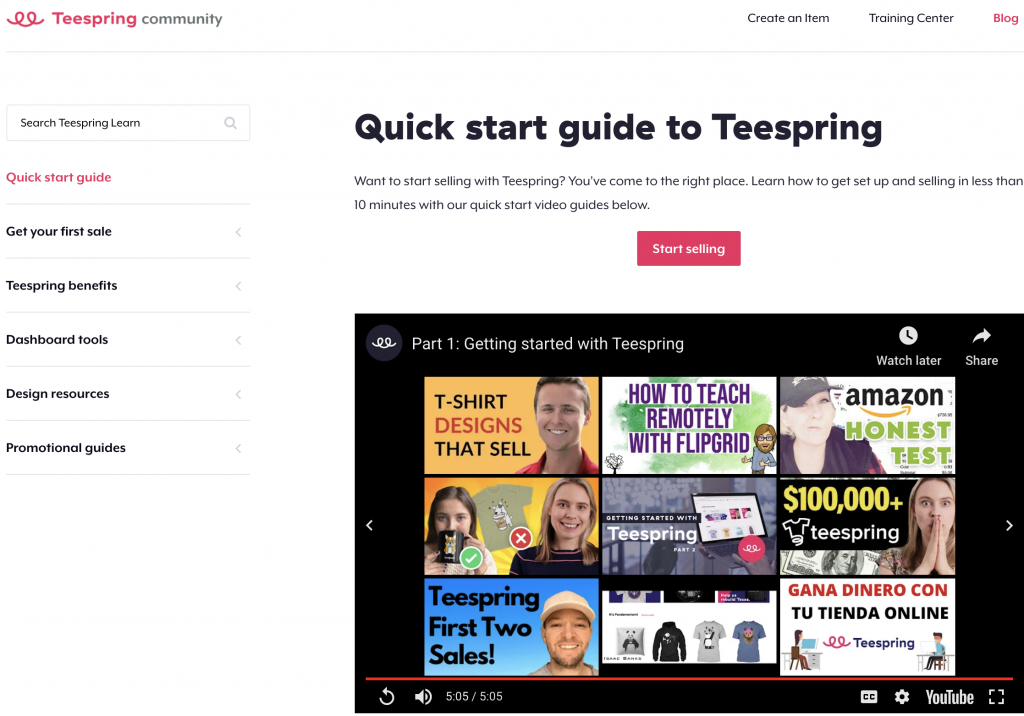 Here's one more super cool thing worth mentioning. Teespring is great because it gives you a way to actually sell your products directly from Instagram, YouTube, and Twitch.
---
So there you have it entrepreneurs… one more way to earn money each month. Creating and selling t-shirt designs is passive income once you've created the design. In other words, you can sell your design over and over without much effort at all.
So why limit yourself to selling one design when you can create 10 or 20?! Some of Laughingbird Software's Creatorpreneurs even make a full-time business out of selling on-demand t-shirts and other products using The Graphics Creator to make their designs.