Your online business success depends on you making sales, whether it's from a website, blog, or social media. And stunning visual design is one of the top ways to attract visitors.
So it makes sense that you'll need a variety of graphic design templates to increase your traffic and make more sales. Follow along to discover the 5 ways that using a power pack of graphic design templates will get you more traffic and grow your business.
5 Ways Graphic Design Templates Will Help You Sell More
-Get more traffic to your website
Attention-getting design will make people stop and click. So you need to post informative graphics on social media, forums, advertisements, etc. daily. Use your images to tell them what them to do and direct them to a web page or blog post that'll have your amazing offer presented… using more stunning graphics you've created from your templates, of course.
-Become your own graphic designer
Create your own graphics and you'll get the graphics you need at any time of day, in just a few minutes.
Think about it… you can design a graphic for Facebook and then modify it slightly for Pinterest, Twitter, Instagram… whatever you need in a moment's notice. After all, new ideas and opportunities come up continuously, so you need to be ready.
And the truth is, the more you put your designs out there, the more you'll draw attention to your offer… and the more you'll sell.
Want to look like a professional designer? Layers of amazing scenery that you can just drag and drop together will give you cool 3D looking designs. Your audience will believe that you used Photoshop or had a designer create them for you. But in reality, you've just created your designs all by yourself with powerful but easy-to-use templates.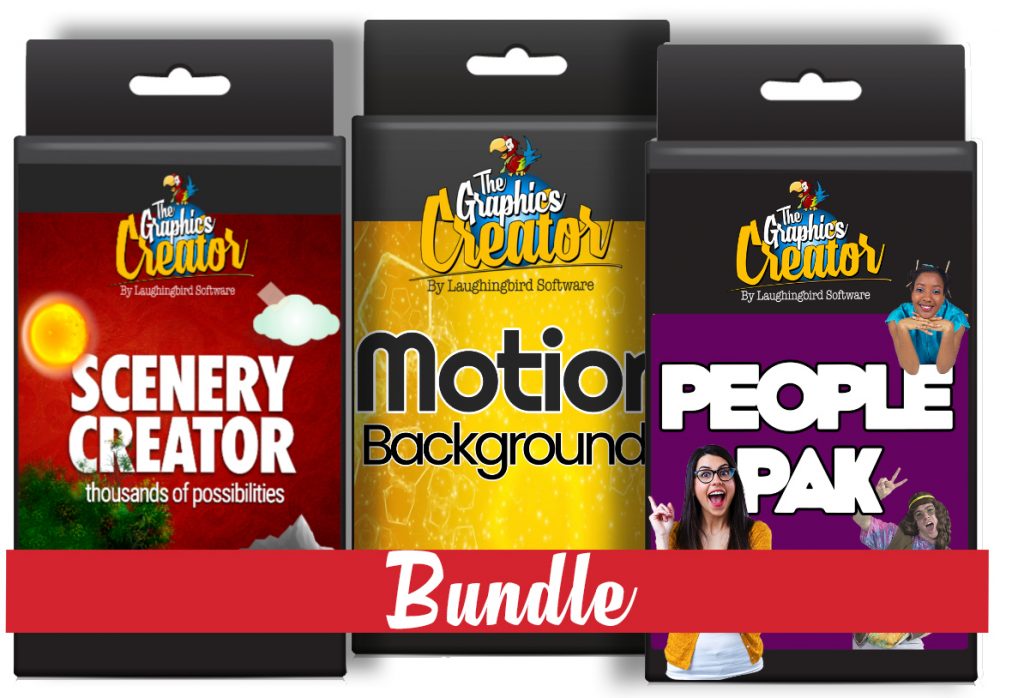 -Help your visitors believe in your solution
Nice graphics make you look professional and help your audience believe that your offer is valuable.
Here's an idea: Create designs using people images. People images help your viewers identify with the solution you're offering. They can improve your audience's emotional connection to your product or service. In turn, this can give them more confidence that you can solve their problems and help them reach their goals.
-Go above and beyond what your competition is doing
Small businesses are always struggling to match their top competition. One way companies stay on top is by spending thousands of dollars to pay a graphic designer. But that's just not realistic for most entrepreneurs and small businesses.
However, you can have template-based design software ready to use any time you need it.
And, what's even more valuable is that you can level up to your competition with motion graphics. You can use pre-designed Motion Graphics templates to add video backgrounds to any graphic or to create animated GIFS.
Video and motion graphics get more engagement on social media and in advertising than do static images. That's why many big companies are using them. So, why aren't you? Especially now that you can do it easily yourself.
-Save a ton of money
Yes, creating your own graphics with design templates will save you a ton of money. No need to overpay a designer for each and every image you need.
And how can you use the money you're saving? How about paid advertising?! Or hiring a virtual assistant who can help you with other daily tasks (so you can create even more advertising graphics!)? There must be a million things you could do with that money. And along with all of the other benefits of designing your own graphics, it's a win-win!
A Power Pack of Graphic Design Templates
We believe in the power of templates. And we know you can create a professional design with them fast, even without design skills. To help out, Laughingbird Software is offering a Power Pack of Design templates that'll help you sell more of your product or service.
Watch the video for more info:
What Does a Power Pack of Templates Include?
A power pack of templates includes a variety of professionally-designed templates ready to easily change-up. It's a "Power Pack" because of its flexibility and unique, attention-getting templates. Additionally, you can simply drag and drop text and images where you want them, without knowing any difficult code or having design skills.
This huge pack of 3 different template sets will let you make motion graphics, people images, and amazing 3D-looking scenes. Check out Laughingbird Software's combo pack of graphic design templates.
Take a look at our BIG discount offer here. And leave a question or comment below.