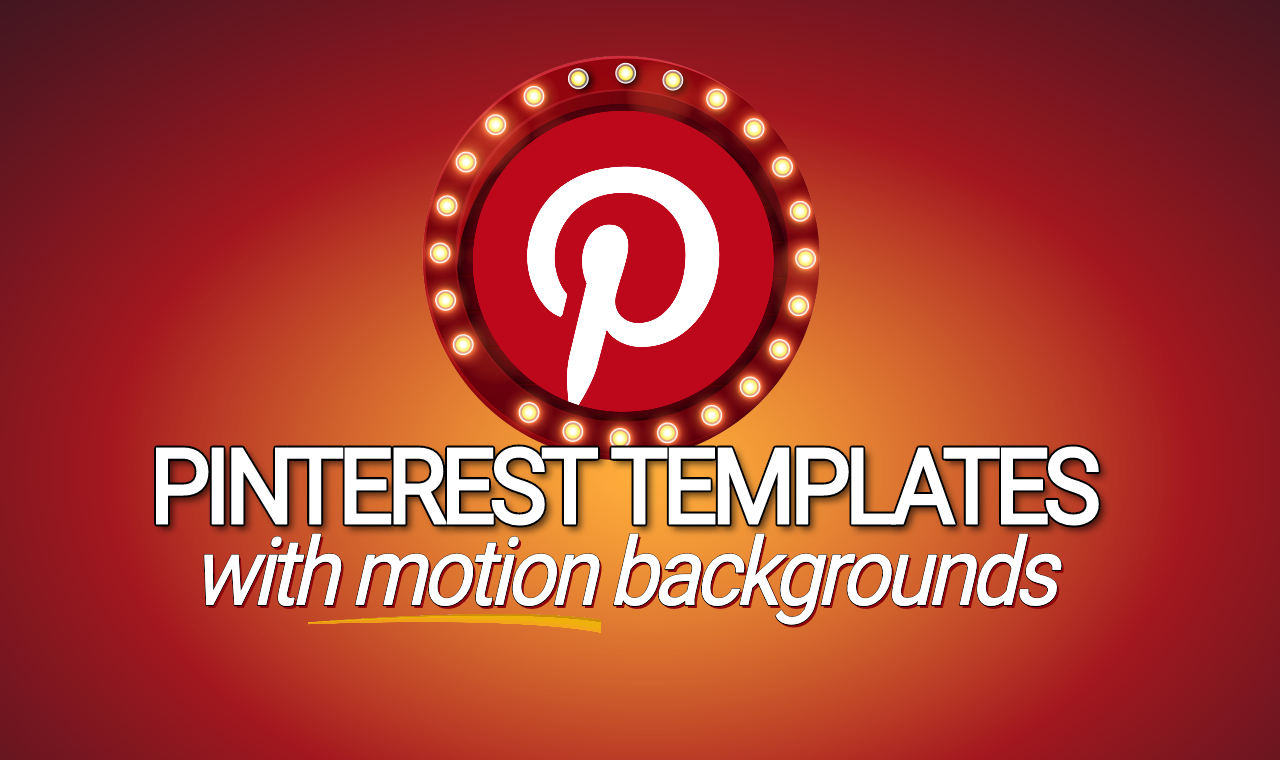 Bloggers, Marketers, & Pinterest Creators… you can now easily create unlimited pins & graphics… with video backgrounds!
Use these ready-made, easy to modify templates to make all of your Pinterest pins, including video pins, as well as any graphic design for your business.
You'll get more attention and engagement from your audience with video motion graphics!
And video pins just happen to be the #1 way to engage your audience on Pinterest and get you more traffic. Sadly, most pin creators aren't using them. Why? Because they think it's too hard, time-consuming, and they just don't know how to do it.
Click the image below to see what you can create!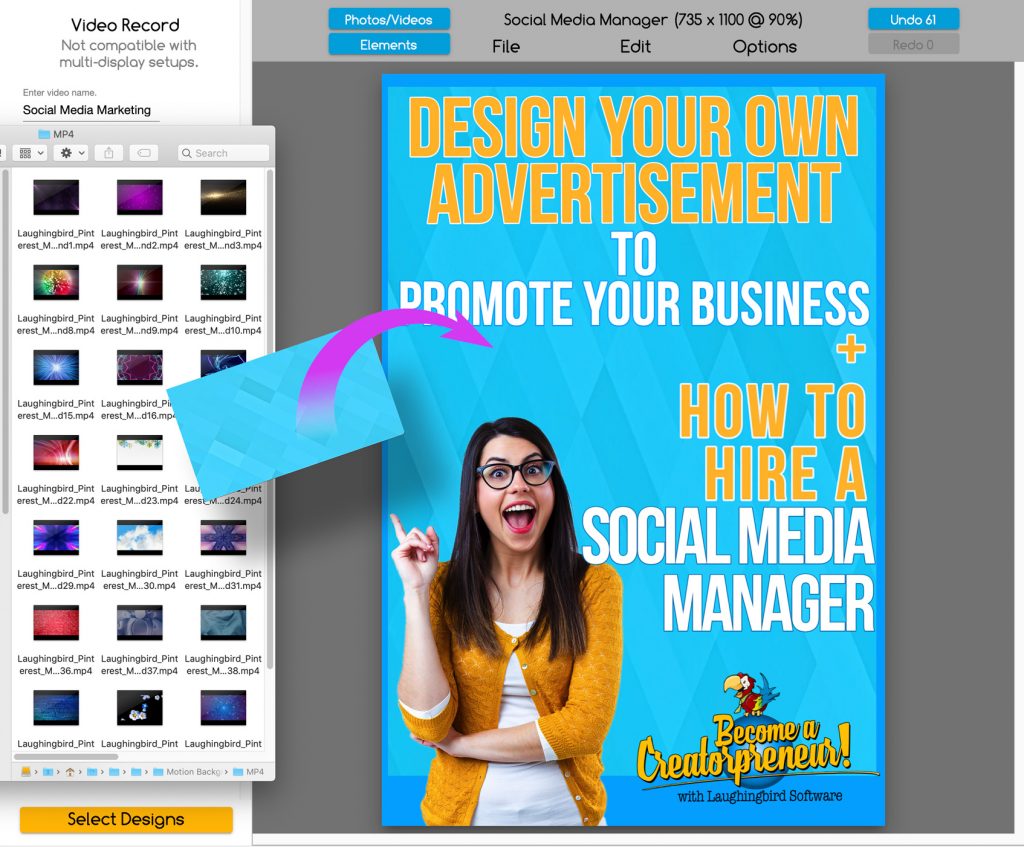 Great news for Pinterest users:
It's easy to increase traffic with these perfectly pin-sized templates and motion graphics backgrounds. Just choose a template and then drag and drop motion videos into your graphic. Use and re-use the templates as many times as you'd like without extra fees or waiting around for a revision.
Further, you'll have a new "fresh" pin within minutes just by changing the background in 1-2 clicks (which is exactly what Pinterest wants us to do).
All the templates are sized perfectly for Pinterest at 600 x 900 but can be quickly re-sized for any of your graphic needs.
PLUS: Import your own videos or video backgrounds as well!
Item Features
Eye-catching pins, video pins, and motion graphics to create the perfect graphic
Create motion background designs and animated gifs for social media and your website
50 professionally designed, ready-to-go 600 x 900 templates (easily change the size for a bigger, longer, or square pin)
65 motion backgrounds to customize your pin designs
Thousands of searchable, free stock videos to instantly use in your design

Import your own video into any template (record up to 30 seconds)

Easy drag and drop design elements make it a snap to get started… and there's always room to add your creative touch
Commercial license to resell your creations included!
If this is your first Laughingbird Software template purchase, you'll get The Graphics Creator software + 40 bonus templates at no additional charge.
Check out some of the templates you can modify: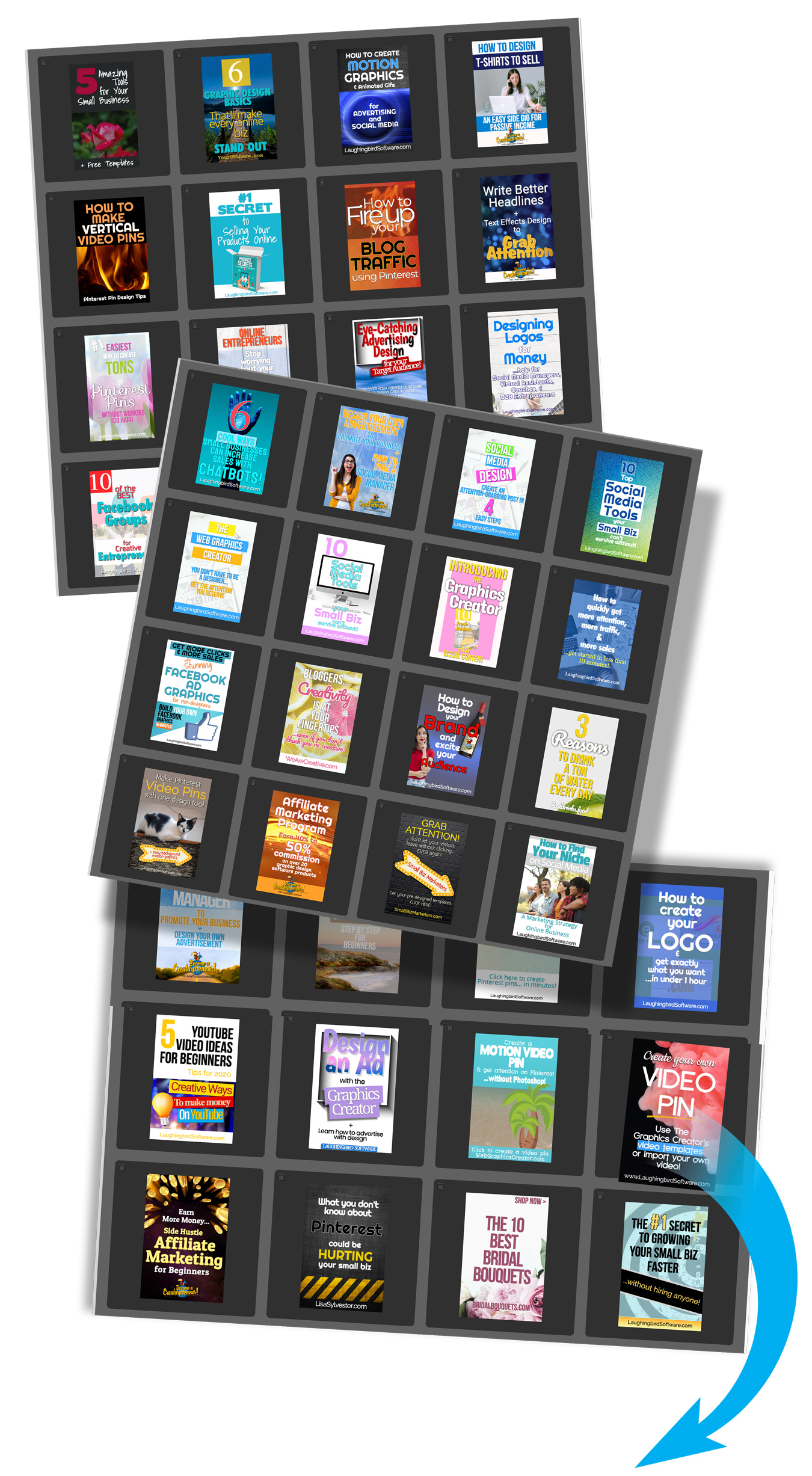 BONUS!
If this is your very first template set, you'll also get 40 FREE templates with your very first download of the Graphics Creator software templates
Use with The Graphics Creator 8 downloadable software:  It's loaded with built-in tools, so you can learn fast and get your design projects done in no time
Win/Mac compatible
Software download
Read more about creating your own Pinterest Pins