THE GRAPHICS CREATOR
By Laughingbird Software

It's a Logo Creator, a Banner Maker for YouTube,
a Character Creator, and it'll Create eBook Covers!
This is extremely easy-to-use software.
With this fun and helpful software, you can also create: Blog Graphics, Instant Mascot Characters, Social Media Designs, Advertisements, Presentations, Banners, Business Graphics, & Even Graphics with Animated Video Backgrounds!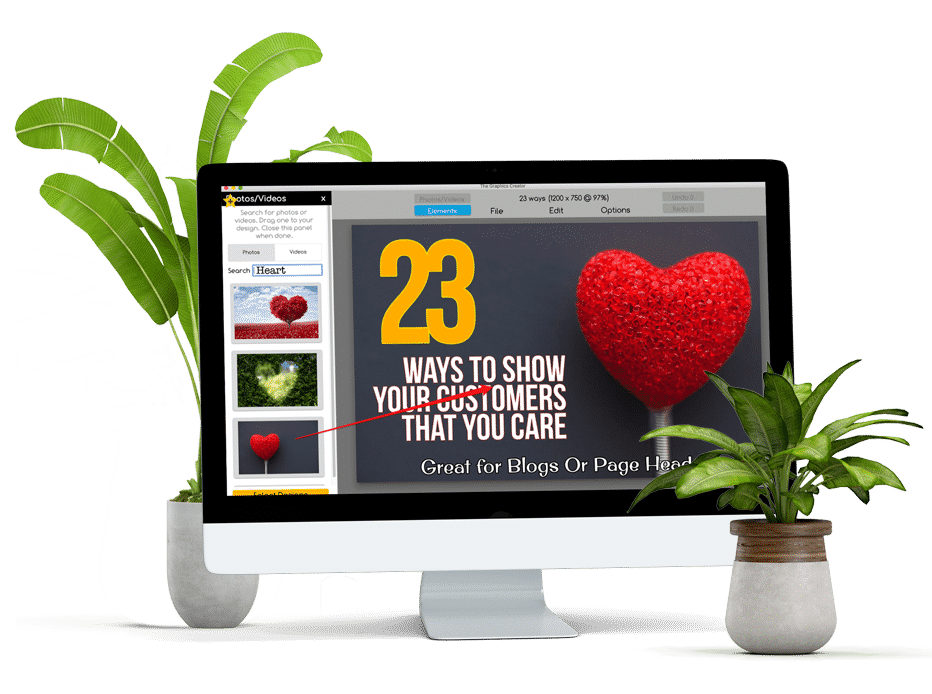 Graphics Created by Laughingbird Software

Two ways to use the software: Login with your browser and play with the app "in the cloud" … or download your new software to your desktop or laptop computer!
Create Online!
Login from anywhere
Download
Mac & Windows compatible
(click here to compare the two)
Simple, and I like simple, if it's not simple to use then I just don't bother with it, it's that simple. I use this software for just about every graphics task I need. Thanks Marc and Lisa!
"How do I make my own graphics?"
…in minutes! AND, you'll grab attention in seconds!
PROFESSIONAL DESIGN FEATURES
• Search from hundreds of thousands of high-quality stock photos and video
• Select from over 1000 stunning fonts from Google
• Remove an image's background to make it transparent
• Increase the Graphic Creator's Canvas to 10,000 x 10,000 pixels (great for creating your own t-shirt designs or desktop wallpapers)
• Captivating, ready-made design templates
• Create ANIMATED images with moving backgrounds!
Click Here to see an example of using video in your design
graphic templates
Mix and match them all
Thousands of possibilities
Animated GIF for new Creator 8
Google fonts and Pexels

IN 10 MINUTES OR LESS YOU CAN:
Make a graphic, download it in multiple formats, and post it to get more traffic, clicks, and sales.
And you can create graphics for your social media posts, blog, website, marketing materials, emails, YouTube videos… and more!
The Graphics Creator has a ton of "add-on" templates
More Testimonials…

As the owner of a boutique marketing-design firm, this is my 'go to' tool for quickly thinking through and laying out a concept.
Working with products like Illustrator or Photoshop… you realize hours later, after a lot of experimentation, that you still have nothing to show or sell. It's simple and can be used from moment one… almost zero learning curve. And it's well supported with step by step videos and instant answers within the Facebook group.
George Spike Riel
I love designing my own visual content.
Laughingbird Software is a perfect fit for when I don't have a lot of time because, for the most part, all the work is already done. I love having LBS to help me make quick, easy visual content was well as having the ability to upload my own images as well. The Graphics Creator is perfect for Virtual Assistants, Web/Graphic designers, Start ups, and really anyone who needs quick and easy graphics. It's the best design software I've used!
Rhonda Holscher
Laughingbird Software brought out a creativity I didn't know I had.
The simplicity of using this software would make anyone feel like they were a graphic designer. Attention to detail is everything and the thousands of options available mean no idea or thought can't be brought to visual life! I used to outsource my designs but the results I now get using this software easily match those produced by the experts. With features such as easy drag and drop, the color picker and font selection, it's only limited by one's own imagination! This software is THE BEST out there by a milestone.
Trish Mullen
I'd been using Laughingbird Software for several years… then Marc and Lisa had to go and take it a million steps further with their online Graphics Creator!
WOW! LOVE IT! They're always ready to offer their help/support when I have an issue. The software is easy to use and gets frequent updates. I use it to make ebook covers, banners, meme's, Facebook headers, and more. I'll be a fan of Laughingbird Software for life!!! 🙂
James Bain
ARE YOU READY TO GET TO WORK?
The newest version of The Graphics Creator makes it easy to design engaging, professional-looking graphics in minutes… whenever you need them!