As a creative person, you've dreamt of being a graphic designer but never take the first step. Just the thought of going to school and spending a ton of money and time is enough to squash that dream.
And sitting for months learning Photoshop or Illustrator is something you can only afford to do once you're making money and somehow, through only a miracle, have the time.
The truth is that going to school or learning a complicated graphics program may not be right for you, or even necessary at all.
So here's the good news: You can become an online graphic designer without going to school and without spending ridiculous amounts of time learning design software.
If you're ready to start a full-time business using just your desktop or laptop computer or excited to have a part-time designer gig working from home, you can start right now making graphics for online businesses.
Here's how!
How to Learn Graphic Design on Your Own
There are really only two things you need to be a designer in the online world:
Graphic design software that's easy and starts you off with design inspiration… yet is powerful and flexible enough to let your creativity take over.

A short course or tutorial series that helps you learn with hands-on action as you go.
Below you'll find a free graphics software app and a short, 9-part video tutorial series that'll get you started towards becoming an online designer… in under one hour.
So, what are you waiting for?!
Easy-to-Learn Graphic Design Software
Once your software has been downloaded, just double-click to install it.
Next, click your new Graphics Creator icon! You'll see instructions to "Remove the Watermarks".
Follow along to download and install the free templates (doing so will also remove the Watermarks so that you can learn and create without any restrictions).
Once your graphics software AND the templates are installed, you're ready to become an online graphic designer… without going to school!
Begin Your Simple Video Tutorials Course and Start Designing
Now that you have the perfect design tool with templates, begin watching your video tutorial "school". Nahhh, not really.
It's just a mini-course or series that'll help you become an online graphic designer. Just follow each video to learn all of the basic features, tips, and tricks of using The Graphics Creator.
You'll discover how easy it is to create graphics that look like a designer made them, even if you're not exactly a professional yet. And you can easily pause a video any time to try out what's being shown. Simple.
Watch the 9-part Mini Design Series: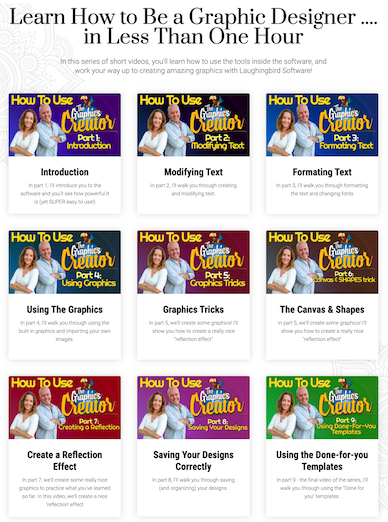 You're an Online Graphic Designer… Almost
Now that you've watched the nine videos to learn the basics, your focus will be on practicing your new design skills.
Additionally, you can improve your design skills by:
Watching other Laughingbird Software videos
Talking to other designers in the Creatorpreneurs community, and
Checking out other articles that'll give you the skills and ideas to create graphics for online businesses.
And getting more inspirational design templates for fast and easy creation
Just think about this… if you were to have gone to a graphic design school instead of watching this video tutorial, you might have only just finished the first chapter or two of your brand new, and expensive, design theory book.
Instead, you've just learned actionable design that you can build upon each day. And you can now offer your graphic design services to other businesses who want online images for advertising, social media, products, and content.
More Design Inspiration
I hope you're excited about what the future holds for you as a graphic designer. From working part-time to making it a full-time career… either way, you've discovered a fun and creative way to earn some cash, work at home, and serve others with your design talent.
More resources that'll make becoming an online graphic designer easy and fun: