The Creatorpreneurs Academy brings together strategic marketing with eye-catching design so you have the tools and skills to grow your business fast
One of the best ways to get your target audience interested in your product is to give away free stuff. But throwing together a free offer in the hopes of bringing attention to your paid offer won't be enough to earn the trust you need to get your audience to buy.
So, what can you do to make sure that your giveaway leads your target customer to your paid product? Keep reading to find out the five things you must have in your free offer in order to increase your sales.
Make Sure Your Freebie Includes These Five Things
1. Your freebie should be very valuable
Creating a highly valuable freebie ("lead magnet") is the number one way to bring interested prospects into your sales funnel. In other words, you "lead" them to your paid offer by giving them something for free that truly helps them solve a problem or quench a desire. And by giving them tremendous value, you earn their trust… now they're ready and willing to consider how your paid offer can help them.
However, keep in mind that giving away a product doesn't mean it shouldn't be worth much. Quite the opposite. You should be giving away products that you could easily sell for $25, $50, or even $200. You want people to get huge value from your free offer so that they'll know your paid product is worth checking out.
2. Your free offer should be highly relevant
The best way to get your target audience interested in your paid product is to create a freebie that's strongly related to your paid offer. Why is this important? It's safe to assume that if they take an interest in your free offer, they'll also be interested in your paid offer.
Further, You probably did your market research to make sure your paid product is in demand, right? You need to do the same thing with your freebie. Find out what products are in-demand in your niche. Then create something similar to give away.
3. Your freebie should be easy to give away
It should be something your audience really wants. Generally, this means providing a downloadable (digital) product or offering a live event or webinar replay. And, the best thing about your freebie should be that you create it only once and then continue to profit from it.
Examples of good freebies include:
Reports
Ebooks
Videos
Audios
Webinars
Teleseminars
Software, apps or other tools
Limited access to a membership site
Mind maps
Worksheets
Infographics
List of recommended tools
Designing beautiful content is another thing that makes a freebie easy to give away. So, use attention-getting graphics and images in your content so that it stands out gets clicked on.
Need a design tool that's easy-to-use and create amazing images (even if you don't have any design skills)? Get this FREE trial of The Graphics Creator 🙂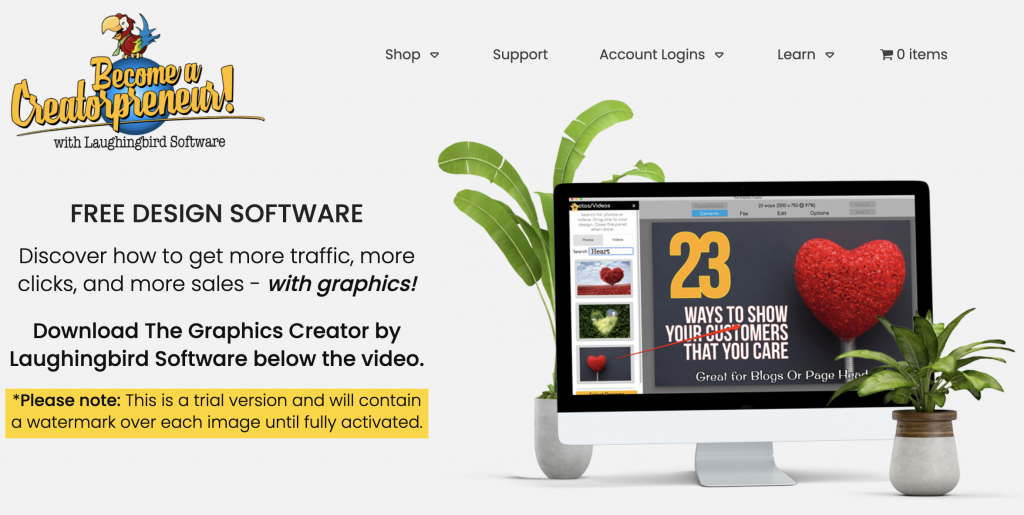 4. Your free giveaway should point naturally to your paid offer
While your freebie should be valuable, it must also provide only a portion of the solution for your audience. This is super important. While the free offer should be useful all by itself, your audience should easily see that they'll get the "total solution" if they purchase your paid product.
This can be a bit of a juggling act, but it's worth spending some time to make sure your free offer gives the people great value yet leaves them with a need for a more in-depth solution to their problem.
5. Design your free offer to grab the attention of your target audience
Finally, a big part of creating a successful free product is by making it visually engaging. Your free offer, whether it's an ebook, worksheet, etc. should be professional-looking and visually pleasing, just like your website or any advertisement.
So it must stand out and grab attention in order to get clicks. Therefore, designing an eye-catching cover for your free product is a basic requirement of a good giveaway offer.
Watch this video to find out how to create a virtual book or box cover, without Photoshop or any design skills!
More Benefits of Giving Away Something for Free
Because you've given a free offer to something highly valuable and desired by your audience, they'll be happy to pass it around to others on social media or by word-of-mouth. Now it's getting shared around the web and most likely the world!
Additionally, free offers bring way more traffic to your site. Telling someone that's never heard of you or your business to visit your website and buy from you is an uphill battle. Yet most people love freebies and are willing to check it out just because it's free. In turn, more people will learn about the value you have to offer, thus increasing your sales.